Oakwood Stable's Kensington Court opened a yawning lead for much of Saturday's $25,000 ratings handicap and held on deep in the Colonial Downs stretch to win by a nose over newly imported Querry Horse.
Robert A. Kinsley's Al, half of a 7-to-5 favored entry, closed ground in the stretch to finish third, two lengths farther back. Mark Buyck's Aydoun checked in fourth in a field of eight horses rated at 115 or lower.
Trained by Julie Gomena, Kensington Court ran… Continue reading →
(NEW KENT, VA — 8/23/19) —- Colonial Downs officials announced that the Thursday August 22nd card of racing, which was cancelled due to severe storms, will be made up on Wednesday September 4th at 5 PM. The final week of Colonial's summer season will now include four consecutive cards on Wednesday, Thursday, Friday and Saturday. The finale on the 7th includes five Virginia-Bred/Sired stakes worth $100,000 each and a $50,000 steeplechase stakes.
Entries for the September 4th make up card… Continue reading →
(NEW KENT, VA — 8/22/19) —Thursday's nine race program at Colonial Downs was cancelled due to severe late afternoon thunderstorms that rolled into the New Kent area right around when racing was scheduled. For the safety of the equine competitors and racing fans, the entire card was cancelled shortly before 6:00 PM. The program is expected to be made up.
Racing at Colonial resumes Friday (August 23) with a nine race card beginning at 5 PM. The 17th running of… Continue reading →
(NEW KENT, VA — 8/17/19) —- Despite the fact that Da Hoss Stakes winner Extravagant Kid was invading from Kentucky (via Toronto), the son of Kiss the Kid has strong Virginia ties with owner David Ross of DARRS Inc. who was instrumental in bringing racing back to the Commonwealth. Sheldon Russell rode the 6-year-old gelding to a one-length victory covering the 5-1/2 furlongs over firm turf in 1:02.08.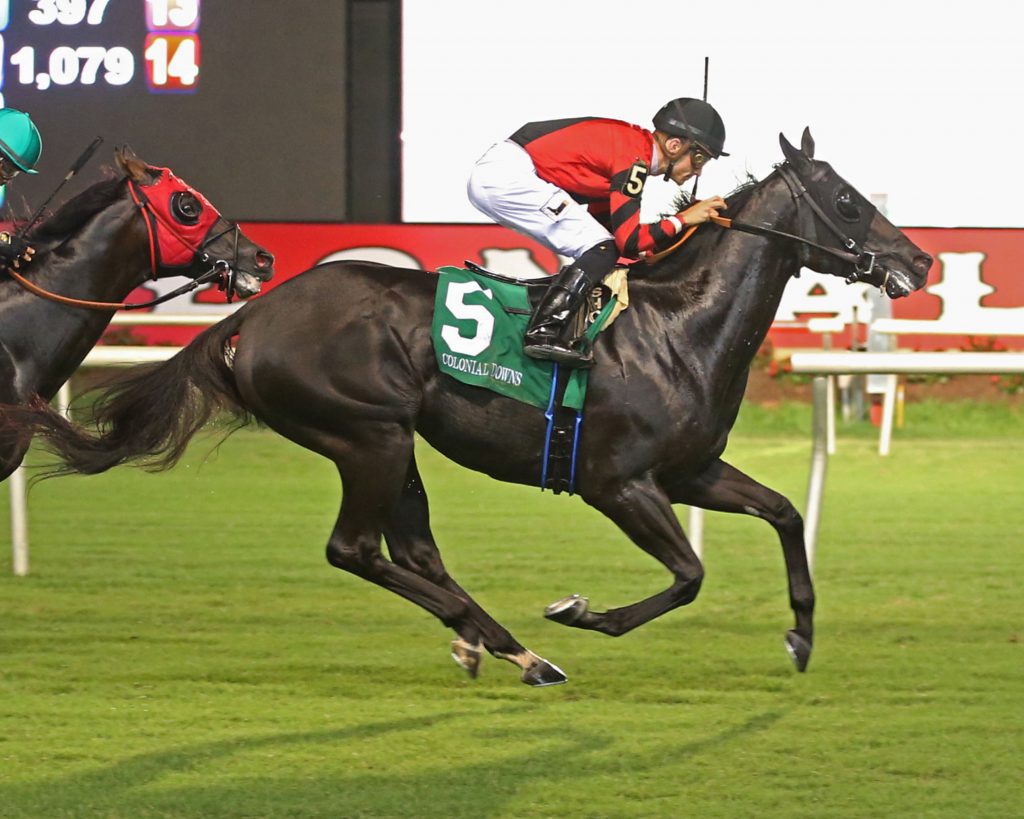 Eagle Point Farm's homebred filly What the Beep overtook longshot English Heiress in deep stretch to win the $100,000 M. Tyson Gilpin Stakes by a length in the first of four six-figure stakes races restricted to Virginia-Bred/Sired horses on August 10th. Forest Boyce rode the Karen Godsey-trained 4-year-old who covered 5-1/2 furlongs over a firm turf course in 1:03.80.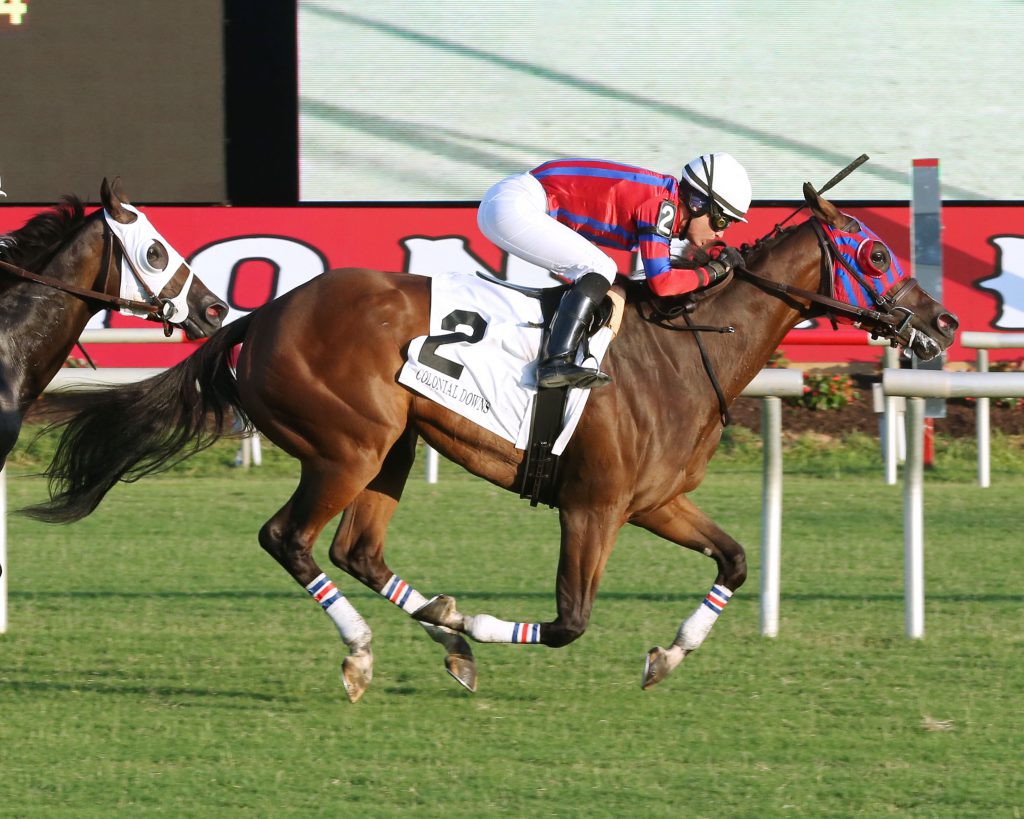 "Karen does a… Continue reading →
The following appeared in "The Racing Biz" and was written by Nick Hahn.
For trainer Karen Dennehy Godsey of Eagle Point Farm in Ashland, VA, the first stakes win of her career came on the first stakes race of the brief, 15-day Colonial Downs meet, the M. Tyson Gilpin Stakes for Virginia-bred or-sired fillies and mares. Godsey trains about a dozen
"I just want to go home and hug my mare (Toccoa)." she said. "You have the Toccoa thing, you've… Continue reading →
The following appeared in The Racing Biz and was written by Frank Vespe.
You never get a second chance to make a first impression. Except when you do.
And for Colonial Downs, that second chance arrived August 8 on a gorgeous summer evening, along with a festive crowd and a 10-race card with full fields everywhere.
"I think this is a great thing. This is why we came down here. It's phenonmenal," said Vince Tucciarone. Tucciarone, who races as Fox… Continue reading →
NEW KENT, Va. (Aug. 7, 2019) — Virginia-bred runners are featured Saturday night at Colonial Downs in four $100,000 stakes races, all to be contested over the Secretariat Turf Course and are the first such races to be run in the Commonwealth since 2013. Under new ownership of Peninsula Pacific Entertainment and renovated facilities, this meeting marks the re-birth of racing in the Old Dominion state. In addition to the four stakes races, there will be two Steeplechase contests as… Continue reading →
The following appeared in The Racing Biz August 5th and was written by Nick Hahn.
Approaching opening day on August 8, a diverse range of trainers, new and familiar alike, is assembling along the backstretch optimistically looking for opportunity in next generation of live racing at Colonial Downs.
One of the first to arrive on the backstretch was 77-year-old trainer Don Roberson who previously won with the only horse he ever started at Colonial Downs, a then-two-year old Long On… Continue reading →
With new ownership, renovated facilities, and a $300 million investment into Virginia racing in progress, Colonial Downs is set to usher in a new era of thoroughbred racing this coming Thursday August 8th with a ten race program beginning at 5 PM. Thoroughbred horses last ran at Colonial in the summer of 2013. 
A total of 107 horses entered the opening day card during the track's first draw Saturday. Purses for the opener range from $30,000 – $70,000, and… Continue reading →