Godsey, Others In Virginia "Excited To Get This Back"
The following appeared in "The Racing Biz" and was written by Nick Hahn.
For trainer Karen Dennehy Godsey of Eagle Point Farm in Ashland, VA, the first stakes win of her career came on the first stakes race of the brief, 15-day Colonial Downs meet, the M. Tyson Gilpin Stakes for Virginia-bred or-sired fillies and mares. Godsey trains about a dozen
"I just want to go home and hug my mare (Toccoa)." she said. "You have the Toccoa thing, you've got that Colonial's back. It's a huge crowd. And everybody's so excited to get this back going. The people worked so hard to get this back going."
Godsey's trainee, What the Beep, a four-year-old homebred filly by Great Notion, went off as the 6-5 favorite.
"Of course, I looked like I wanted to throw up all morning. I felt good about her being there, but you don't like to be confident," Godsey said. "Her mama, Toccoa, was nothing but heart. There's not a lot of breeding with these horses. We don't have a ton of money to breed big high-end horses. So, when the little blue collar, hard-knocking one wins this kind of money, it's…"
Godsey couldn't find the words. She didn't need to.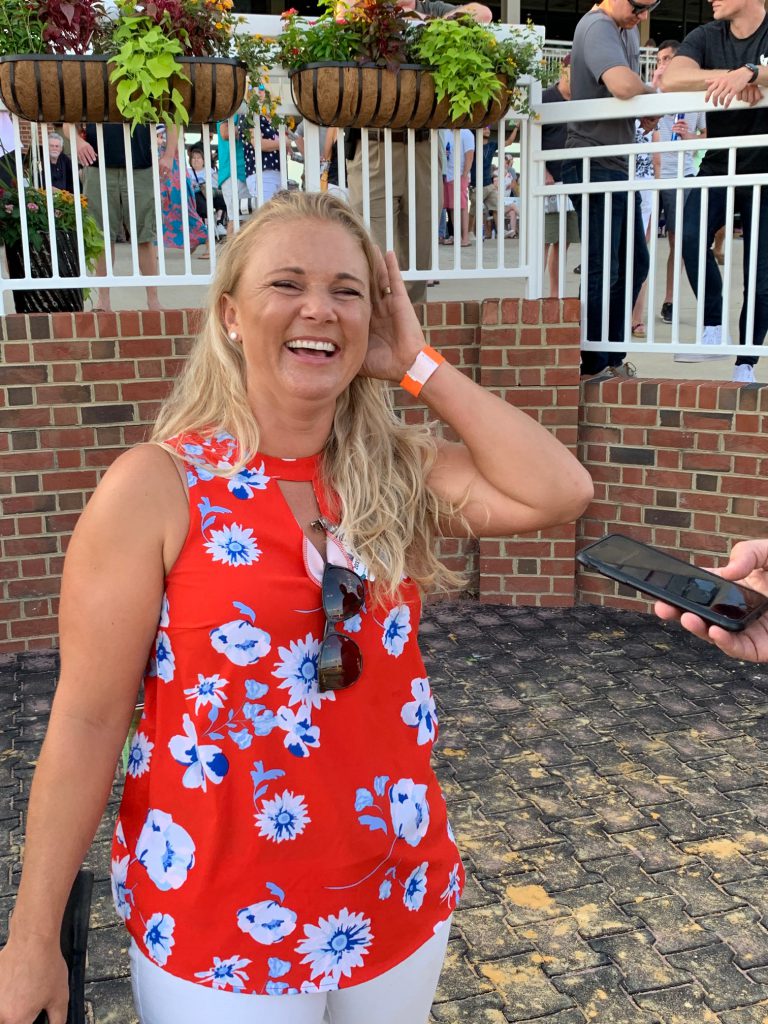 After finishing second in a race at Laurel in early July, Godsey returned What the Beep to her farm in Ashland. Layouts proved to be the most successful for Toccoa, who raced most of her career at Colonial Downs. For Eagle Point, keeping horses in Virginia is a time-tested approach.
Godsey cared for the foal on an hourly basis through an illness as a youngster. She recalled "spending so much time with her and keep her healthy and to get her to this point. You know I pulled her out of her mama."
She may have been sickly then, but What the Beep is turning into a runner now. The win was her third from 13 starts and pushed her career earnings to over $145,000.
It was jockey Forest Boyce who did the honors in the Gilpin, piloting What the Beep to a one-length victory in 1:03.80. After dropping to fourth on the inside Boyce found a path where Solarte was retreating and Up Hill Battle moved forward. At that point, Boyce felt better about her chances before anyone else did.
"I was feeling pretty confident around the 3/8th pole," she said. "But you never really know. They'll fool you every now and then."
It was, perhaps, apropos that Boyce knocked down the first stake of the new Colonial meet. It was on the final day of the prior Colonial Downs meet – in 2013 – that she scored her first graded victory, piloting Nellie Cashman to a 19-1 upset in the Grade 3 Virginia Oaks.
"I've missed it," she said Saturday after the win aboard What the Beep, which was her second win on the day. "This place got me going."
Godsey watched the following stakes race, the $100,000 Meadow Stable Stakes, with anticipation as Eagle Point's gelding Braxton, 31-1 at post time, gained ground on 2-5 favorite Elusive Mischief inside the sixteenth pole. But trainer Ian Wilkes's Elusive Mischief proved stubborn.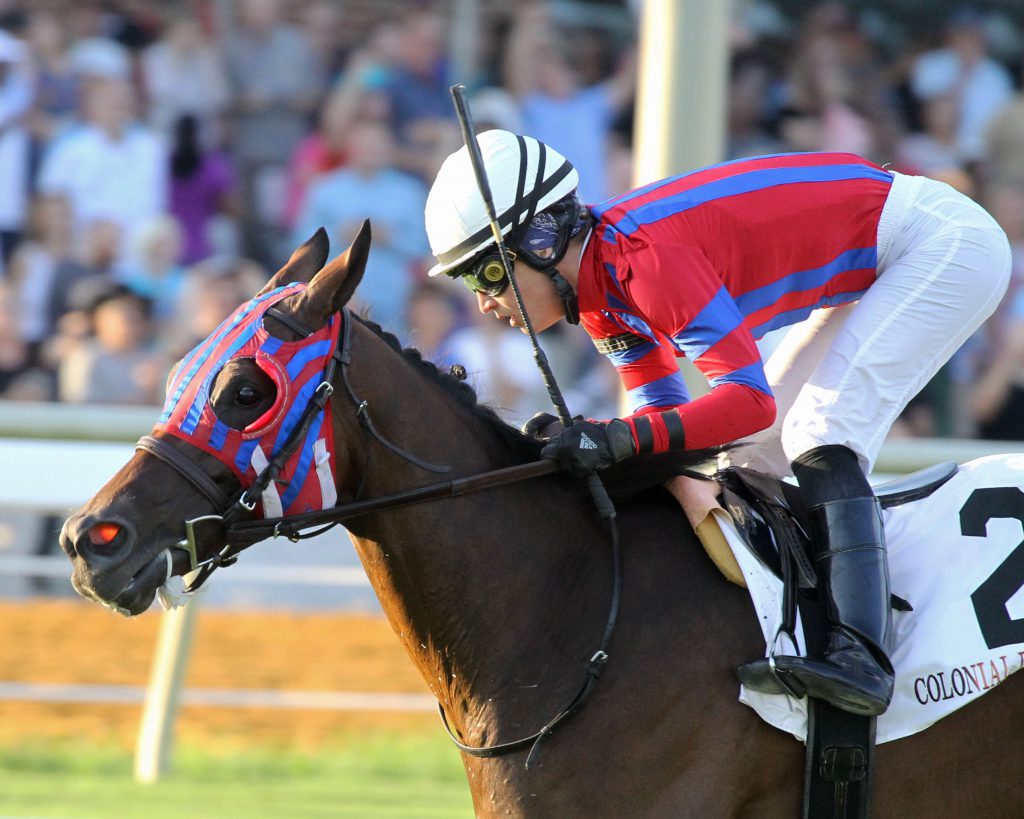 Braxton settled for second, a length behind Elusive Mischief, who had another longtime Colonial Downs regular, Sheldon Russell, in the irons.
"He was able to just get me in a great position on the turn.," said Russell, who was making his first appearance of the meet. "He just travelled very, very, nicely. Good job to Ian Wilkes and his team. He was ready today."
Russell won three races Saturday and was familiar to many in the Colonial grandstand. He won the riding title at Colonial Downs in 2011 and 2012.
"It's been a while," Russell commented. "I just happy that I was able to come out here today on the big day. Feels good to be back, this is where I started riding so it brings back some really good memories."
Russell won his first race in England in 2005. His first win in North America came in 2007 at Colonial Downs.
Lots of people were feeling pretty good on Saturday.
"We're proud of Colonial Downs for coming back like they have," said Wayne Chatfield Taylor of Morgan's Ford Farm, the owner and breeder of Edward P. Evans Stakes winner River Deep, who was put up by disqualification. "Feels like it was a real gift to win this one. It was just a wonderful day and the track is doing terrifically and we couldn't be more pleased. Everybody was here."
"This day is that, all the breeders that hung for all those years and kept on breeding Virginia-breds, when it would have been very easy to take your mares to Maryland, Pennsylvania, or New York or everywhere else," added River Deep's trainer, Phil Schoenthal. "You see those people being rewarded here now on a beautiful night at a beautiful racetrack for $100,000 races for their horses in their own state. It's very rewarding. It's a great night for Virginia horse breeders."
NOTES The fourth stake of the evening, the $100,000 Nellie Mae Cox for older fillies and mares going a mile on the turf, went to Tryon Summer. With J. D. Acosta up, the Vickie Foley trainee sped to the front early and led throughout to win by a half-length in 1:38.05. Owned by Something Special Racing, LLC and Stewart A. Smith, Tryon Summer was bred by William Backer… The Susan Cooney-trained Speed Gracer was disqualified from first in the Edward P. Evans Stakes for interference in deep stretch, capping a difficult day for the trainer; her Virginia Fable was pulled up in distress prior to the Tyson Gilpin Stakes and vanned off… Crowds were gifted with lowered temperatures and humidity on opening weekend that only improved as racing moved into the evening. National interest on wagering was apparent as handle averaged well over $1 million per day over the three-day weekend.