Fans can wager the Breeders' Cup races at any Rosie's Gaming Emporium in Richmond, New Kent, Vinton and Hampton, at any VA-Horseplay OTB in Henrico (Breaker's Sports Grille), Chesapeake (Buckets Bar & Grill) and Collinsville (The Windmill OTB Sports Grill), and online via TVG.com, Xpressbet.com, Twinspires.com and NYRABets.com.
The Breeders' Cup on Wednesday revealed the official order of races and guaranteed multi-race wagering pools for the 2020 Breeders' Cup World Championships, scheduled to take place on Friday, Nov.… Continue reading →
The following International Gold Cup recap appeared at nationalsteeplechase.com.
Saturday's 10-race card at Great Meadow Race Course in The Plains, Va., had it all: Blow-out wins, white-knuckle finishes, and outstanding rides by apprentice riders. And of all the highlights, none shone brighter than Curve of Stones' victory in the $25,000 International Gold Cup, his second timber-stakes score in two weeks.
Racing sixth and last for most of the three-and-a-half-mile contest, Rebecca Shepherd's nine-year-old gray son of Arch exploded through the… Continue reading →
Friend Or Foe gelding galloped to title defense in Empire Classic Handicap.
Million dollar earning horse Mr. Buff is by Friend or Foe, who stands at Robin Mellen's Smallwood Farm in Crozet. Mr. Buff is 3-for-6 this year and has eaned $277,500. His stakes wins in 2020 include the Empire Classic Handicap at Belmont, and the Haynesfield and Jazil, both at Aqueduct. In 40 career starts, he has 15 wins and earnings of $1,210,786.   
The 2020 International Gold Cup Races will be held at Great Meadow Racecourse in the Plains on Saturday October 24. The first of ten races will go to post at 12 Noon. A list of entries and other material can be found at the link here:
https://www.nationalsteeplechase.com/wp-content/uploads/2020/10/Intl-Gold-Cup-scratch-overnight.pdf
Due to the Covid-19 pandemic, the racew will be run spectator-free but live video streaming will be available via nationalsteeplechase.com.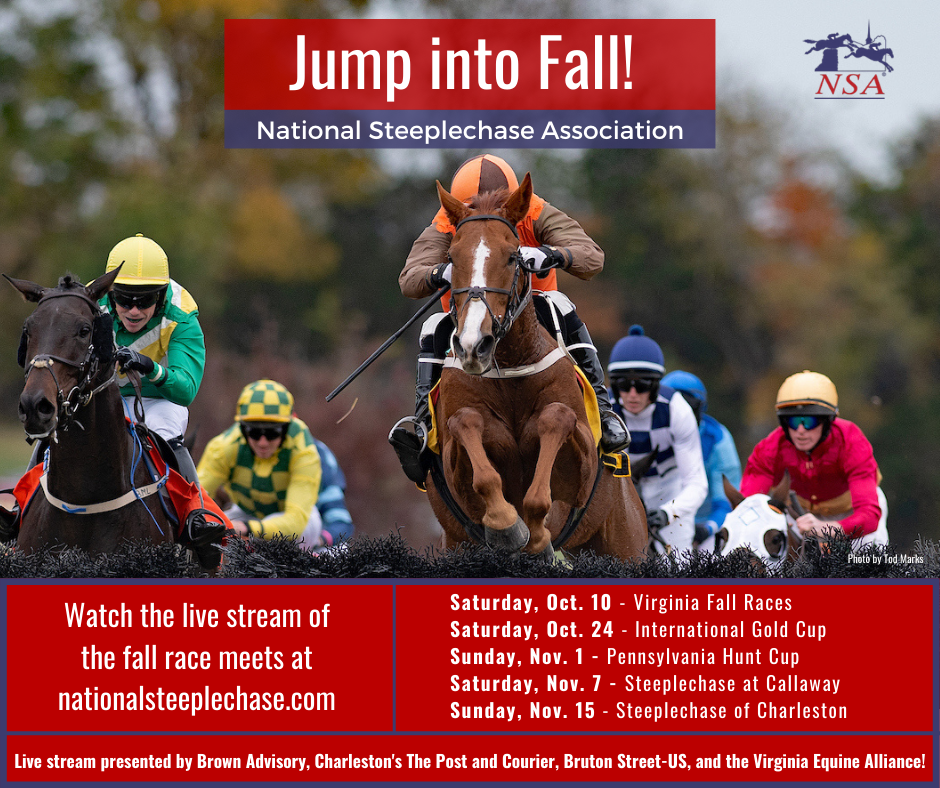 A total of $135,000 in purse monies will be distributed over the ten… Continue reading →
Embolden Popular Winner of $75,000 Punch Line
McCarthy Wins Three of Five Virginia-Bred Turf Stakes Friday
Live Racing Returns with 10-Race Card Saturday at 12:40 P.M.
LAUREL, MD – Twin Creeks Racing Stables and Eclipse Thoroughbred Partners' stakes winner Largent saved ground all the way around, scooted through an opening along the rail and dueled with 60-1 longshot Tolaga Bay through the stretch to emerge by a neck in Friday's $75,000 Bert Allen at Laurel Park.
Nine races with purses totaling $115,000 are up for grabs at Saturday's Virginia Fall Races at Glenwood Park in Middleburg, as the National Steeplechase Association (NSA) returns to the Old Dominion for the second straight week.
Because of ongoing Covid-19 protocols, the event will be run without spectators, but you can still enjoy the races in real time via live stream broadcast. All told, 94 horses were entered in the final overnights.
The M. Tyson Gilpin, Jamestown and Punch Line Stakes will be contested at 5 1/2 furlongs while the Brookmeade and Bert Allen Stakes will be run at the 1 1/16th… Continue reading →
Two Virginia-Bred horses saw their earnings surge into new six-digit levels courtesy of wins this past weekend. Holly Hundy's victory at Santa Anita pushed her career bankroll to $206,713 while Lenstar's allowance score at Belmont pushed his to $300,767. The pair were both bred by Lazy Lane Farms and are both out of Cryptos' Best.
Fasig-Tipton has catalogued 553 yearlings for its 2020 Midlantic Fall Yearlings Sale, to be held on Monday and Tuesday, October 5-6.  The auction, which will be held immediately following the rescheduled Preakness Stakes, will be conducted at the Maryland State Fairgrounds in Timonium, Maryland.
Hips 1-200 will be offered in the Monday session, which will begin at 1 pm.  The sale will begin with a large group of New York-breds, which are catalogued together as hips 1-154 this… Continue reading →
Get ready for one of the more unique fundraisers to take place during the Covid pandemic — the James River Horse Foundation will be hosting a virtual Pony Swim on Saturday October 10!
The group will be launching a number of pony "rubber ducks" in Stagg Creek in Ashland from Horseshoe Hill Farm, and one will race its way to victory! Nick Hahn, host of the weekly "Off to the Races" radio show, will serve as the pony/duck race… Continue reading →