The following appeared in The Paulick Report September 12th.
Melinda Golden of Hancock, Md., has owned horses since 1969 but has never had as much fun as she's currently enjoying with her homebred filly Parisian Diva.
The 3-year-old West Virginia-bred by Freedom Child out of Paris Heiress, by Wildcat Heir, has won seven races from 11 starts with three seconds and a third for earnings of $191,845.
On top of that, she's won $36,700 from the Virginia Thoroughbred Association's Virginia-Certified… Continue reading →
The following appeared in The Paulick Report and was written by Natalie Voss.
It's a rarity in horse racing to find a place, be it physical or conceptual, where people can agree. It's also unusual to hear about a track opening in 2019, which has already seen the closure of Portland Meadows and a likely mortal blow to Arlington Park. Colonial Downs, which is preparing to wrap up its first season of Thoroughbred racing since 2013 under new ownership,… Continue reading →
Courtesy of National Steeplechase Association website; written by Don Clippinger
Stakes winners Bercasa and Wigwam Bay will carry the 155-pound highweights for Colonial Downs' $50,000 Randolph D. Rouse Handicap for fillies and mares on Saturday.
The 2 ¼-mile Rouse Handicap attracted a field of 10 and will help to bring down the curtain on the final program of the reborn Colonial Downs meet near Richmond, Va. Kicking off the program will be a $30,000 maiden hurdle. First post time is… Continue reading →
(NEW KENT, VA — 9/3/19) —-  The first season of the "Racing Revival" at Colonial Downs comes to a close Saturday night (September 7) with a stakes-laden card focusing on Virginia-bred runners. All five stakes races are to be run over the Secretariat Turf Course which has gotten rave reviews from the horsemen competing here this season. 
Three of the events are 5-1/2 furlong-dashes with the other two to be run over a mile and an eighth distance… Continue reading →
Oakwood Stable's Kensington Court opened a yawning lead for much of Saturday's $25,000 ratings handicap and held on deep in the Colonial Downs stretch to win by a nose over newly imported Querry Horse.
Robert A. Kinsley's Al, half of a 7-to-5 favored entry, closed ground in the stretch to finish third, two lengths farther back. Mark Buyck's Aydoun checked in fourth in a field of eight horses rated at 115 or lower.
Trained by Julie Gomena, Kensington Court ran… Continue reading →
(NEW KENT, VA — 8/23/19) —- Colonial Downs officials announced that the Thursday August 22nd card of racing, which was cancelled due to severe storms, will be made up on Wednesday September 4th at 5 PM. The final week of Colonial's summer season will now include four consecutive cards on Wednesday, Thursday, Friday and Saturday. The finale on the 7th includes five Virginia-Bred/Sired stakes worth $100,000 each and a $50,000 steeplechase stakes.
Entries for the September 4th make up card… Continue reading →
(NEW KENT, VA — 8/22/19) —Thursday's nine race program at Colonial Downs was cancelled due to severe late afternoon thunderstorms that rolled into the New Kent area right around when racing was scheduled. For the safety of the equine competitors and racing fans, the entire card was cancelled shortly before 6:00 PM. The program is expected to be made up.
Racing at Colonial resumes Friday (August 23) with a nine race card beginning at 5 PM. The 17th running of… Continue reading →
(NEW KENT, VA — 8/17/19) —- Despite the fact that Da Hoss Stakes winner Extravagant Kid was invading from Kentucky (via Toronto), the son of Kiss the Kid has strong Virginia ties with owner David Ross of DARRS Inc. who was instrumental in bringing racing back to the Commonwealth. Sheldon Russell rode the 6-year-old gelding to a one-length victory covering the 5-1/2 furlongs over firm turf in 1:02.08.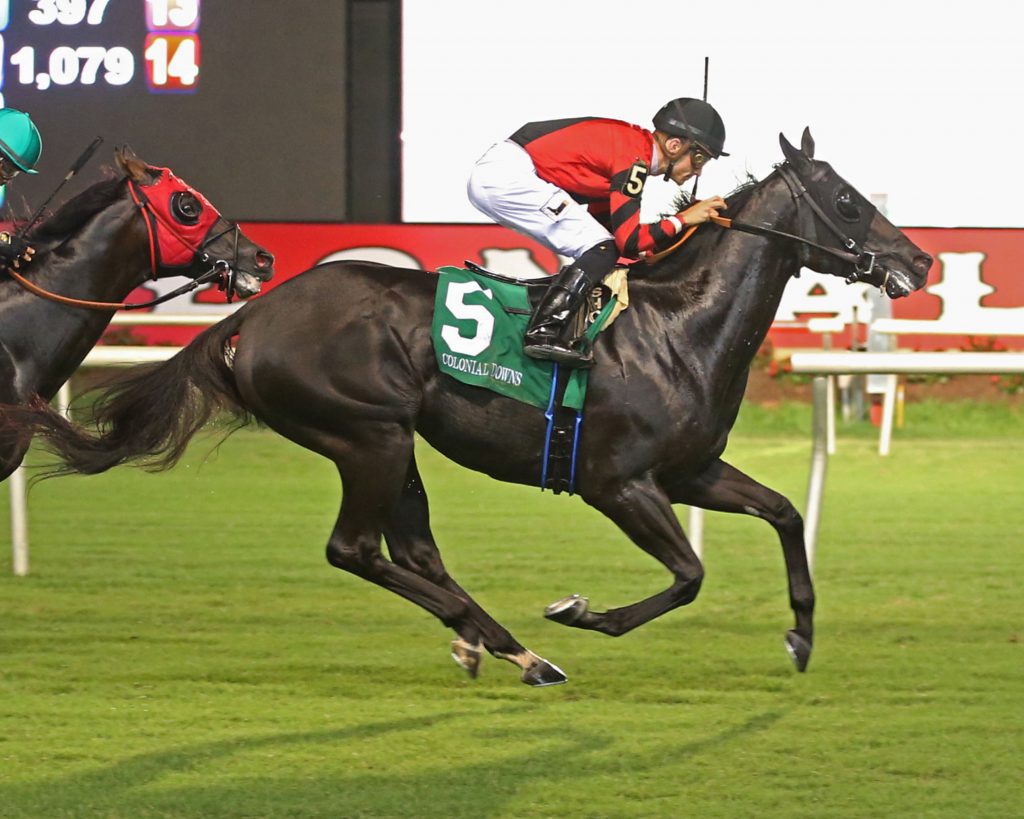 Eagle Point Farm's homebred filly What the Beep overtook longshot English Heiress in deep stretch to win the $100,000 M. Tyson Gilpin Stakes by a length in the first of four six-figure stakes races restricted to Virginia-Bred/Sired horses on August 10th. Forest Boyce rode the Karen Godsey-trained 4-year-old who covered 5-1/2 furlongs over a firm turf course in 1:03.80.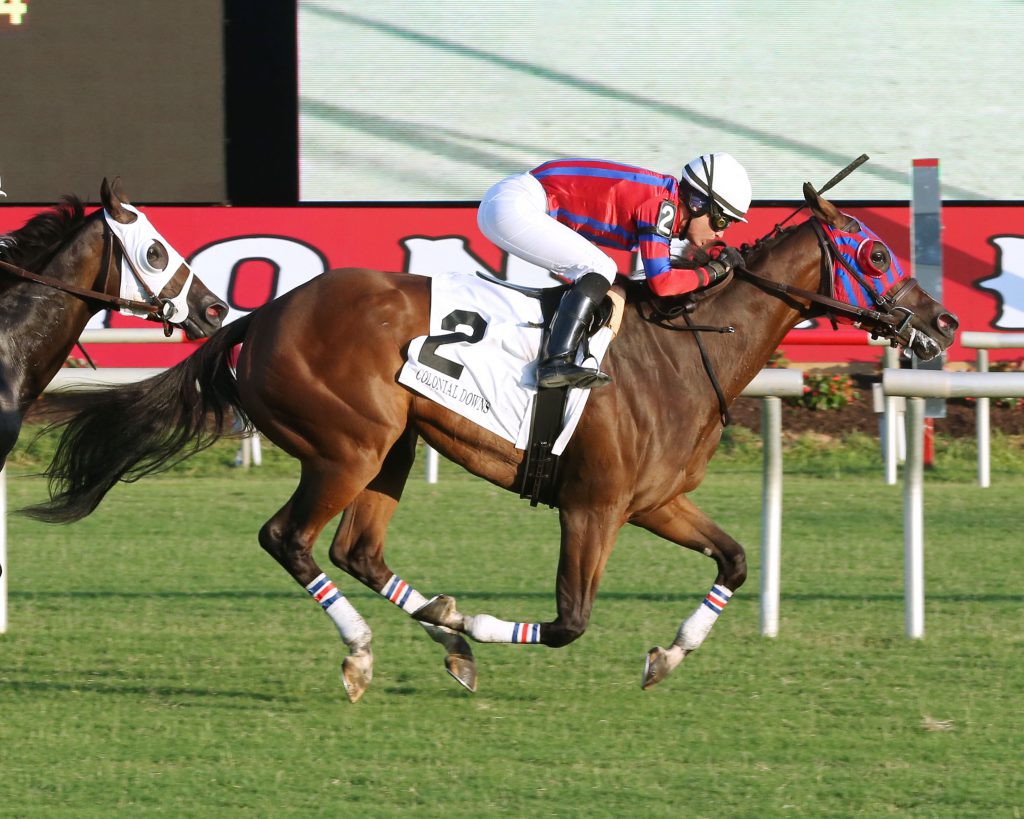 "Karen does a… Continue reading →
The following appeared in "The Racing Biz" and was written by Nick Hahn.
For trainer Karen Dennehy Godsey of Eagle Point Farm in Ashland, VA, the first stakes win of her career came on the first stakes race of the brief, 15-day Colonial Downs meet, the M. Tyson Gilpin Stakes for Virginia-bred or-sired fillies and mares. Godsey trains about a dozen
"I just want to go home and hug my mare (Toccoa)." she said. "You have the Toccoa thing, you've… Continue reading →