Virginia Thoroughbred Association (VTA) Executive Director Debbie Easter welcomed 2023 Officers and Board members — both new ones and those whose terms had expired — at the most recent VTA Board meeting held at the Warrenton office.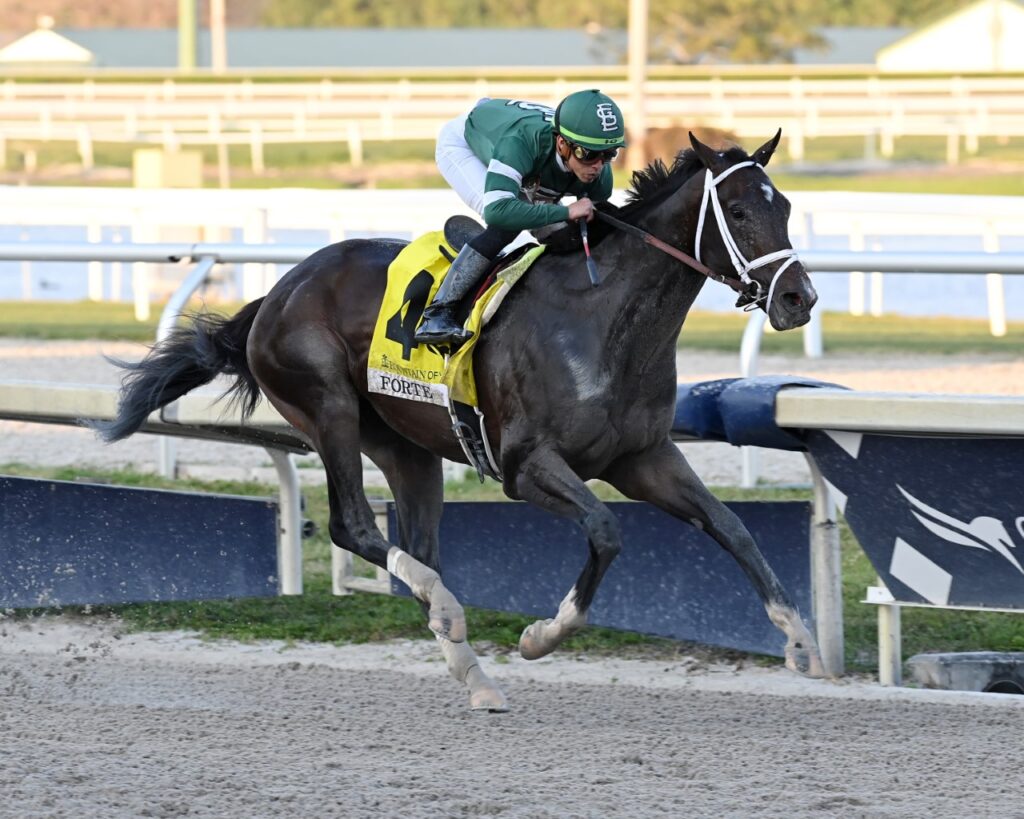 The '23 slate of Officers includes President Amy Moore of South Gate Farm in Millwood (breeder of early Kentucky Derby favorite Forte), Vice-President… Continue reading →
Secretariat, in the form of a 3,500-pound bronze monument, is racing to his home state of Virginia to kick off the national 50TH anniversary celebration of his immortal Triple Crown of 1973. The "Secretariat Racing Into History" monument by renowned equine artist Jocelyn Russell is traveling over 1,000 miles from the foundry in Oklahoma to the historic town of Ashland, Virginia. At 21 feet long and 11.5 feet tall, this is the largest monument of Secretariat in existence, dramatically… Continue reading →
The following appeared in drf.com February 18 and was written by Dan Illman. Coffeewithchris is Virginia Certified and spent his residency at Horseshoe Hill Farm in Ashland.
LAUREL, Md. – Coffeewithchris earned his second stakes victory when upsetting odds-on favorite Prince of Jericho in the Miracle Wood for 3-year-olds at one mile on Saturday at Laurel Park.
The Miracle Wood was one of four $100,000 undercard stakes races on the Winter Spectacular program co-headlined by two $250,000 stakes, the Grade… Continue reading →
The following appeared on the kentuckyderby.com website. The 2023 "Run for the Roses" will be contested May 6 at Churchill Downs. Fans in Virginia can wager the big event at any Rosie's Gaming Emporium, VA-Horseplay OTB, at the Virginia Gold Cup Races and at Shenandoah Downs, and online via Twinspires.com, TVG.com, Xpressbet.com and NYRABts.com.
Fifty years after Virginia-bred Secretariat took the Triple Crown by storm, a champion colt with deep connections to the Old Dominion is the early favorite for… Continue reading →
CHARLOTTESVILLE, Va. – February XX, 2023 – The Virginia Equine Alliance – a non-profit, 501 (c) 6 organization that sustains, promotes and expands the horse breeding and horse racing industries in Virginia – has announced Jill Byrne as its new vice president of strategic planning.
"Byrne is a wonderful fit for the role, especially with her decades of experience in the horse racing and breeding industries," said Jeb Hannum, executive director of the VEA. "From being in the heart of… Continue reading →
Congratulations to two longtime Virginia horse racing industry employees —- who both started working at the Colonial Downs Off Track Betting Center in Alberta in December, 1997 —- and are still working at Colonial Downs, some 25 years later!
Paulette Coleman and Karen Henson started work the same day that December and neither could have imagined they would still be working together a quarter century later. At the time, pari-mutuel horse racing was still very new to Virginia. Off Track Betting… Continue reading →
The following appeared on richmond.com December 27, 2022 and was written by Jerry Lindquist.
Virginia has never been considered a major player in the world of Thoroughbred horse racing, but recent developments have thrust it into the national spotlight.
Famed operator Churchill Downs finalized its purchase of Colonial Downs earlier this year, and did not waste any time making good on its promise to deliver high-stakes racing to the commonwealth.
The company is moving two of its Grade 1 stakes… Continue reading →
Colonial Downs race dates for 2023 were approved at the Virginia Racing Commission's December 14 meeting, and the 27-day, 9-week meet features a move to partial weekend racing after several years of operating on a Monday-Tuesday-Wednesday afternoon schedule.
The summer campaign will run from July 13 – September 9 with racing every Thursday, Friday and Saturday at 1:30 PM. The 20th running of the $300,000 Grade 3 Virginia Derby is scheduled for closing day, Saturday September 9. A request has… Continue reading →
The following appeared at "theracingbiz.com" December 12 and was written by Nick Hahn.
With the November closing of a multistate sale of assets from Peninsula Pacific Entertainment to Churchill Downs, the upcoming Virginia Racing Commission meeting on December 14 will provide new insight into a new era of racing at Colonial Downs.
One thing will certainly be different. The new track owners will move forward without Jill Byrne, who served as Colonial's Vice-President of Racing Operations from its 2019 reincarnation… Continue reading →
The Virginia Thoroughbred Association is pleased to welcome long-time thoroughbred breeder Patricia Ramey to its Board of Directors. She will be replacing Jim Fitzgerald, who had to resign his seat due to out-of-state work obligations.
Patricia has been involved in Virginia horse racing since 1991. Her Hunt Ridge Stables are based at the Blue Ridge Farm in Upperville — a venue that has served as a horse breeding farm since 1903. The property includes three broodmare stables, two stallion stables, training stables… Continue reading →