Virginia-bred Largent, winner of the Edward P. Evans stakes last summer at Colonial Downs, will compete in Saturday's (January 23) prestigious Grade I, Pegasus World Cup Turf Invitational Stakes, which has a purse of $1 Million. The stakes will be held on the same card as the $3 Million Pegasus World Cup Invitational and five additional graded stakes at Miami's Gulfstream Park.
The… Continue reading →
Here are pictures from a recent tour of thoroughbred horse farms in Central Virginia while checking on horses in the VTA's lucrative Certified Residency program. Meet the farm owners below and check out their surroundings. This trip was made on a recent January day, probably the coldest of the season so far. The farms are located in Free Union (Ruxton Farm), Charlottesville (Big Lick Farm), Crozet (Braeburn Training Center), Somerset, New Canton (Southwoods Farm) and Palmyra (Byrd Hill Farm). A… Continue reading →
by Brian Bohl/NYRA | 01.18.2021 | 5:06pm
Congratulations to Virginia-Bred Bella Aurora, who won the $100,000 Interborough Stakes at Aqueduct on January 18 after being sent off at odds of 37-1! The 4-year-old Carpe Diem filly was bred by Morgan's Ford Farm and got her second stakes victory — she previously won the 2019 Gin Talking Stakes at Laurel. Overall, she has earnings of $223,140 from 12  career starts and four wins. The following recap appeared in… Continue reading →
Handle figures from Virginia's four partner Advance Deposit Wagering (ADW) companies — TVG, Xpressbet, Twinspires and NYRABets — began to grow markedly in early spring then continued to surge throughout the rest of the year as more tracks came on board.… Continue reading →
Virginia-bred Largent's three stakes and two allowance wins in 2020 triggered an $81,738 Virginia Breeders Fund bonus award for Lazy Lane Farm in Upperville, tops among any horse and breeding farm in the Commonwealth. Virginia Breeders awards took a big step forward in 2020, averaging 40% of each winning purse at tracks across North America compared with 22% in 2019.
"I'm extremely excited that the Virginia breeders are starting to reap the rewards from the growing revenue streams we have… Continue reading →
Dumfries, VA – January 8, 2021 – At a ceremonial outdoor and socially distanced ribbon cutting, Colonial Downs Group announced today that Rosie's Gaming Emporium is now open in Dumfries, Va. Rosie's, located in the Triangle Shopping Plaza convenient to Interstate 95, features 150 slots-like gaming machines, simulcast horse racing, restaurant and bar.
At the event, Rosie's displayed its commitment to community by donating $76,500 to… Continue reading →
Virginia Stallion Season Auction | February 10, 2021
Save money and buy No Guarantee seasons at the Virginia Stallion Season Auction February 10
th
. Check out our large list of quality seasons at
vabred.org
which is updated daily. Many of our seasons are owned by breeding right holders who are motivated to sell.
Want to secure a Stand and Nurse or No Guarantee season prior to February 10th? Call Debbie Easter at 434-531-2480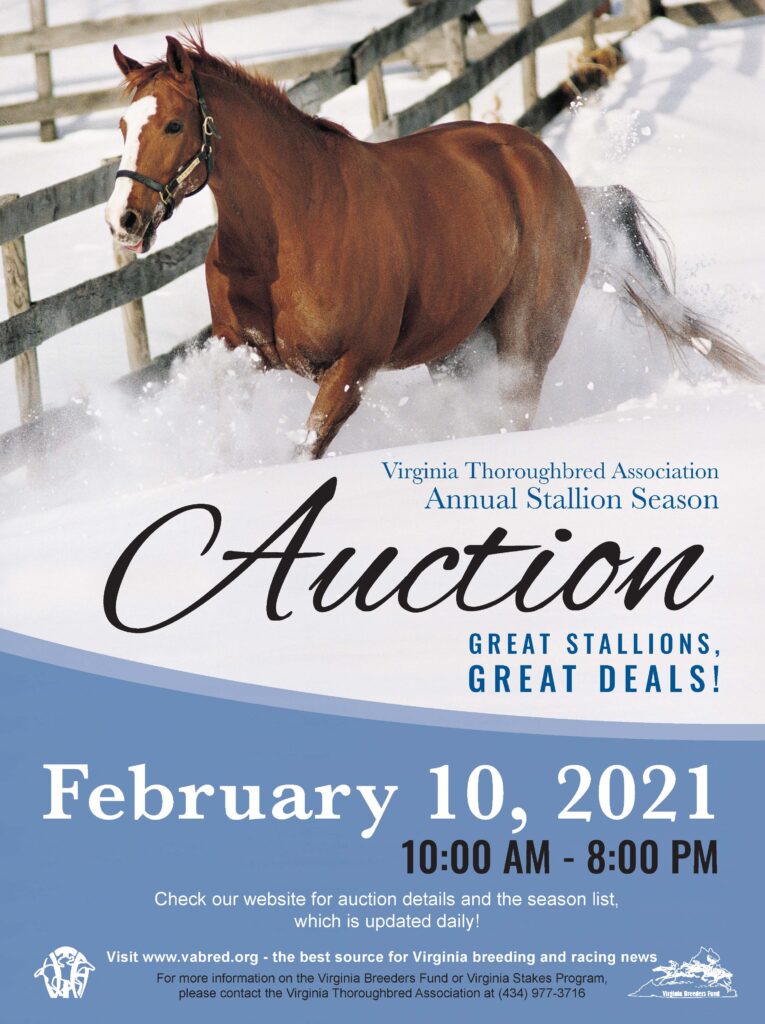 The last few days of 2020 and first few of 2021 saw a total of 17 Virginia-Certified horses reach the winners circle, including four that spent their six-month residency in the Commonwealth at Woodbery Payne's Ingleside Training Center in Montpelier Station — War Tocsin, My My Girl, Left Leaning Lucy and Oh My Papa.
War Tocsin captured a seven-furlong, $40,000 allowance race at Parx December 30 while pushing his career bankroll to $135,043. The 5-year-old Violence gelding, a Kentucky-bred, is… Continue reading →