SAVE THE DATE | June 23, 2019
THE $22,500 VIRGINIA YEARLING FUTURITY
Warrenton Horse Show Grounds, Warrenton, Virginia – 9:00a.m.
Entry forms will be maile the last week in May.
CLASSES:
$7,500 Virginia-Bred or Sired Yearling Colts and Geldings
$7,500 Virginia-Bred or Sired Yearling Fillies
$7,500 Virginia-Certified Yearling Colts, Geldings and Fillies
Grand Champion Yearling Class
JUDGE: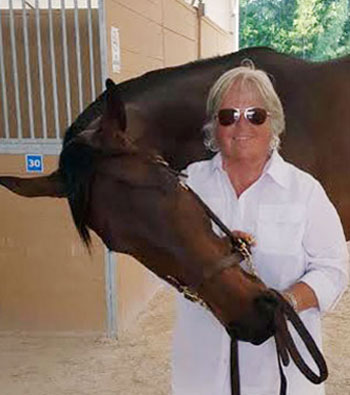 Cary Frommer has been involved in the Thoroughbred industry for more than 30 years. She has… Continue reading →
The 2019 Colonial Downs stakes schedule was released today. Stakes for Virginia-bred and sired horses are featured on both opening and closing weekends. The highlight of the meet is Saturday, August 31st when both the Grade 3 Virginia Derby and Virginia Oaks are scheduled to run.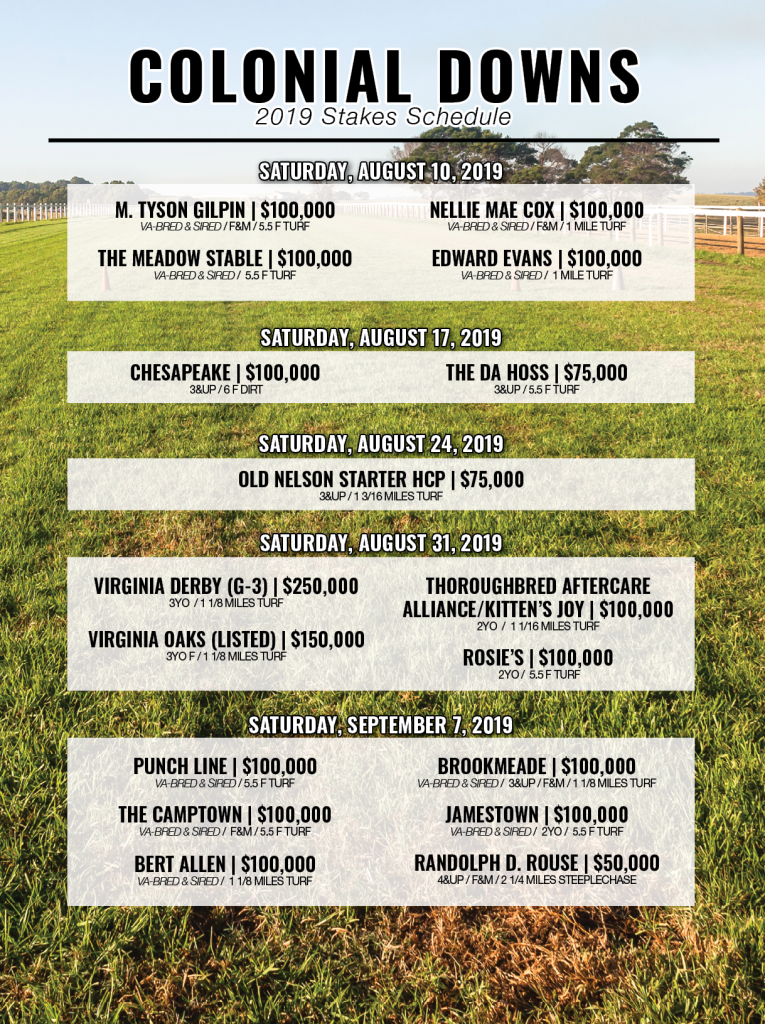 *All Virgina-bred/sired stakes with less than six entries will be opened to Virginia-certified horses. The Punch Line stakes is a non-black-type stakes.
BY GRAHAM MOOMAW Richmond Times-Dispatch
There was no dirt to shovel in the asphalt expanse of the old Kmart parking lot, so representatives from Colonial Downs and the city of Richmond did the next best thing.
They unfurled a "Coming Soon" banner outside the former big-box store off Midlothian Turnpike on Wednesday to herald the expected June 2019 opening of the first Rosie's Gaming Emporium, a horse betting facility officials called a major boost to a part of the city… Continue reading →
(Doswell, VA)  – The children of Penny Chenery – Sarah Tweedy Manning, Kate Chenery Tweedy, Christopher Tweedy and John Tweedy – have announced that their mother's ashes were interred in Virginia on October 20.  A memorial service was held at St. James the Less Episcopal Church in Ashland, followed by a private graveside service at the Chenery family plot in Woodland Cemetery. Penny's ashes were buried next to the graves of her father Christopher T. Chenery and her… Continue reading →
The NTRA has issued their October 2018 newsletter providing readers with discounts via partner programs that in turn provide a percentage of each sale back to thoroughbred racing.
Checkout the online version of the newsletter.
Patricia Schuler, 82, of Keswick, passed away on February 19, 2018.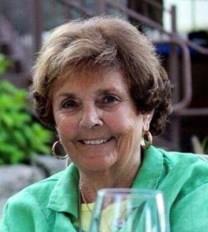 Patricia was born on July 29, 1935, in Portland, Maine, to the late Robert W. Reilly and Allene Sacco Reilly. She attended Holy Names Academy and St Rose College in Albany, NY. Pat's love and passion for animals led her to serve as vice president of the Derry N.H. S.P.C.A and later held a position as a board member with the Virginia Thoroughbred Association (V.T.A). Pat was instrumental in… Continue reading →
            C. Oliver (Ollie) Iselin lll,  a native of Middleburg who was an All-American rower when he captained the Harvard crew team and later served for more than 20 years in the CIA in posts in north and west Africa , died at his home on Oct. 10 from congestive heart failure. He was 90.