Horse owner and equine veterinarian Dr. Doug Daniels has been elected president of the National Horsemen's Benevolent & Protective Association, which represents thoroughbred racing owners and trainers through affiliates in a number of states.
Daniels, who was unopposed for the National HBPA presidency, has been vice president of the Virginia HBPA and a member of the National HBPA's executive committee since 2019. He succeeds Leroy Gessmann, who had been president since 2015. In addition to his own Virginia Equine PLLC veterinary practice, Daniels has and continues to work for the Virginia Racing Commission when needed as a regulatory veterinarian at the commonwealth's thoroughbred, standardbred and steeplechase race meets.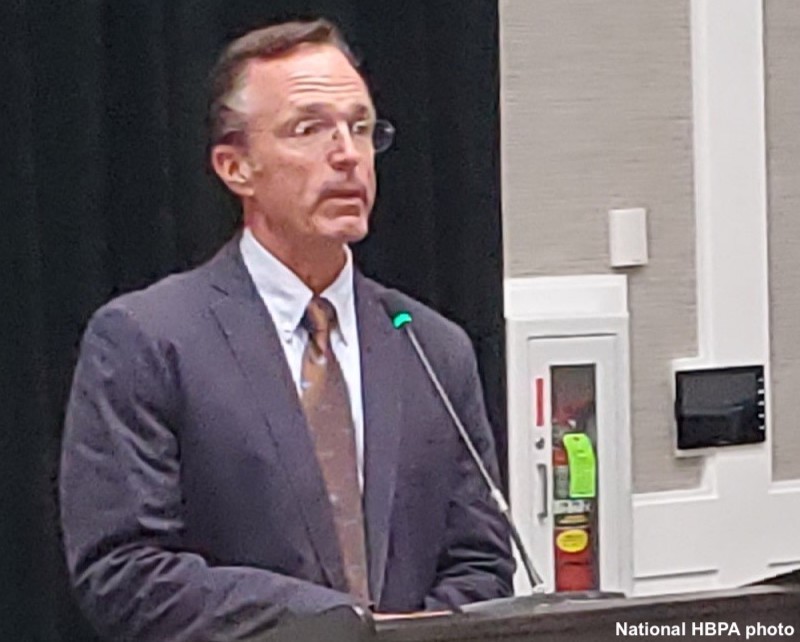 Jami Poole, president of the Mountaineer HBPA who chaired the nominating committee, said of Daniels: "Having someone with the credentials of Dr. Daniels lead the National HBPA speaks to the commitment of our organization, and should be a message to all that we are leading into the future and we are 'horsemen helping horsemen.'"
"It's a pivotal time for the industry in general," Daniels said. "I feel very fortunate to be involved and to have the opportunity to give back to an industry that's been good to me personally and professionally. My hope and my goal would be to use my education and my work experience and knowledge of equine medicine to the betterment of the membership."
He takes over the helm at a time when the National HBPA is challenging in federal court in Texas the legality of the Horseracing Integrity and Safety Act (HISA). The National HBPA long has advocated for enhanced safety regulations, security and tougher sanctions for cheaters but believes policies must be implemented with transparency and input from horsemen's and veterinary representative groups.
"Because of the pending federal legislation, I feel like this is a good time for the membership to have a veterinarian with a voice to look out for their interests," Daniels said.
As a horse owner who keeps a couple of racehorses in training as well as a broodmare or two at any time, Daniels said he "all too painfully" knows the concerns facing owners.
"If there is some noise to be made, some massaging or finessing to be done, I plan to be all up in it," he said of the challenges facing owners and trainers. "Medication policy, worker's compensation and immigration issues are going to require a lot of continued attention.
"I definitely enjoy what I do for a living, and I couldn't imagine doing anything else. But I'm looking forward to branching out into this next aspect of my professional career. It's one I've not taken lightly and it's one I discussed with my family at length before taking this step. I'm excited about it. I'm excited about the people I'll be working with at the HBPA, in particular with (CEO) Eric Hamelback. We're so lucky to have him. He makes my position so much easier."
Daniels grew up in Kansas, his parents raising and racing horses in Nebraska, Oklahoma, Colorado and Kansas. He attended undergraduate and received his Doctor of Veterinary Medicine degree from Auburn University, graduating cum laude. Daniels ventured into horse ownership once his vet practice became established. He has raced in Virginia, Maryland, New Jersey, Florida, Texas, West Virginia and Pennsylvania.
Daniels was elected at the National HBPA's full board meeting late last week at Prairie Meadows racetrack in Altoona, Iowa, which included the election of all National HBPA Officers. The only change other than the election of president Daniels was that of the National HBPA's East Region vice president. The East Region affiliates elected Sandee Martin, president of the Pennsylvania HBPA. Re-elected as vice presidents were: Kentucky HBPA president Rick Hiles (Southern Region), Arizona HBPA vice president Lloyd Yother (West Region) and Indiana HBPA president Joe Davis (Central Region). Hiles also remains in the position of first National HBPA vice president. The secretary-treasurer, an appointed position, remains Lynne McNally, executive vice president of the Nebraska HBPA.
Hamelback concluded with saying the overall meeting was positive and productive. He said among the topics discussed at the meeting were fixed-odds wagering on horse racing and the importance of revenue sharing for horse owners, legislative efforts revolving around H2B and H2A visa programs, continued discussions of HISA implementation, and the signature Claiming Crown. Additionally, the NHBPA Full Board recognized and approved an affiliate, the New Mexico Horsemen's Association. That organization will be returning with its members as an affiliate under the National HBPA.