New this year, VTA & VHBPA members will have access to two horsemen's suites on the 4th floor (Suites #4 & #5). To receive your wristband and access to the suites, show your VRC license or printed VTA suite pass (see button below) on the 4th floor at the podium when you get off of the elevator. Your license or pass will provide access for you and one guest.
Eighty wristbands will be distributed daily and you may pick up… Continue reading →
Just a reminder to owners/trainers of Virginia-Bred and Virginia-Sired horses — the Saturday July 15 card at Colonial Downs will feature a 4-pack of $125,000 turf stakes exclusively for those Commonwealth Bred/Sired horses ages three and up.
Nominations to the four — including the Edward P. Evans, Punch Line, M. Tyson Gilpin/Glen Petty and Brookmeade Stakes — are due by Saturday July 1.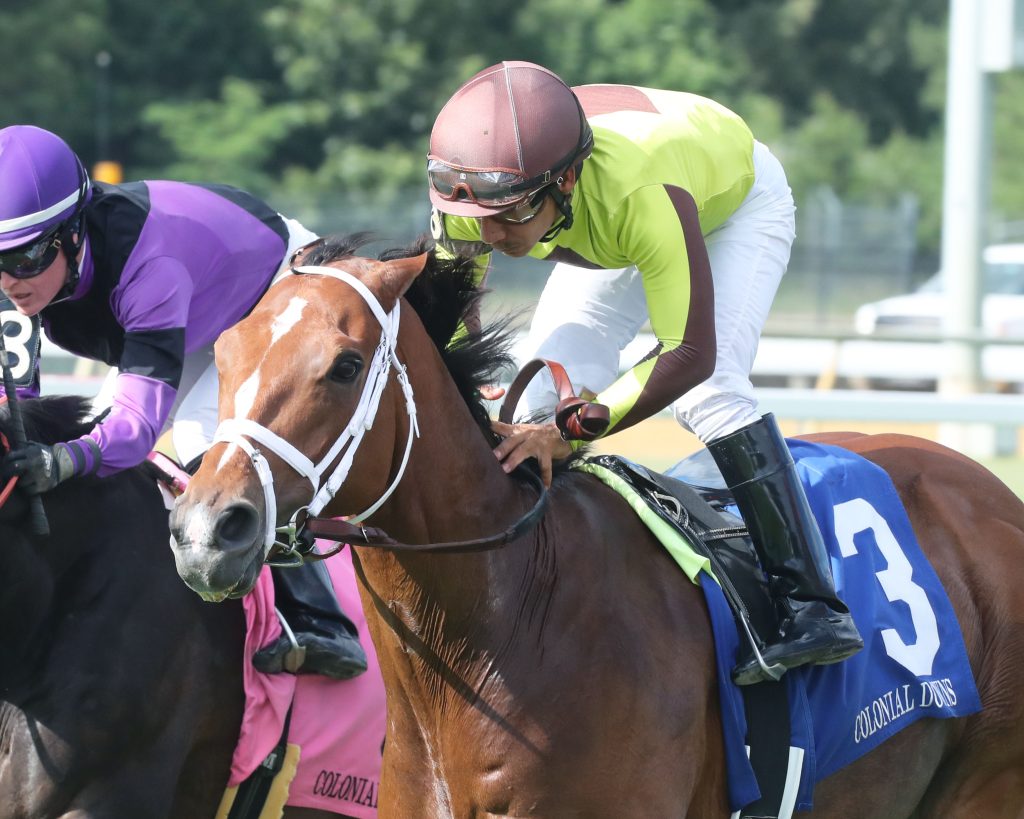 Colonial Downs is set to begin its first season of thoroughbred racing under the ownership of Churchill Downs on Thursday July 13! The 9-week season in New Kent will continue through September 9 with racing every Thursday, Friday and Saturday at 1:30 PM. In preparation for the meet, the stable area opened June 20 and training began June 23. Come opening day, some 850 horses are expected to fill the barn area.
The following pictures are from the week the… Continue reading →
9-Week Racing Season Begins Thursday, July 13
NEW KENT, Va. (June 23, 2023) – Horse vans began arriving in earnest as the stable area at Colonial Downs opened June 19 in advance of the New Kent, Va., racetrack's 2023 season which spans 27 days from Thursday, July 13 through Saturday, September 9.
A record $5.25 million in stakes purses and an average daily purse distribution of $700,000 (includes stakes) ensures the 2023 meet will offer some of the best Thoroughbred… Continue reading →
If Approved by Voters this Fall, Rosie's Gaming Emporium Will Create up to 150 New Well-Paying Jobs in Manassas Park; Generate Millions in New Tax Revenue That Could Bring Down Property Taxes, Help Fund Schools – More Information Can be Found at: www.manassasparkwins.com
Manassas Park, VA – June 22, 2023 – Churchill Downs Incorporated (CDI), the iconic host of the Kentucky Derby and owner of Colonial Downs Racetrack in New Kent, Virginia, and Rosie's Gaming Emporiums across the… Continue reading →
A revised definition of a Virginia-bred horse was also approved at the recent VRC meeting. A Virginia-bred thoroughbred horse refers to a registered thoroughbred horse foaled in Virginia. Beginning with foals of 2024, the foal's dam must also domicile in Virginia from September 1st of the year of conception and reside in Virginia until she foals the following year. 
VTA Executive Director Debbie Easter noted the Breeders' Fund will be rising from $1.2 million to over… Continue reading →
Colonial Downs Group LLC received permission at the June 6 Virginia Racing Commission (VRC) meeting to open a new "Rosie's" satellite wagering center in Emporia, Virginia and conduct pari-mutuel wagering on Historical Horse Racing (HHR) there.
The site will feature 150 HHR terminals, an OTB with two teller stations and six self bet machines, an R-Burger diner and an entertainment stage. This will be the seventh Rosie's Gaming Emporium in Virginia and the first one built from the ground up.… Continue reading →
Last year was an exceptional one for a number of Virginia Thoroughbreds. Team Valor International's Green Up was named Virginia Thoroughbred Association Horse of the Year at the recent 2022 Awards Night celebration, which was held at Great Meadow on the eve of the Virginia Gold Cup Steeplechase. The Upstart filly, who was bred by Althea Richards, also won honors that night as top Virginia-Bred 3-Year-Old Filly.
Green Up was 4-for-5 in 2022, including an early win streak early that… Continue reading →
The 2023 thoroughbred racing season at Colonial Downs is just around the corner and preparations are underway to make the 9-week meet in New Kent — the first since Churchill Downs Inc. (CDI) purchased it — the best ever.
The season will extend from July 13 – September 9 with racing every Thursday, Friday and Saturday at 1:30 PM. All of Colonial's races will be televised on FanDuel TV or FanDuel Racing. The barn area in New Kent opened June… Continue reading →