About the VTA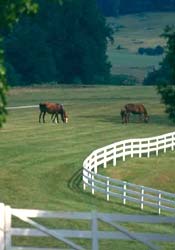 The Virginia Thoroughbred Association was organized in 1941 to cultivate the development of the Commonwealth's heritage as a producer of quality Thoroughbred horses. Today, more than 65 years later, the VTA presently boasts a membership base of about 300 members.
We are a service organization whose main goal is to assist members and to promote the Virginia Thoroughbred industry. With the passage in Virginia of pari-mutuel racing legislation in 1988 and the opening of Colonial Downs in 1997, we have vastly expanded the scope of our operations.
The VTA has emerged as the industry leader assisting the Virginia Racing Commission in developing and fine-tuning the rules under which the Commission regulates the Virginia Breeders Fund. The VTA administers and promotes the Virginia Breeders Fund. The VTA also works closely with the Virginia HBPA, Colonial Downs and the Maryland Jockey Club to pursue the expansion of live horse racing in the Commonwealth. The organization and its staff constantly research and develop opportunities in an effort to strengthen and enhance Virginia's standing as one of the world's most important centers for Thoroughbred bloodstock.
Our member-elected Board of Directors is comprised of owners, breeders, bloodstock agents, trainers and veterinarians who volunteer many hours of service developing programs and policies that represent and support every segment of the industry. Our main office is located in Charlottesville, and our Warrenton office is staffed 2 to 3 times a week for the additional convenience of our association.
We are a member of:
National Thoroughbred Racing Association(NTRA)
Virginia Horse Industry Board
American Horse Council
Thoroughbred Owners and Breeders Association (TOBA)
Virginia Horse Council
Virginia Free
Virginia Agribusiness Council
Services offered include:
EDUCATION
Seminars offer instruction on subjects ranging from broodmare care to taxes. Members are also welcome to use the VTA's extensive library and pedigree research facilities on request.
EVENTS
Officers of the Association are elected at the Annual Meeting each year. The VTA also hosts an annual state breeders awards presentation to recognize the achievements of VTA members and their horses during the past year. Several special social events are held throughout the year, including hosting members in the VTA sky-box at Colonial Downs.
PUBLICATIONS
The VTA publishes a weekly bulletin to keep the membership abreast of industry news. You can also keep up with our News here, and our Events here.
STALLION AUCTION
The Stallion Season Auction is the major annual fund raising effort for the VTA. Over 200 no-guarantee stallion seasons are sold to the general public during a telephone auction. Final bids are confidential.