Peggy Augustus, a successful owner and breeder who bred Eclipse Award winners Stellar Wind (Curlin) and Johnny D. (Stage Door Johnny), passed away Sunday at her home on her Old Keswick Farm in Charlottesville, VA. She was 90. Her death was confirmed by one of her former trainers, Bill Hirsch Jr.
"She was a great lady, just one of the best," Hirsch said. "The thing I remember most about her was that, unlike most owners, she knew how to win… Continue reading →
JULY 10, 1951 – JULY 18, 2023
Obituary – Jack Mason Weaver
Jack Mason Weaver, age 72, of Culpeper, Virginia passed away on Tuesday, July 18, 2023 at VCU Hospital in Richmond, VA. He was born July 10, 1951 to the late Jack D. And Betty Priest Weaver. He graduated from Culpeper County High School and Smithdeal-Massey College.
Jack Mason was a third generation car dealer at Dick C. Weaver & Son. He loved horse… Continue reading →
New Kent, Va. (July 27, 2023) — Colonial Downs, working jointly with the Virginia HBPA and Virginia Racing Commission, today announced it is cancelling the Saturday, July 29 racing program out of an abundance of caution due to excessive heat forecast. The Saturday cancellation is in addition to the previously announced cancellation of Friday's card.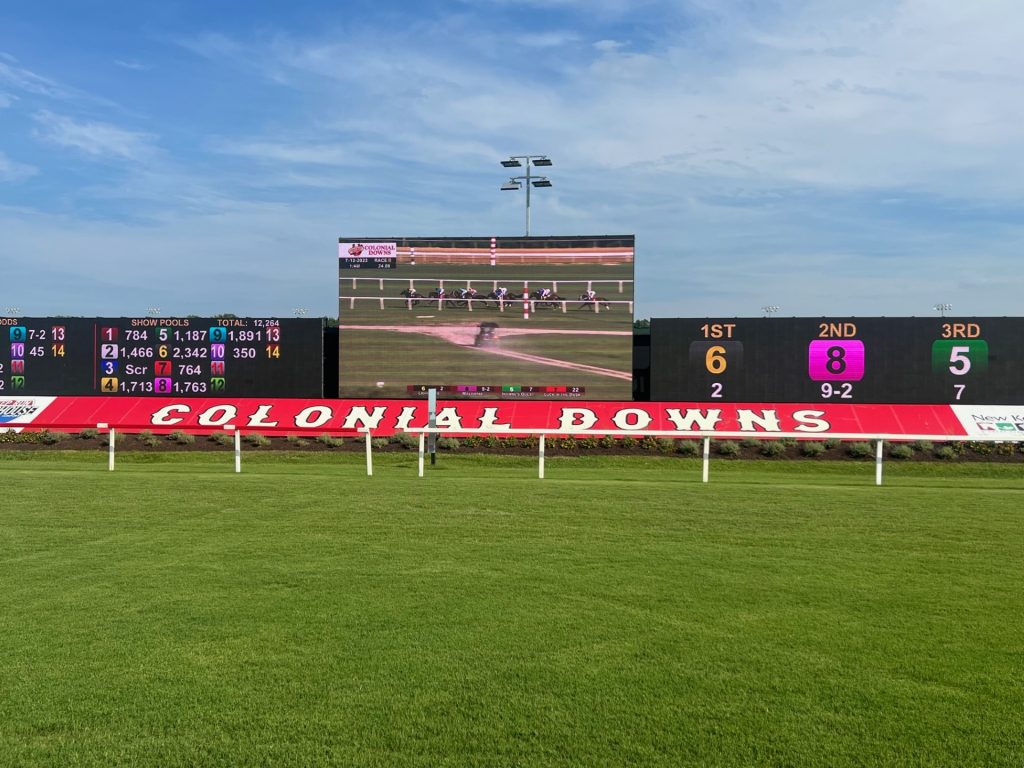 Friday races will be brought back as drawn on Wednesday, August 2, with a 1:30 p.m. ET post time. There will be an additional… Continue reading →
The following appeared in Richmond Magazine and was written by Claire Fortier who took photos as well.
July 23, 2023
From George Washington pitting his best breed of horses against Thomas Jefferson's to the spectacular Triple Crown victory of Doswell-born Secretariat in 1973, horse racing has a legendary history in Virginia. Now that legend is about to get a leg up.
Colonial Downs, purchased in November by Churchill Downs Incorporated, the company that runs the Kentucky Derby, is the… Continue reading →
The biggest day in Virginia horse racing history is set for Saturday August 12 at Colonial Downs! The first ever "Festival of Racing" program will feature three prestigious turf stakes races that previously had been run at Arlington International Racecourse for decades — the Grade 1 Arlington Million ($1 million purse), Grade 1 Beverly D Stakes ($500,000 purse) and Grade 2 Secretariat Stakes ($500,000 purse).
Four Virginia-Bred Stakes Highlight Opening Week Action on Saturday
D. Hatman Thoroughbreds and Kingdom Bloodstock 's Determined Kingdom authored a convincing gate-to-wire victory under Mychel Sanchez in the 5-1/2 furlong, $125,000 Punch Line Stakes Saturday at Colonial Downs — one of four turf stakes on the card for Commonwealth-bred and sired horses with purses that totaled $500,000.
The 4-year-old Animal Kingdom gelding won his fifth… Continue reading →
The following appeared at richmond.com July 14 and was written by Savannah Reger. The Colonial Downs summer racing season continues through September 9 with cards scheduled every Thursday, Friday and Saturday at 1:30 PM
There's a taste of the Kentucky Derby in New Kent County this year.
Bought by Louisville, Kentucky-based Churchill Downs Inc. in 2022, Colonial Downs track opened for the season Thursday and is set for nine weeks of horse racing. It's the biggest year yet for the… Continue reading →
July 13th, 2023 BYMike Curry
Horses race on Colonial Downs' lush turf course during the 2022 meet. (Coady Photography)
The 2023 meet at Colonial Downs began July 13 and the New Kent, Va. racetrack traditionally offers some of the best turf racing in the country. The action heats up quickly as Colonial's Saturday (July 15) card features four turf stakes races, each with a purse of $125,000, for Virginia-bred or Virginia-sired runners.
The Tyson Gilpin/Petty Stakes and the… Continue reading →
The top three finishers in the 2022 Punch Line Stakes will renew their rivalry Saturday (July 15) in the 2023 edition as Colonial Downs culminates its opening week action with four Virginia-Bred Stakes. The turf quartet, which also includes the Edward P. Evans, Tyson Gilpin/Glenn Petty and Brookmeade Stakes, will each feature a $125,000 purse.
D Hatman Thoroughbreds and Kingdom Bloodstock's Determined Kingdom prevailed by a convincing 5 ½ lengths in last year's Punch Line. The 4-year-old Animal Kingdom gelding,… Continue reading →
Colonial Downs® 2023 Racing Season Starts Thursday, July 13
NEW KENT, Va. (July 10, 2023) – The iconic Churchill Downs is bringing live racing back to Colonial Downs Racetrack in New Kent County. Weekend racing returns with top Thoroughbred horses from around the country every Thursday, Friday, and Saturday with post time at 1:30 p.m. Also new this year are three high level stakes races at Colonial Downs showcased as part of the new Colonial Downs Festival of Racing card… Continue reading →