Prominent Virginia Horse Breeder & Owner Peggy Augustus Passes Away
Peggy Augustus, a successful owner and breeder who bred Eclipse Award winners Stellar Wind (Curlin) and Johnny D. (Stage Door Johnny), passed away Sunday at her home on her Old Keswick Farm in Charlottesville, VA. She was 90. Her death was confirmed by one of her former trainers, Bill Hirsch Jr.
"She was a great lady, just one of the best," Hirsch said. "The thing I remember most about her was that, unlike most owners, she knew how to win and she knew how to lose. A lot of them don't know how to lose. She never skimped on anything. Whatever her horses needed, no matter the cost or the effort it took to get something to me, she got it done. Her number one priority was always her horses. She was just a fabulous lady."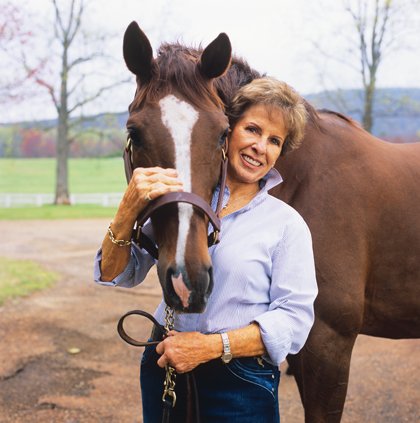 Hirsch said that Augustus was suffering from breathing problems, which were worsening, and that she told friends and family that "it is time for me to go."
Augustus, a member of the Virginia Sports Hall of Fame, was born in Cleveland Ohio before moving to Virginia in 1950. Before getting involved in racing, she was an active owner, trainer and rider who competed against men and professionals and won major championships throughout the United States
and Canada, including the National Horse Show at Madison Square Garden, the Devon Horse Show, the Royal Winter Fair, the Pennsylvania National and Virginia's top four horse shows Hot Springs, Keswick, Deep Run, and Warrenton.
She is also a member of the Virginia Horse Show Hall of Fame and the National Horse Show Hall of Fame, and was a named a Living Legend of the National Horse Show in 1996. In 1997, she was elected into the Hunter Hall of Fame. In 2008, she told the website virginialiving.com, that she had been interested in racing since she was 10 years old and started compiling statistics on horses running at the Chicago tracks.
Before she was old enough to attend a day at the track, her mother, Elizabeth, would sneak her into the races.
"You had to be 21 to get into the racetracks back then," she told the website. "If I picked less than four winners, it was a bad day."
As a teenager she was heavily influenced by involved in showing and briefly lost interest in racing. In 1952, the Augustus family bought Old Keswick Farm in Virginia, where Elizabeth was involved in raising
Thoroughbreds. When her father died in 1963, Peggy moved to Old Keswick and carried on the breeding business with her mother under the name Keswick Stables. According to Virginia Living, Augustus bred 48 stakes winners.
One of her first stars as a breeder was Johnny D., who was owned by Dana Bray. A foal of 1974, his biggest wins came in the 1977 GI Washington D.C. International and the 1977 Turf Classic International S. He was named champion turf male of 1977. Her next big horse as a breeder was Husband (Diesis), who she also campaigned. After racing in France, his biggest win came in the 1993 GI Rothman=s International S. at Woodbine. After his racing career was over, Husband wound up in South America. Augustus would buy him back from his new owner and let him live out his final years at Keswick.

For Augustus, Stellar Wind, who she bred along with Stonestreet Thoroughbred Holdings, was somewhat of a last hurrah. Sold for just $40,000 at the 2013 Fasig-Tipton Saratoga sale, the mare went on to win six Grade I races and was named champion 3-year-old filly in 2015. Stellar Wind was the last offspring of the last mare bred by Keswick Stables. Stellar Wind finished fourth in the GI Kentucky Oaks as the 3-1 favorite.
Augustus also enjoyed great success at the sales. In 1984, she sold a yearling colt by Roberto at Fasig-Tipton Saratoga to Hugh de Burgh, who was representing Maktoum bin Rashid al Maktoum, for $4 million. It was the second highest price for a horse sold at that sale. According to her profile on the Virginia Sports Hall of Fame website, Augustus also sold a filly at Saratoga for $2.1 million and she is the only person in the history of the Saratoga sales to have bred and sold five yearlings that went on to win more than a million dollars.
"If she was not the best small breeder in the world during the lates '70's early '80's she certainly was right up there," said Debbie Easter, Executive Director of the Virginia Thoroughbred Association. "She sold million-dollar yearlings every year at Saratoga. The champions and G1 runners she bred or co-bred during that time was amazing; Stellar Wind, Husband, Johnny D., Alwuhush, Sabin and Simply Majestic.
Virginia racing fans may remember Bop, also bred by Keswick Stables, who won the Punch Line Stakes at Colonial Downs three consecutive years, from 2001-2003. The son of Rahy earned $365,766, won 12 of 23 starts, and set track records at the five-furlong distance in three of them (at Penn National, Gulfstream and Colonial).