Longshot Ashland Stakes (G1) winner blossoms at right time
The following appeared in Bloodhorse.com.
Out for a Spin was a 52-1 outsider a few weeks ago when she pulled off a monumental upset in Keeneland's Central Bank Ashland Stakes (G1), but don't expect that price in the May 3 Longines Kentucky Oaks (G1). The quick daughter of Hard Spun has come to hand quickly and will be led over to the paddock by Dallas Stewart, a trainer who knows a thing or two about winning the Oaks.
Stewart sent out Lemons Forever for a 47-1 shocker in the 2006 Oaks and has had a great run with Lemons Forever's offspring, grade 1-winning fillies Unbridled Forever and champion Forever Unbridled.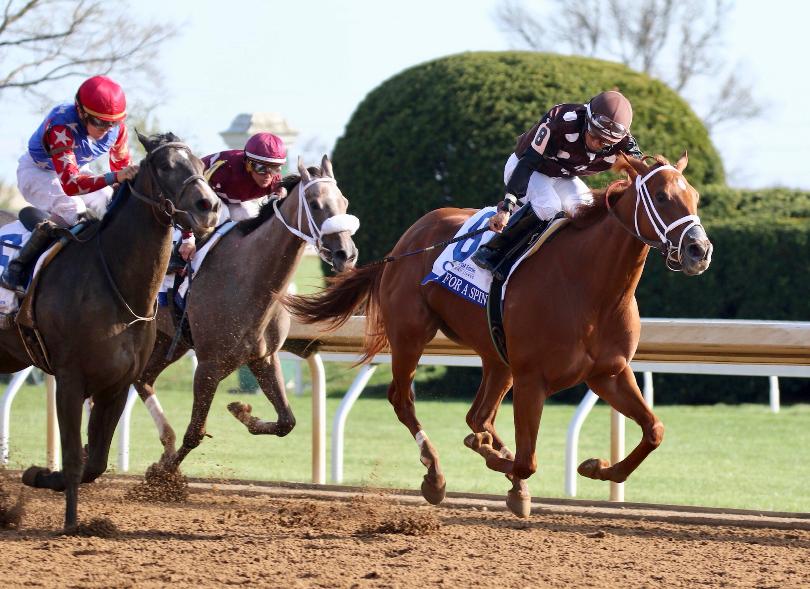 The lanky trainer got his start under the shedrow of Hall of Fame trainer D. Wayne Lukas and was first nabbed by former Lukas assistant Randy Bradshaw back in 1986. Bradshaw, with partner Sam Samsel, own Out for a Spin under the Commonwealth Stable banner.
"We've been together a long time," Stewart said of Bradshaw. "He picked out (Out for a Spin) and they put her in a 2-year-olds in training sale, and she didn't work super fast, so they sent her to me. I'm glad they did."
Out for a Spin, out of the stakes-placed Came Home mare My Mammy, was a $75,000 purchase out of the third session of the 2017 Keeneland September Yearling Sale. Bred in Virginia by the William Backer Revocable Trust, she was consigned by Smitten Farm through Taylor Made Sales Agency.
With the thought of pinhooking her, she was prepped and run through last year's Ocala Breeders' Sales Spring Sale of 2-Year-Olds in Training but was an RNA at $50,000.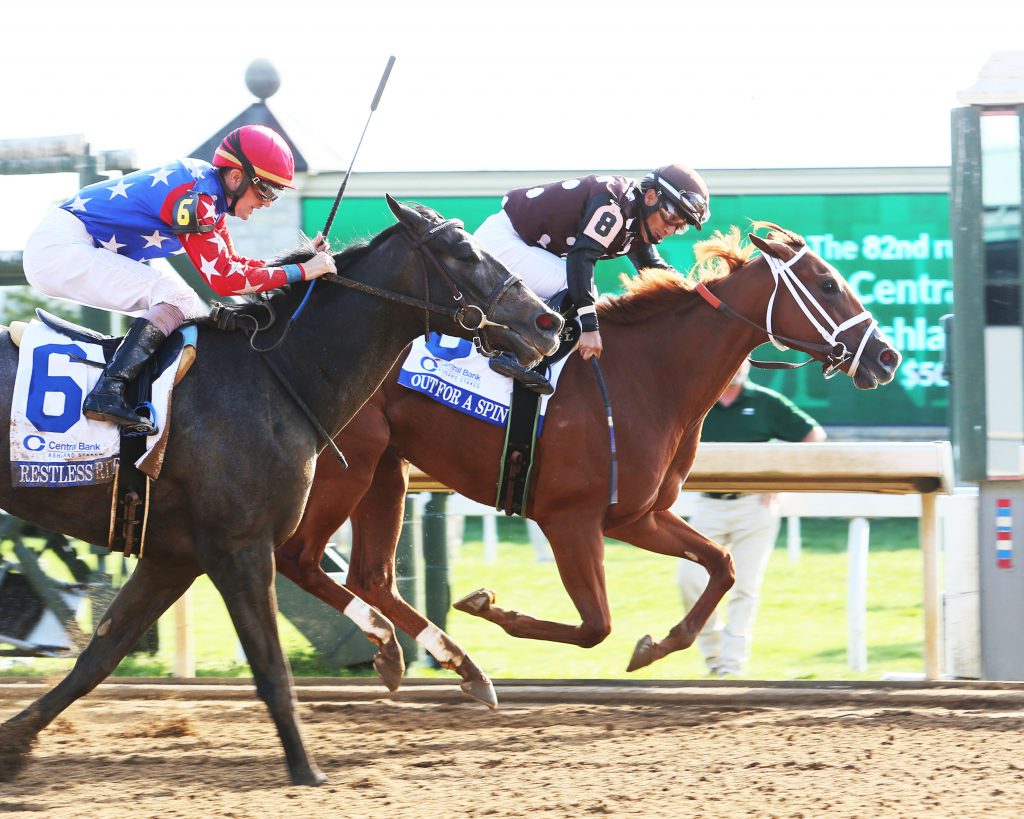 "This horse breezed in :10 and three, and everyone is looking for :10 or :10 and one," Samsel said. "Our philosophy is, if we don't get the price we feel is good, we'll keep them and race. We've done it … and done it with success. But not like this.
"We don't spend a lot of money," Samsel continued. "We're looking for good pedigrees, and Randy does the conformation. We don't think you have to spend a half-million or a million dollars to have a stakes horse. I think the most we've spent was about $125,000 for a yearling.
"Everyone is looking for great horses and great pedigrees, but these days they come at a premium. However, there are a lot of good horses that get overlooked."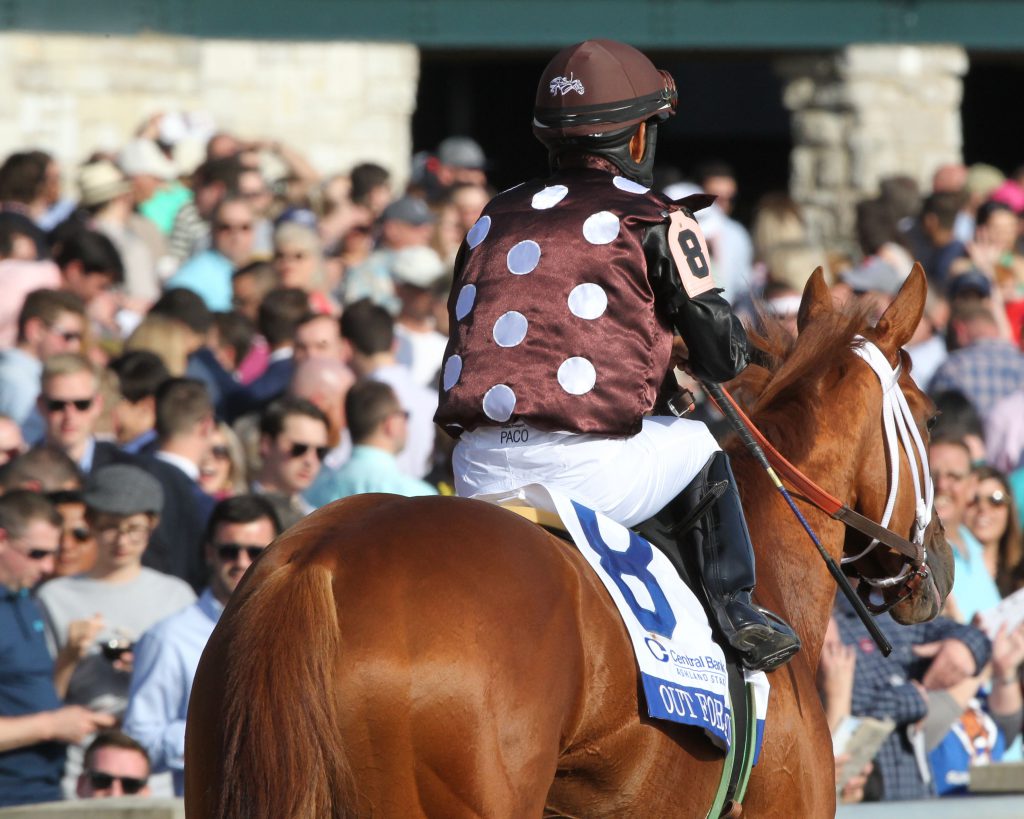 Out for a Spin is one of those. She made her debut going one turn at Churchill Downs last fall, finishing fifth, but found her stride once she got to Stewart's base in New Orleans over the winter and got a try at two turns.
She broke her maiden Dec. 29 going 1 1/16 miles at Fair Grounds Race Course & Slots. After a third-place effort at the same trip Feb. 8, she fired off a 3 3/4-length win in a March 16 optional-claiming allowance race. The huge step up to grade 1 company at Keeneland was a roll of the dice, but a calculated one by Stewart.
"We tried the Ashland knowing it was going to be tough, but there's a lot of upside if you finish first, second, or third," Stewart said. "A lot of the 3-year-olds start to blossom this time of year. The ones that are moving up the ladder are developing. You take these kinds of chances with them to see what kind of horse you have if you want to be in the classics."
This will be Samsel's first run in the Oaks.
"Needless to say, you learn a lot about the new friends you acquired … but that's just fine," Samsel said with a laugh.
Samsel worked for American Express Financial Advisors for more than 30 years and has since founded the consulting firm The Samsel Group. He's also the recipient of the Freedom Trail Foundation's Patriot Award for his contributions in preserving American history in his hometown of Boston.
"I had a call the other day from John Hall—he was the yearling manager at Taylor Made. He's been a lifelong friend," Samsel said. "He's so excited for us. He called and wanted to know how the horse was. He said, 'We are so thrilled for you … but I also have to acknowledge I'm a little jealous.' I would be, too.
"But I don't think we're going off at 52-1 this time," he said with confidence. "This was not a fluke. The horse has a big heart; she's a big competitor."