Entries are set for Thursday's (August 2nd) $40,000 maiden special weight race for Virginia-bred fillies/mares at Laurel. A field of six will compete one mile on turf to kick off the card. Early 9-5 favorite is Holiday Hopes (Walter Vieser); second choice at 7-2 is Kitten's Friend (Mark Lapidus, LLC). The rest of the field includes Darter (Althea Richards), Winning Thread (Lazy Lane Farm), Daniella (Lady Olivia of North Cliff) and Wolverette (Quest Realty). Post time Thursday is 1:10 PM.… Continue reading →
The following piece appeared on Richmond.com July 31st and was written by Graham Moomaw. 
Horse breeders and trainers, business people and elected officials appeared en masse Tuesday in Richmond to tell state officials that Virginia's second chance at building a successful horse-racing industry could stumble if the state overregulates the video gambling machines that are supposed to pay for it.
Skeptics warned that the state is galloping toward mini-casinos that cities and counties may not be able to… Continue reading →
A trio of horses sired by Smallwood Farm's (Crozet, Virginia) Friend Or Foe competed at Saratoga this past week as thoroughbred racing's most anticipated race meet completed its first full week of action this summer.
Mr. Buff took second in an $80,000 allowance/optional claimer last Wednesday, and on the same day, Chillin With Friends had a solid third place finish in his first lifetime start — a $75,000 maiden special weight race. The former, a 4 year… Continue reading →
VEA: More discretion need in proposed Va. historical racing regs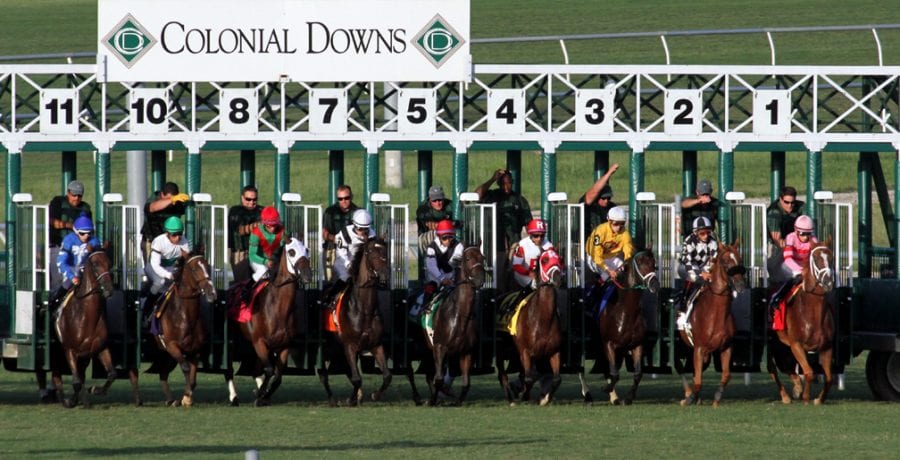 Photo by Laurie Asseo.
by Nick Hahn
In advance of next week's Virginia Racing Commission public hearing on Historic Horse Racing (HHR), the Virginia Equine Alliance (VEA), the nonprofit representing the racing industry's major stakeholder groups has submitted comments on the proposed regulations.
The general theme: The Commission… Continue reading →
Here is a letter that was e-mailed to member of Virginia's horse racing community from Debbie Easter and Jeb Hannum of the Virginia Equine Alliance. 
Call to Action:
Write the Virginia Racing Commission Today!
As you well know, thanks to bipartisan leadership in the General Assembly this past session – as well as the signature and strong support of Governor Ralph Northam – the Virginia horse industry is on the verge of a potentially historic comeback.…
Continue reading
Colonial Downs is considering buying a former Kmart building in South Richmond and transforming it into a betting site with slots-like gambling machines, according to a spokesman for the owners of the New Kent County horse-racing track.
Colonial Downs has secured an option to buy the 140,000 square-foot building at 6807 Midlothian Turnpike, but the sale could depend on whether Colonial Downs wins state and local approvals to install hundreds of historical horse racing machines in the former big-box store.… Continue reading →
The following appeared in the Richmond Times Dispatch on July 12th.
The Virginia Racing Commission is considering allowing up to 3,000 historical horse race gambling machines at Colonial Downs and off-track betting parlors throughout the state, according to recently published draft regulations.
Earlier this year, Gov. Ralph Northam signed a bill to legalize the slots-like machines as a way to revitalize the state's struggling horse racing industry, despite opposition from critics who called it a major expansion of gambling.… Continue reading →
The following appeared in The Racing Biz July 2nd.
by Frank Vespe
The Maryland Jockey Club on Monday announced that longtime Vice-President of Racing and Racing Secretary Georganne Hale would become Vice President of Racing Development, a newly created position within the company.
In that job, the company said, she will oversee the revitalization of the Washington, DC International turf race; assist with the Mid-Atlantic Thoroughbred Championship (MATCH) Series; and "lead and monitor philanthropic initiatives with the Thoroughbred Aftercare Alliance,… Continue reading →
Congratulations to Belmont Derby Invitational winner Catholic Boy and his trainer, Jonathan Thomas, who is the son of Virginia Equine Alliance's Track Superintendent, J.D. Thomas! The following article appeared in The Paulick Report July 8th. 
The last time Catholic Boy and Analyze It met in the Pennine Ridge, Analyze It took the lead only to have Catholic Boy wrest is back from him in the final strides. In Saturday's Grade 1 Belmont Derby Invitational, those two made the turn… Continue reading →
Bird Mobberley's No Refunds became the first horse to win a bonus in the new Virginia Certified Residency Program when the two year old filly kicked off Saturday's card at Laurel with her first ever victory.
The Maryland-bred scored in gate-to-wire fashion in a $40,000 maiden special weight race. The winner, by Buffum out of More Punch by Partner's Hero, held off runner-up Nosey Josy and finished 1… Continue reading →