The following appeared on the Thoroughbred Daily News website. Sam Huff's star horse, Bursting Forth, won the Grade 3 All Along Stakes at Colonial Downs in 1998, one of five stakes she won during her career. Mr. Huff also was founder of the West Virginia Breeders Classic. His Sporting Life Farm was based in Middleburg, Virginia.
Sam Huff, who made his mark in both the NFL and in thoroughbred racing as an owner-breeder and the co-founder of the West Virginia Breeders Classics, died Saturday. Huff, who had been suffering from dementia since 2013, was 87.
Huff, a third-round draft choice of the New York Giants in 1956, discovered racing during his time in New York when he would frequent Aqueduct and Belmont. Huff was traded to the Washington Redskins before the 1964 season and retired in 1969.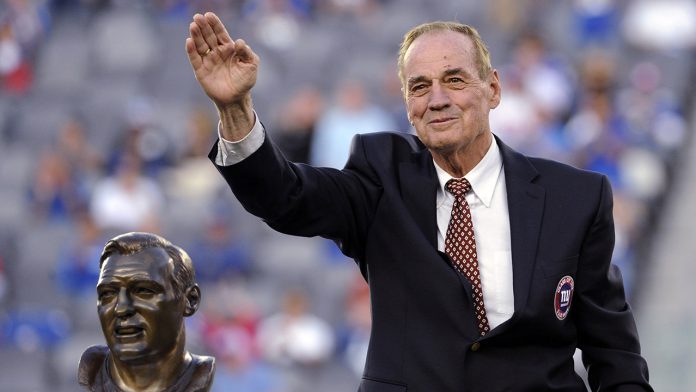 After his playing days were done, he devoted more time to thoroughbreds. Along with his partner Carol Holden, he opened Sporting Life Farm in Middleburg, Virginia. Huff was the owner and breeder of Bursting Forth, a winner of five stakes races, including the GIII Bewitch S., the GIII Vinery Matchmaker S. and the GIII All Along S.
"When you have a stakes winner, it's like hitting the lottery," Huff told the Saratogian in 2001. "It's the most exciting thing I've ever done. More than winning an NFL championship, more than reaching the Hall of Fame. There's nothing like it. That's why people are in this business."
Huff attended the inaugural Maryland Million in 1986 and liked the concept so much he decided to copy it. In 1987, Holden and Huff launched the West Virginia Breeders Classics run at Charles Town. The 35th edition of the event, held Oct. 9 at Charles Town, featured nine stakes for West Virginia-breds with total purses of $1,075,000.
"When we first started, I never had any idea we could do it for 23 years," Huff told The Northern Virginia Daily in 2009. "It seems like a long time, but when you're working in it, time goes fast. It's always been a goal to be bigger than the Maryland Million–that was our guide, that's what we copied."
Until his health started to deteriorate, Huff was the face of the Breeders Classics, always there to pose for pictures, shake hands and present trophies in the winner's circle.
Huff maintained a small stable for years and, according to Equibase, won 15 races as an owner since 2000. He started his last horse in 2015.
"I'm not the kind of owner trainers like," Huff told the Saratogian. "I am involved. I stay on top of things. There's no way you can be in one part of this business. You have to do it all. I read about the industry all the time."
"Most knew Sam Huff as an NFL Hall of Famer," read a tweet from Charles Town. We knew him as an advocate of racing and co-founder of the @WVBClassics. Sam passed away today at the age of 87. He will forever be woven into the fabric of West Virginia racing. Our deepest condolences to all who loved him."