Virginia Breeder Richard Poulson Passes Away At The Age Of 83
The following appeared in the Charlottesville Daily Progress
Richard J.M. Poulson
September 4, 1938 – November 4, 2021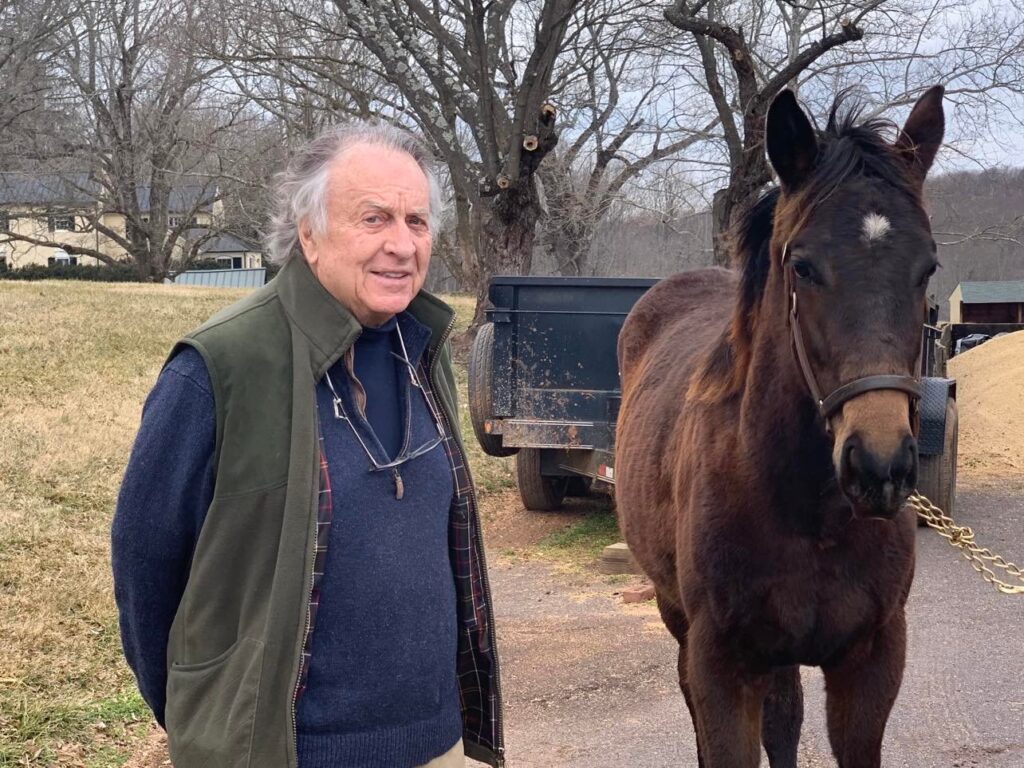 Richard J. M. Poulson of Orange, Va. and Washington, D.C., was a lawyer, sportsman, and civic leader.
Mr. Poulson was a long-time partner in the law firm Hogan & Hartson (now Hogan & Lovell) and led the firm's international expansion in opening its London Office in 1989. Prior to joining Hogan, he was a Vice President in the Investment Department at American Security and Trust Company, a predecessor to Bank of America. Following his retirement from Hogan, he joined Smithfield Foods as an Executive Vice President and General Counsel; there, he led the company's mergers and acquisitions for over 12 years to include major acquisitions in France, Spain, Poland, Canada, and Romania. He later joined Oaktree Capital Management (London) as the Senior Advisor on mergers and acquisitions. During his career, he served as a director of the following public companies: Guam Oil and Refining (Agana, Guam); Stimsonite Corporation (Chicago); Campofrio Food Group (Madrid, Spain); Groupe Smithfield (Paris); Anemix S.A. (Warsaw).
Richard was an avid sportsman. He and his wife Anne have run for many years a thoroughbred-breeding farm in Orange, Virginia, which has produced the 1994 Kentucky Derby Winner Go For Gin and numerous stakes horses. He and his wife also raced steeplechase horses, and he served on the Board of Stewards of the National Steeplechase Association.
He played rugby for the Washington Rugby Football Club and was elected to the U.S. Rugby Football Hall of Fame in 2015. His love for mentorship led him to coach football and track at Randolph-Macon Academy and Christchurch School prior to attending law school. In later years, he mentored and coached youth baseball players in DC. He also cofounded and chaired the Foggy Bottom Youth Baseball Foundation, which provides quality coaching, equipment, and facilities to those who could not otherwise afford to play.
Richard was a civic and community leader. He created and chaired The Mary and Daniel Loughran Foundation, a charitable foundation that has contributed over $250 million dollars to the Washington community.
He was a graduate of The University of Virginia, American University, Washington College of Law, and Georgetown University Law School. Richard was devoted to the University of Virginia and served two terms on the UVA Board of Managers and was Chairman/President in 1995-96. He also served two terms as Chairman of the Jefferson Scholars Foundation, UVA's flagship scholarship program. He taught at Georgetown Law School from 1970-1976.
Charismatic and genuine, Richard was a true friend, confidant, and mentor to many. He will be sorely missed.
Survivors include his wife, Anne Wrenn Poulson; his son, Hundley Poulson; his daughter, Anna Blair Poulson; and his brother, Jon Poulson.
Funeral services will be private. A memorial service will be held at a later date.
Published by Daily Progress on Nov. 14, 2021.