Sadler's Joy, fresh off a big win in the Grade I Sword Dancer, is the 4-1 third choice in Saturday's $500,000 Joe Hirsch Turf Classic (Gr. I) at Belmont. The 4 year old Kitten's Joy colt, who became a million dollar earner with that last win, was bred and is owned by Rene & Lauren Wooolcott of Woodslane Farm in The Plains, Virginia. He faces ten others in Race 10, at 5:45 PM.
There was a wide variety of results for the Virginia-breds that went through the ring at the recent Keeneland September Sales. Lazy Lane Farms, LLC bred the sales topping Virginia-bred, a beautiful Into Mischief colt out of Life in Seattle. Consigned by Virginia-bred Kitty Taylor's,  Warrendale Sales, he was purchased by Eclipse Thoroughbreds Partners and Twin Creeks Racing for $460,000.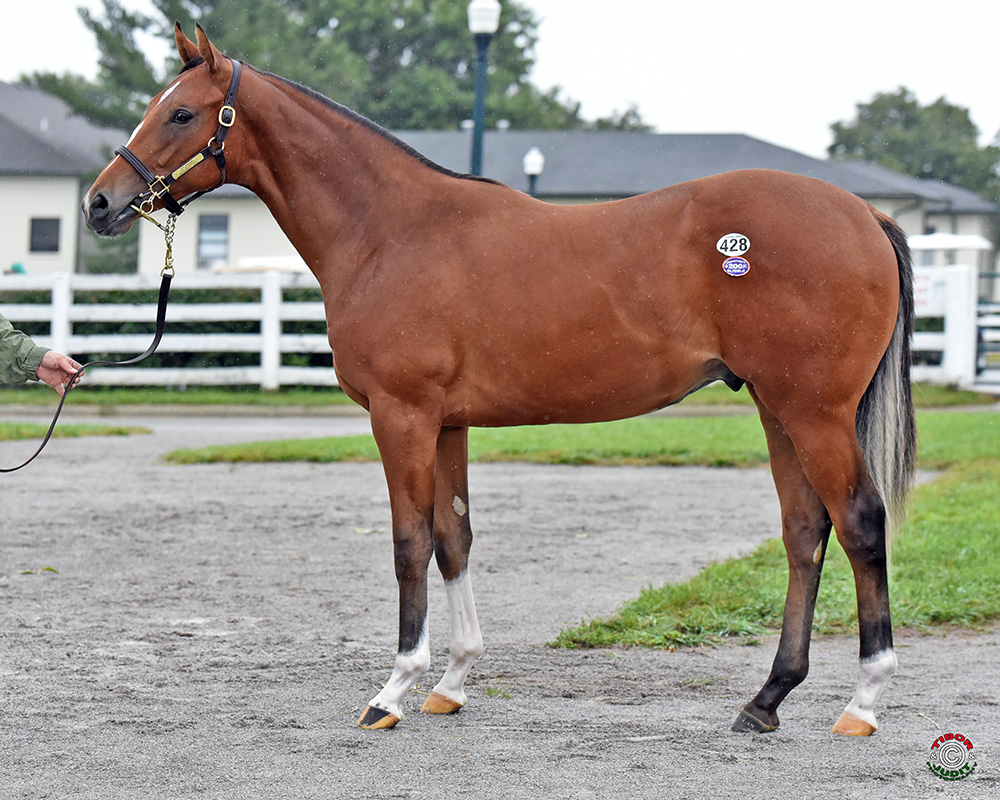 Lazy Lanes Into Mischief colt
Audley Farm sold a very nice Invinsible Spirit (IRE) colt out of Fairytale Ending… Continue reading →
"Commonwealth Day" at Laurel is set for this Saturday with eight turf stakes scheduled.
The following five are for Virginia-breds at $60,000 apiece:
*Bert Allen Stakes – Race 1 (12:30 PM)
*Brookmeade Stakes – Race 3 (1:30 PM)
*Punch Line Stakes – Race 5 (2:30 PM)
*Oakley Stakes – Race 6 (3:00 PM)
*Jamestown Stakes – Race 9 (4:30 PM)
There is also a trio of open graded stakes that all used to be run at… Continue reading →
In advance of Saturday's (Sept. 30) Commonwealth Day" program at Laurel Park, Cross Roads, Sheet Lightning and Gentle Prince all earned their first lifetime victories this past week in Virginia-bred action. Just Call Kenny, Code West and American Dubai all earned top three finishes in key stakes. And veteran horses like Defondo, What a Wildcat, Bourbon and Beer, and Greek God reached the winner's circle in various claiming events around the country.
Virginia-breds American Dubai and Code West squared off for the third time in stakes competition this year on Sunday in the $175,000 Governor's Cup Stakes at Remington Park. The former, bred by Mrs. C. Oliver Iselin, finished 2nd and 3rd — a notch better than his competitor — in both the recent Rasmussen Stakes and Cornhusker Handicap. Code West finished a notch better Sunday though, missing victory by three-quarters of a length behind… Continue reading →
All eight stakes, led by the $200,000 Baltimore-Washington International Turf Cup (G2), $200,000 Commonwealth Derby (G3) and $150,000 Commonwealth Oaks (G3), will be contested over Laurel's world-class turf course.
Topping the 29 nominees to the Baltimore-Washington International Turf Cup for 3-year-olds and up at one mile is WinStar Farm's American Patriot, whose rallying neck victory in the Makers' 46 Mile (G1) April 14 at Keeneland earned the 4-year-old colt a trip to England for the Queen Anne (G1) at Royal…
Continue reading
Eight Turf Stakes, Three Graded, Worth $850,000 in Purses Saturday, Sept. 30
LAUREL, MD – Nominations close Thursday, Sept. 21 for eight stakes, three graded, worth $850,000 in purses as part of the 'Class on the Grass' program for Commonwealth Day, Saturday Sept. 30, at Laurel Park.
All eight stakes, led by the $200,000 Baltimore-Washington International Turf Cup (G2), $200,000 Commonwealth Derby (G3) and $150,000 Commonwealth Oaks (G3), will be contested over Laurel's world-class turf course.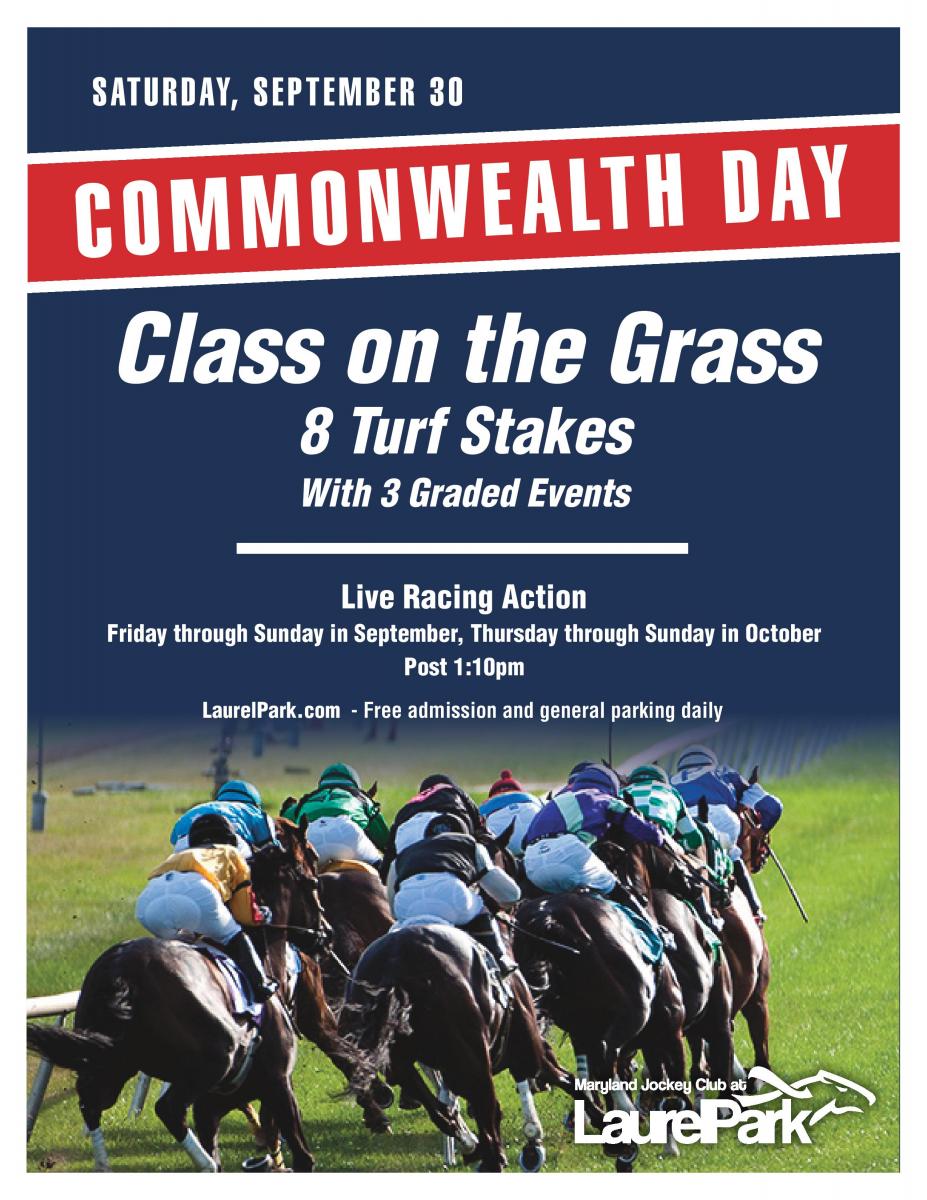 The following appeared on Bloodhorse.com September 17th.
Helen "Penny" Chenery, owner of 1973 Triple Crown winner Secretariat and a well-loved figure in her own right as a champion of Thoroughbreds and women in business and sports, died Sept. 16, in her Colorado home following complications from a stroke. She was 95.
Chenery's children announced her death through Leonard Lusky, her longtime friend and business partner.
Following Secretariat's retirement… Continue reading →
Even though this is a thoroughbred website, we thought you'd like to see what the Virginia Equine Alliance and Virginia Harness Horsemen's Association are doing up in Woodstock, Virginia at the Shenandoah County Fairgrounds. We hope to see many industry participants at the fall meet!
The second season of pari-mutuel harness racing at Shenandoah Downs is set to commence on Saturday September 16th and another five week season is planned. The meet will continue every… Continue reading →
The following appeared in The Racing Biz.
Looking to continue the momentum that has seen an increase in average daily handle for eight consecutive meets dating back to 2015, Laurel Park kicks off its 60-day fall stand with a nine-race program Friday, Sept. 8.
A total of 92 horses were entered, an average of 10.2 starters per race, with a first-race post time of 1:10 p.m. Five races are scheduled for Laurel's world-class turf course, with the remainder over its… Continue reading →