Nominations For "Commonwealth Day" Card At Laurel Close September 21
Eight Turf Stakes, Three Graded, Worth $850,000 in Purses Saturday, Sept. 30
LAUREL, MD – Nominations close Thursday, Sept. 21 for eight stakes, three graded, worth $850,000 in purses as part of the 'Class on the Grass' program for Commonwealth Day, Saturday Sept. 30, at Laurel Park.
All eight stakes, led by the $200,000 Baltimore-Washington International Turf Cup (G2), $200,000 Commonwealth Derby (G3) and $150,000 Commonwealth Oaks (G3), will be contested over Laurel's world-class turf course.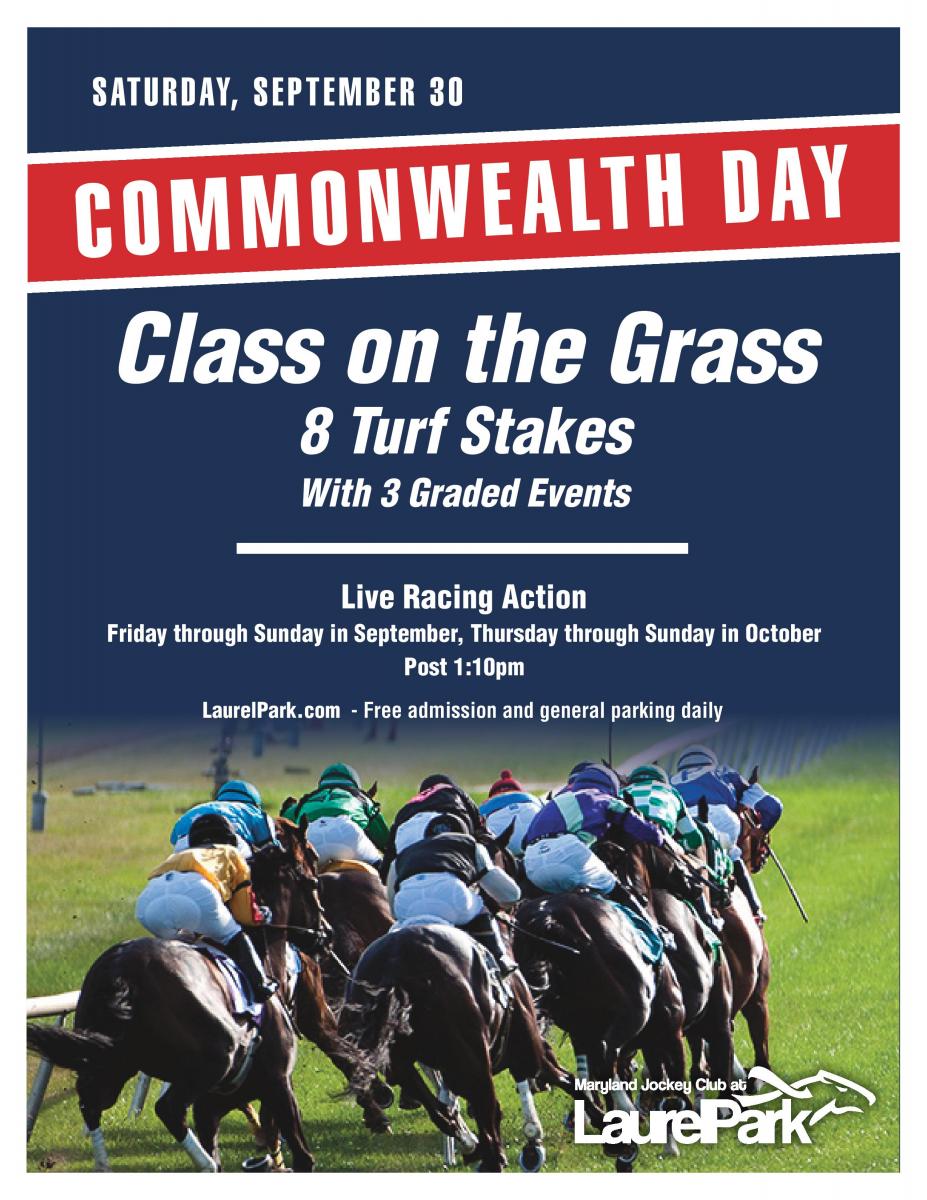 The Baltimore-Washington International Turf Cup, previously run as the Commonwealth Turf Cup, is for 3-year-olds and up at one mile. The Commonwealth Derby for 3-year-olds and Commonwealth Oaks for 3-year-old fillies are each run at 1 1/8 miles.
Champion grass horse English Channel won the inaugural Turf Cup, then known as the Colonial Turf Cup, as well as the Commonwealth Derby, run as the Virginia Derby, at Colonial Downs in 2005. Last year's Turf Cup was won by the Christophe Clement-trained Blacktype, ridden by champion Maryland jockey Trevor McCarthy.
Hall of Fame trainer Shug McGaughey has won the past two editions of the Commonwealth Oaks with Stuart Janney III homebreds Onus in 2015 and My Impression in 2016. The race was inaugurated as the Virginia Oaks at Colonial Downs in 2004.
Also on the Sept. 30 schedule are five $60,000 stakes for Virginia-bred/sired horses – the Jamestown for 2-year-olds, Punch Line for 3-year-olds and up and Oakley for females 3 and older, all at 5 ½ furlongs; the Bert Allen for 3-year-olds and up and Brookmeade for fillies and mares 3 and up, both at 1 1/16 miles.
For more information or to make a nomination, call the racing office at 301.725-0400 or 800.638.1859. Nominations can be e-mailed to stakes coordinator Coley Blind at
cblind@marylandracing.com
. All nominations should be forwarded to Georganne Hale, vice president of racing/racing secretary, P.O. Box 130, Laurel, MD 20725.