The following was written Mary Eddy of NYRA and appeared in The Paulick Report.
Eddie F's Racing's Dream Central broke her maiden and scored her first stakes win for trainer Gary Sciacca in Sunday's $150,000 Cupecoy's Joy division of the New York Stallion Stakes Series for eligible state-sired sophomore fillies sprinting seven furlongs on the Widener turf at Belmont Park.
The bay Central Banker filly arrived at the Cupecoy's Joy from an even seventh-place effort in a maiden special weight… Continue reading →
The 2022 thoroughbred racing season at Colonial Downs presented by Woodford Reserve is just around the corner and preparations are underway to make the "More Racing, More Money" 9-week meet in New Kent the best ever.
An average of $625,000 in purse money — a record amount — will be distributed daily. A $3.5 million stakes schedule is highlighted by the 19th running of the Grade 3, $300,000 New Kent County Virginia Derby on September 6. Owner and trainer bonus incentives… Continue reading →
The following appeared at TheRacingBiz.com and was written by Nick Hahn.
Churchill Downs, Inc., the host of the first leg of the Triple Crown, collected their first jewel of the approvals it needs to take ownership of Colonial Downs at the June 8 Virginia Racing Commission meeting.
The Commission voted unanimously to approve the proposed Acquisition of Ownership Interest in Colonial, along with other associated properties, from Colonial parent Peninsula Pacific Entertainment to Churchill. The deal remains on schedule… Continue reading →
*Southern States in Gloucester (804-693-3411); MGR is Candace -delivers any day; $20 transaction/delivery fee
*Southern States in Richmond (804-747-9315); MGR is Luke; delivers on Monday/Tuesday; $75 transaction/delivery fee
*Twin Oaks Farm (804-815-6331); delivers any day; no transaction/delivery fee
*Hulbert Farm (804-513-9974); Harry is MGR; delivers any day; $2 transaction/delivery fee per bale; larger loads are negotiable
*Ashland Feed Store ( 804-798-8431); Danny is MGR; delivers any day of the week; no delivery fee
The highly anticipated summer thoroughbred racing season at Colonial Downs presented by Woodford Reserve kicks off July 11 and continues through September 7 with racing scheduled every Monday, Tuesday and Wednesday at 1:45 PM. This season has expanded to 9 weeks, from 7 last year, and daily purse monies being offered will help ensure a full barn area, deep fields and great races for fans to enjoy and wager. An impressive slate of stakes races populates the calendar throughout,… Continue reading →
The highly anticipated "More Racing, More Money" thoroughbred racing season at Colonial Downs is right around the corner! The 9-week meet will run from July 11 thru September 7, with racing every Monday, Tuesday and Wednesday at 1:45 PM.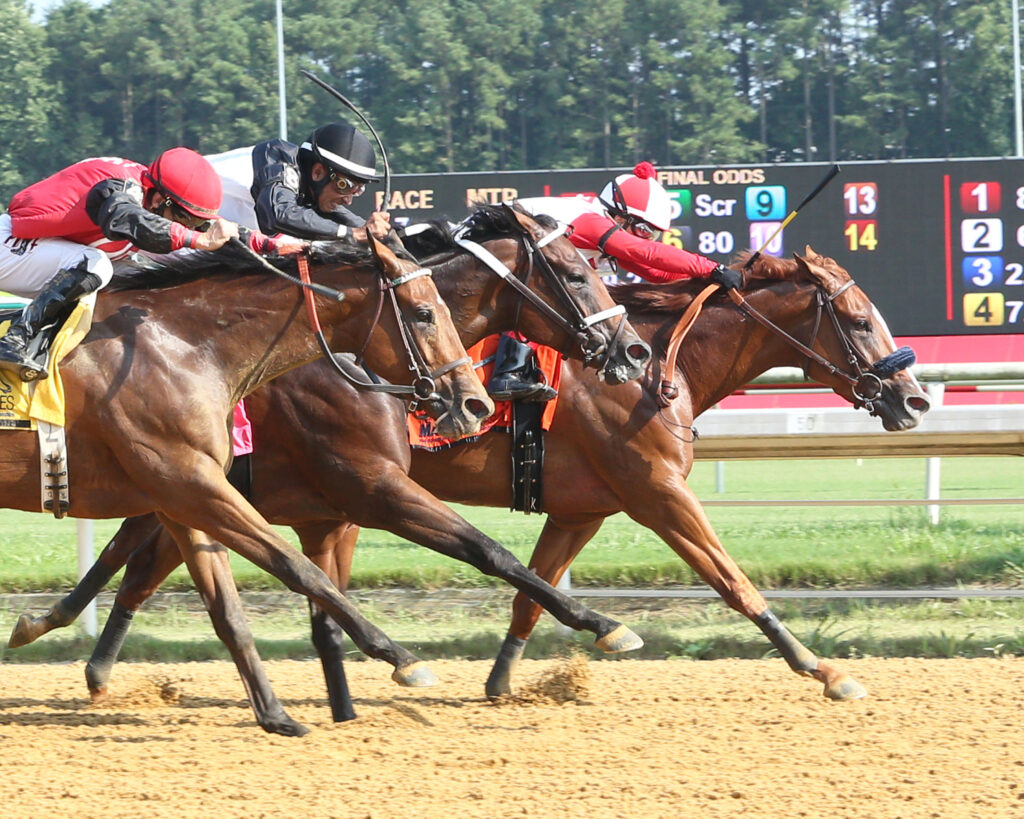 General admission and parking are free, but Virginia Thoroughbred Association (VTA) members can enjoy the action in the fourth floor VTA Sky Suite every racing day except Virginia Derby Day (September 6). On race days, VTA members can simply… Continue reading →
When horses line up Saturday for the 154th running of the Belmont Stakes, Virginia Thoroughbred owner, breeders and trainer Jill Gordon-Moore will not be in attendance. On 17 occasions in the past 50 years though when a horse was vying for a Triple Crown championship, Moore was at Belmont Park cheering for the contenders and was fortunate enough to witness the last five Triple Crown winners cross the wire in New York.
We are very saddened to report that former VTA Executive Director, Glenn Petty, passed away on May 11. Mr. Petty served three separate terms as Executive Director of the VTA. He was instrumental in getting pari-mutuel legislation passed in the 1990's and was involved in promoting many other racing & breeding initiatives. His obituary that appeared fauguiernow.com follows.
Glenn Douglas Petty, 65, of Warrenton, passed away May 11, 2022, at the University of Virginia Medical Center in Charlottesville, after complications… Continue reading →
The 2022 Virginia Thoroughbred Association Championship Awards Ceremony kicked off Virginia Gold Cup weekend at Great Meadow in The Plains on May 6th, first time the awards have been held at the trackside Turf Club chalet since 2019. A rainy and cool evening could not damper the celebration which was welcomed by all. The 2020 edition was cancelled due to Covid and 2021's was held at Colonial Downs, with award winners being recognized between races.
The weather turned colder… Continue reading →
Condition Books Now Available with Major Horsemen Incentives and Bonus Money Offered over Expanded 9-Week Meeting
NEW KENT, Va. (May 12, 2022) — With its much-anticipated return just under eight weeks away, the Colonial Downs Racing presented by Woodford Reserve ─ "More Racing, More Money and More Fun" ─ 2022 season promises to be the biggest horsemen-incentive meeting in the New Kent, Va. track's history.
Now in its fourth year under the management of the Colonial Downs Group and… Continue reading →