Four $100,000 Virginia/Bred Sired Stakes Highlight First Saturday Card At Colonial Downs
Eagle Point Farm's homebred filly What the Beep overtook longshot English Heiress in deep stretch to win the $100,000 M. Tyson Gilpin Stakes by a length in the first of four six-figure stakes races restricted to Virginia-Bred/Sired horses on August 10th. Forest Boyce rode the Karen Godsey-trained 4-year-old who covered 5-1/2 furlongs over a firm turf course in 1:03.80.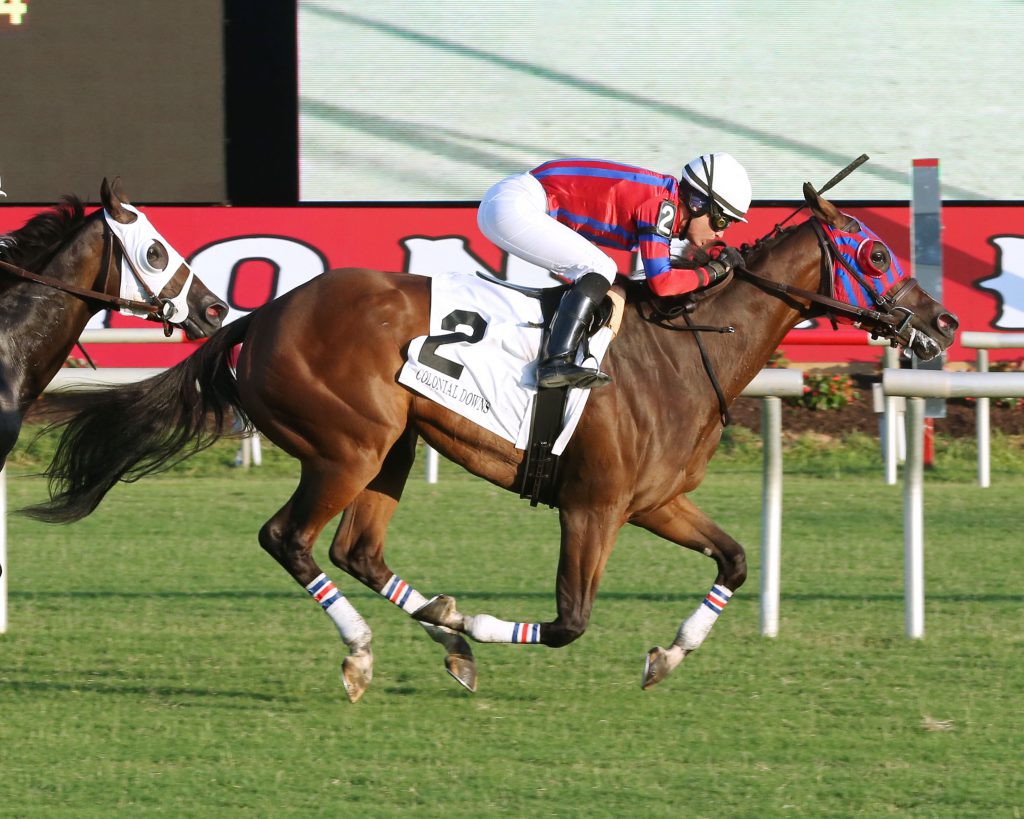 "Karen does a great job and I've worked this horse plenty over at Laurel. I thought we had a really big chance," Boyce said. "I knew I needed to lay a little closer to the pace because there wasn't a whole lot of speed in the race. Luckily we got there just in time."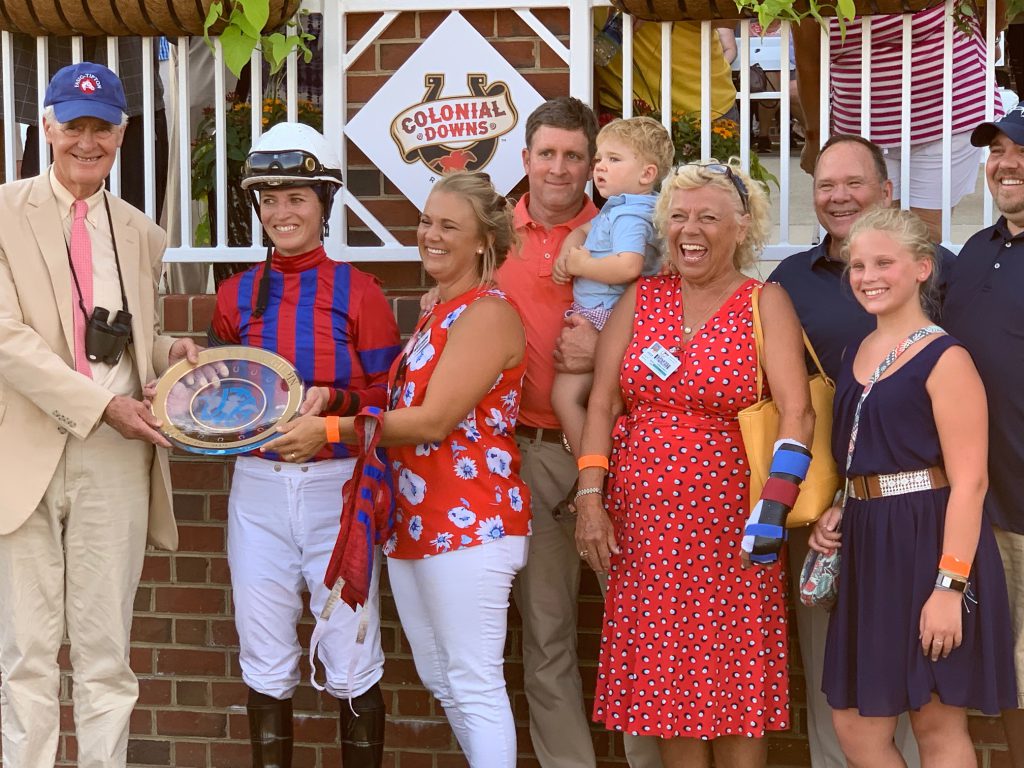 Owner-trainer Godsey was both ecstatic and emotional afterwards. "My family fought so hard for Colonial Downs to get here originally, then fought so hard for it to come back (after a six-year hiatus). The mare's dam was the first winner I had as a trainer and to win in front of this huge crowd was awesome. Her mother was nothing but heart," she added. "I just want to go home and hug her. There's not a lot of breeding to either of them but they have just heart. They're blue collar, hard knocking horses. I'm so happy and thankful for all the people that worked so hard to get the track up and running again. It's hard to put into words how I feel."
The win was the third in 13 starts for the daughter of Great Notion. With the victory, her bankroll increased to $145,703. English Heiress (Sam English) took second while Pink Pearl was third (Godolphin & Morgan's Ford Farm).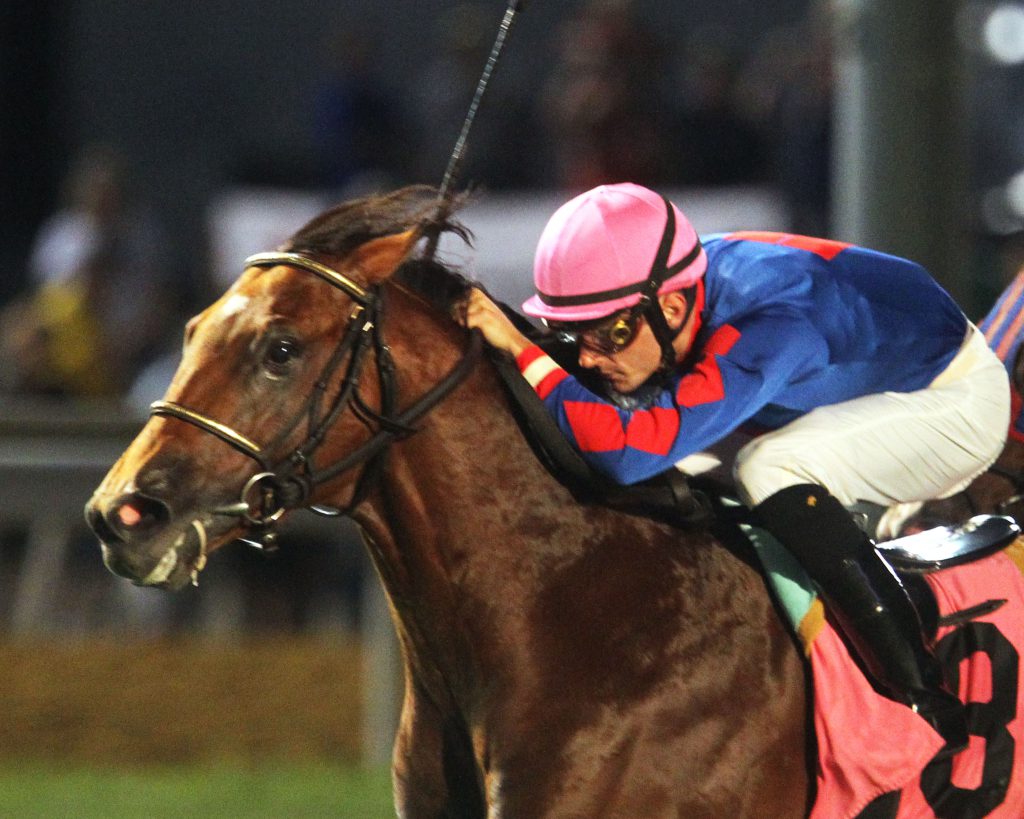 Favorites continued to rule the roost as Lothenbach Stables' Elusive Mischief made the most of dropping back into restricted company and cruised to a one-length tally over Eagle Point Farm's Braxton in the Meadow Stable Stakes.
Sheldon Russell rode the Ian Wilkes trained son of Into Mischief, who got the 5-1/2 furlongs in 1:03.72. The 4-year-old colt, who won the Punch Line Stakes against Virginia-breds last fall at Laurel, picked up his fourth victory in 10 starts overall. The $60,000 winner's share pushed his earnings to $183,747. Braxton, a 31-1 outsider was second and Ready to Run (Susan Cooney) was third.
"Everything had to go just right and it all came together for the horse," said Nicola Ward, assistant trainer for Wilkes. Russell echoed the sentiment. "We had a perfect trip and once we were able to drop into position around the far turn, he finished up nicely."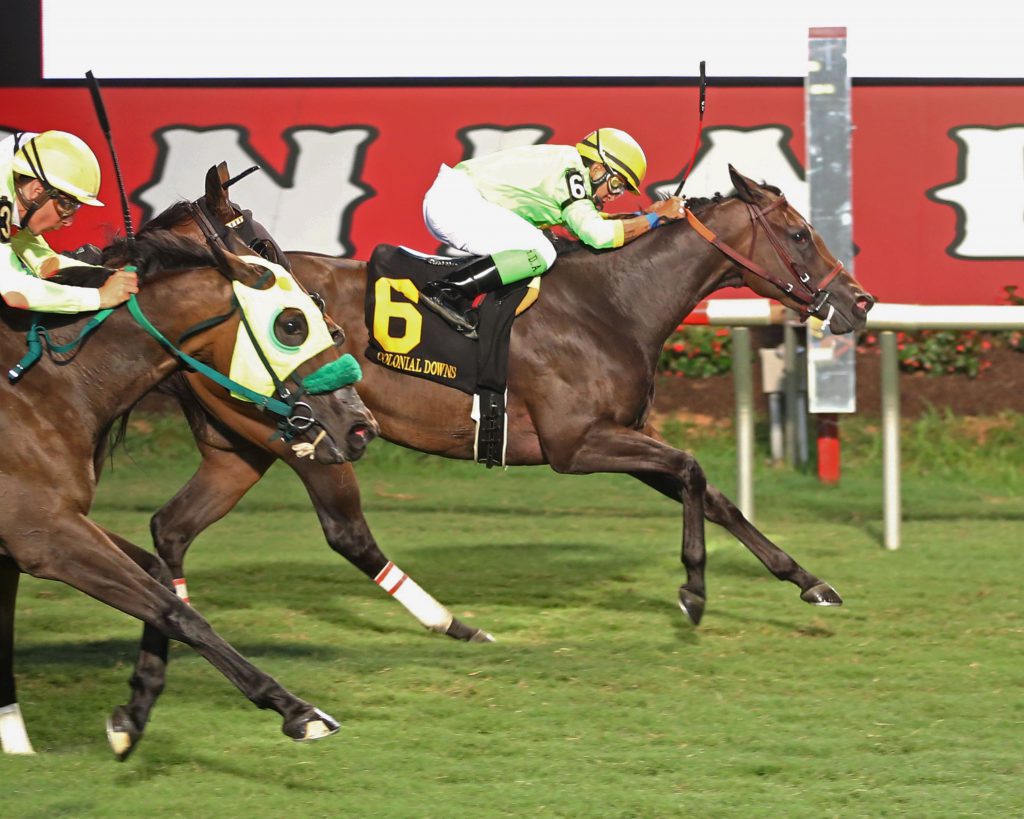 Tryon Summer, a Vickie Foley-trained Kentucky invader, took advantage of her Virginia breeding to return to the Commonwealth to win the Nellie Mae Cox Stakes by a diminishing half-length over Big Lick Farm's Durven. The 3-year-old daughter of Discreetly Mine got the one-mile distance in 1:38.05. River Gal (Morgan's Ford Farm) ran third.
Coming in off a seven-furlong dirt race at Churchill, Foley targeted this race for her Virginia-bred filly noting, "She's a Virginia-bred and a very consistent, honest filly. We thought this would be a great opportunity for the money and she proved it to be."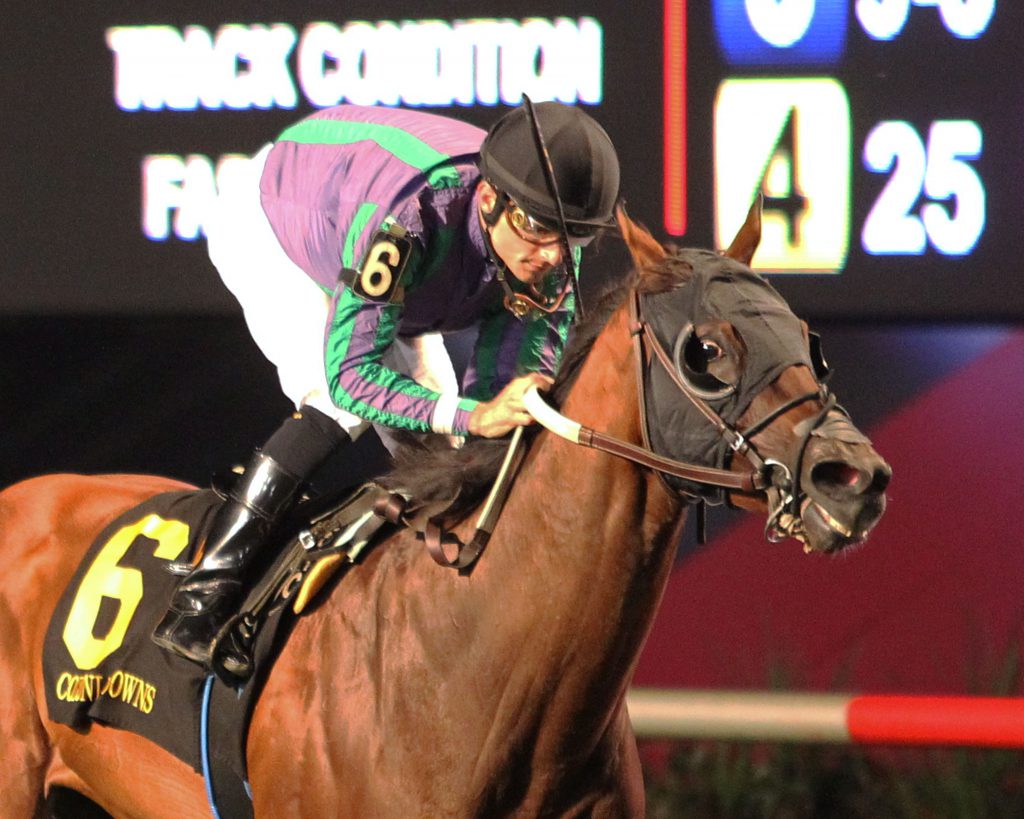 Morgan's Ford Farm's River Deep was moved up to the top spot in the Edward P. Evans Stakes following the disqualification of original winner Speed Gracer, who was placed fourth following a steward's inquiry and a jockey's objection for bothering K D's Cat Bird in deep stretch.
The adjudicated victory gave Sheldon Russell his second win of the night. The Phil Schoenthal-trained son of Arch won for the seventh time in 21 starts including wins against Virginia-breds last year in the Hansel and Bert Allen stakes. The $60,000 brought the 5-year-old's earnings to $295,475. Black Prong (Sarah Nagle) was moved up to the place spot and K D's Cat Bird (Chris Kuhn) was elevated to third.
"It's not really the way you want to win but a win is a win," Russell said. "River Deep ran his race and ran great. It was always Phil's plan to bring him back down and I was glad to see it all come together."
"What's special about this day is that it rewards all the breeders that hung in there for all those years and kept on breeding Virginia-breds," said Schoenthal. "It would have been very easy to ship their mares to Maryland, Pennsylvania, New York or everywhere else so it is gratifying to see these people being rewarded with $100,000 purses in their home state, on a beautiful night at a beautiful racetrack. It's a great night for Virginia racing and Virginia horse breeders."