Colonial Downs Gets Second Chance To Make First Impression
The following appeared in The Racing Biz and was written by Frank Vespe.
You never get a second chance to make a first impression. Except when you do.
And for Colonial Downs, that second chance arrived August 8 on a gorgeous summer evening, along with a festive crowd and a 10-race card with full fields everywhere.
"I think this is a great thing. This is why we came down here. It's phenonmenal," said Vince Tucciarone. Tucciarone, who races as Fox Tale Racing Stable, sent out Charmn Charlie Ray, the front-running, upset winner of the first race.
It was the first Thorouhbred race contested in New Kent in more than six years, and in some ways, it seemed almost as if a clean break had been made from the bad old days, when the acrimony between former track operator Jacobs Investments and the state's horsemen had let to the shuttering of the once-thriving operation.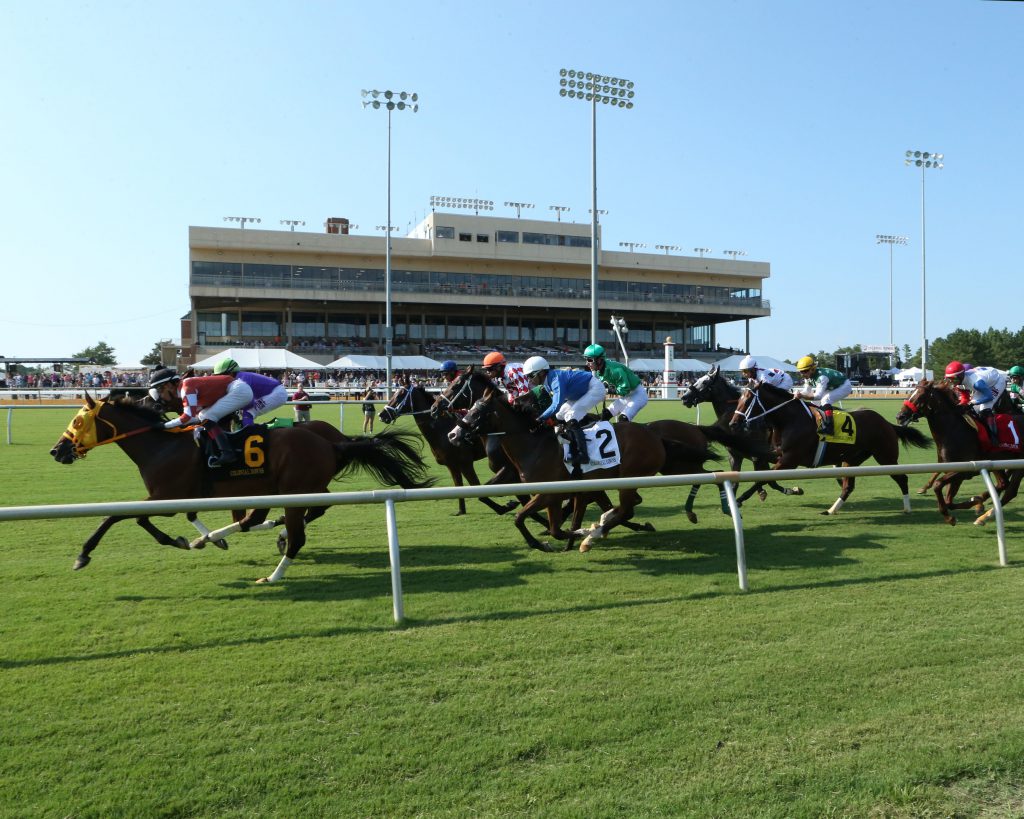 "It was strange," said Jason Beem, the track announcer. "I don't know any of the sight lines. I don't know any of the silks and that stuff."
Beem was one example of what's new at Colonial Downs. He replaced longtime voice of Colonial Downs Dave Rodman, whose main gig is calling the races in Maryland, which leads to something else that was new: while in years past, Maryland racing went on hiatus during the Colonial meet, this year, Colonial and Laurel Park will butt heads for much of the new Colonial's inaugural meet.
The purses were something else dramatically new. While in years past, they were similar to or lower than the other major Midlantic tracks, this year — bolstered in part by historical horse racing (HHR) machines — they are substantially higher. Colonial is expecting to give away about a half-million dollars daily in purses, far higher than its nearby competitors.
And the look and feel of the place are new. Gone is the sedate green color scheme of years past; in its place is a more raucous red that is very, well, red. And the presence of the HHR machines means more people in the facility and more buzz on the grounds.
"I've been worrying so long that I can't tell you what to feel," said Debbie Easter. "It's awesome. Everybody's smiling, having a good time. It's really good."
Easter is president of the Virginia Equine Alliance — the industry-wide group that sprung up following the demise of the old Colonial — and director of the Virginia Thoroughbred Association, which represents the state's breeders.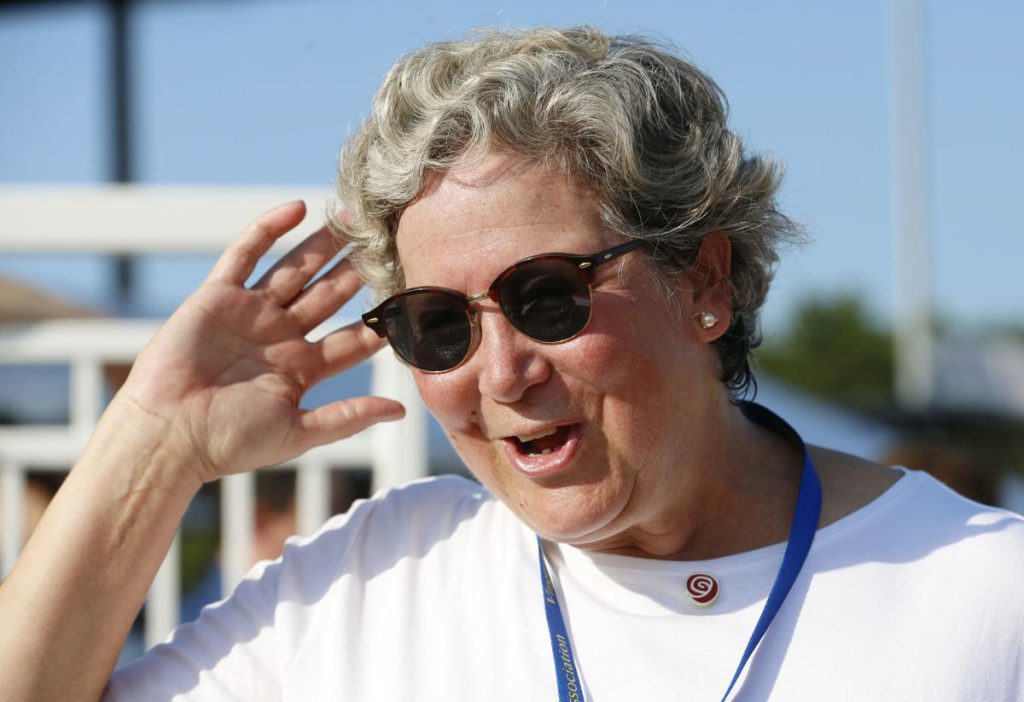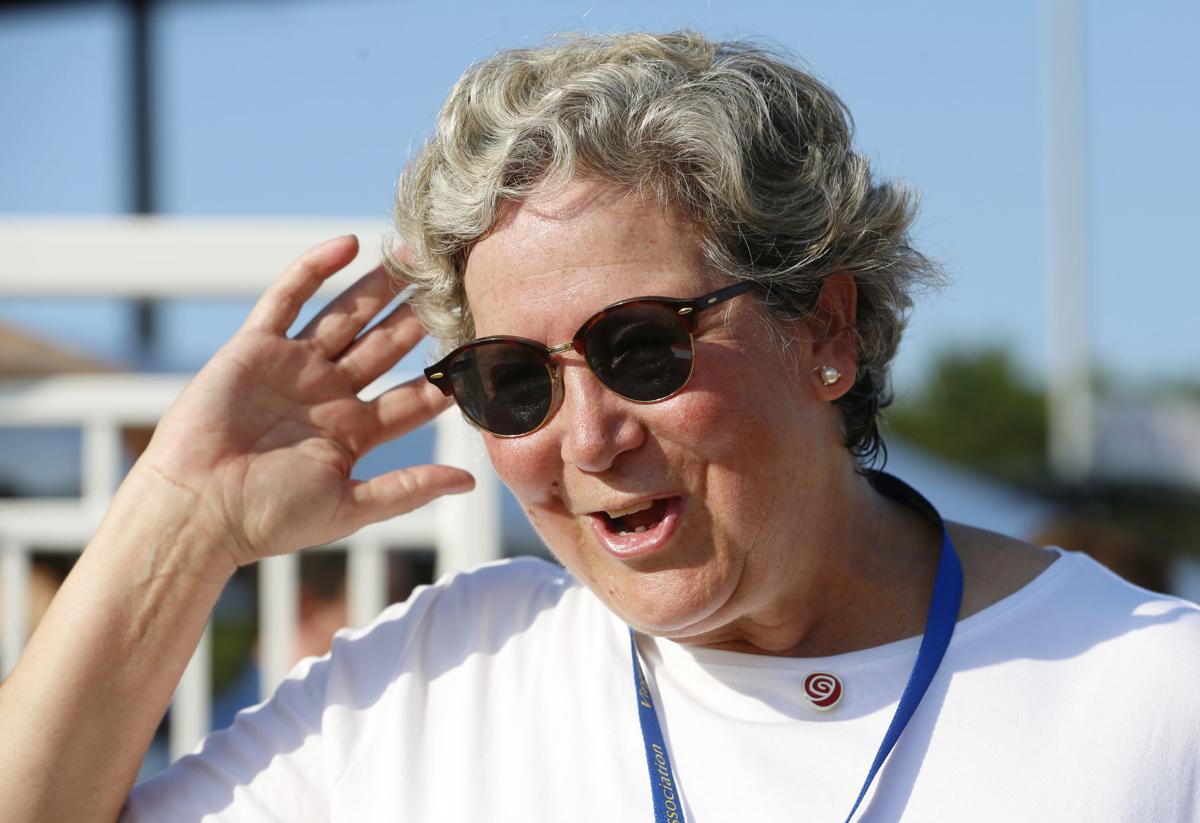 And, coincidentally, she put together the Virginia Racing Club, which owns the second race winner, Speed App.
"We just put together some poeple,"she explained afterwards. "You know, with racing coming back, we knew that Virginia-breds would have a big presence here. We put some people together and claimed a couple horses and hoped something fun would happen, and look at this!"
Speed App was making the 13th start of his career, the first dozen of those for Hall of Fame trainer D. Wayne Lukas before Easter's group, which races in the orange and blue colors of the University of Virgiia, claimed the son of Flatter for $20,000.
How'd they claim a horse off a Hall of Famer for just $20,000 and then turn around and win a maiden special weight with a $50,000 purse? Easter was asked.
"We got the super-trainer here," she answered. "We got the leading trainer here at Colonial Downs. That's how it works."
That leading trainer is A. Ferris Allen, III, who grew up in nearby Varina and is the all-time leader by wins in New Kent. He legged up Horacio Karamanos, the track's all-time leading rider, on Speed App.
"It was really wild because there are like 40 people that own that horse. It's the Virginia Racing Club, so it's virtually all people that were excited to have racing coming back here," Allen said. "Those people are all enthused about racing coming back to Virginia; a lot of them had a lot to do with racing coming back to Virginia."
Speed App, off at 7-5, was one of just two winners in the first six races to return less than $15 on a two-dollar win bet.
The longest of the early longshots was Tucciarone's horse, Charmn Charlie Ray, who paid $28.00. He was number six in the program and went off at 13-1.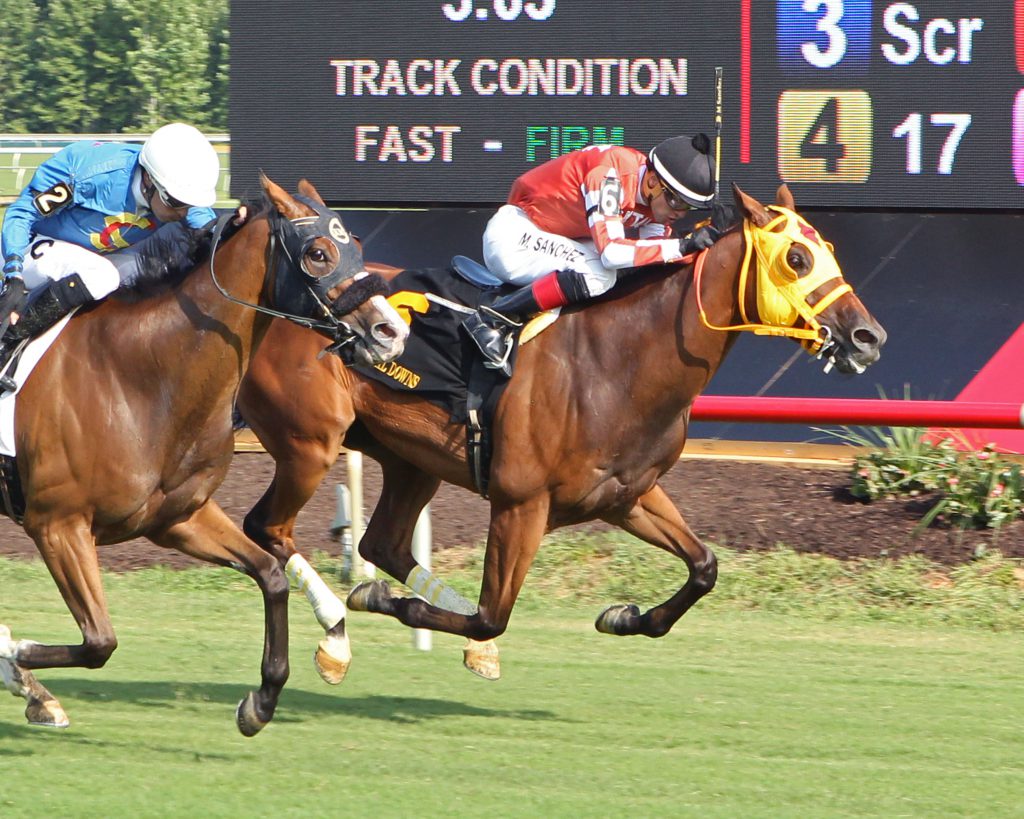 "613's my lucky number," Tucciarone said. "Believe it or not, when i was 13 years old, I was in a severe car accident and it was June 13. So how do you like that? It comes around."
It came around for Tucciarone's trainer, Alan Bedard, too. It was the Parx-based Bedard's second-ever starter, his first having come over a decade earlier.
"I'm gonna brag a little bit: I'm 2-for-2 at Colonial," Bedard said. "We shipped down here in 2008, ran a horse, won a race, and went back home."
That's not how Bedard is approaching this meet, however. He said he has six on the grounds currently and expects a couple of more soon.
"We said, 'They opened back up, the purses are fantastic, and it seems like they're being very cordial to us,'" Bedard said. "So we shipped in a bunch of horses and are going to try to make it happen."
Eight of the evening's 10 races were over the Secretariat turf course, which — perhaps befitting a course that hadn't been used in years — was a lush and inviting green.
"The turf course is so great here," Beem said. "As an announcer it's great because it's so bright and green, the colors pop off it."
Which isn't to say everything was perfect. Lines to bet were long — at least one would-be winner was shut out at the windows — and at times there was confusion among the staff. One person in attendance said it was likely to be a "learning meet" for the new Colonial team, and that seemed to be the most apt description.
But for many Virginia racing fans and horsemen, it also had the feeling of a family reunion. Sometimes, it turns out, you didn't even realize how much you missed that ne'er-do-well cousin until he reappears.
"There's all this sappy stuff that goes with this," said Allen, whose father was a fixture at the track until his passing several years ago and whose wife is also a Richmond-area native. "It's all of that stuff. I'm not really a sappy person, but this place kind of brings it that way."