On Colonial Downs Backside, Hope And Homecomings
The following appeared in The Racing Biz August 5th and was written by Nick Hahn.
Approaching opening day on August 8, a diverse range of trainers, new and familiar alike, is assembling along the backstretch optimistically looking for opportunity in next generation of live racing at Colonial Downs.
One of the first to arrive on the backstretch was 77-year-old trainer Don Roberson who previously won with the only horse he ever started at Colonial Downs, a then-two-year old Long On Value. At the conclusion of his career, the 2013 Jamestown Stakes winner had become only Virginia's 19th millionaire, a high accolade considering he was the only thoroughbred foaled in Augusta County in nearly two decades.
Roberson originally brought Long On Value to Colonial because he was a Virginia-bred and Roberson wanted to take advantage of incentives for state-breds. Now he's back with a lengthy run of full stalls.
"I'm anxious to run," said Roberson, joined by his daughter Carmen, about the upcoming 15-day meet. "Great place, I hope it works and I hope they run a longer meet next year."
Roberson's memories of Long On Value are strong, and fond.
"We knew he was a runner from the first time we started training him," remembers Roberson. "From the word go, he was a freak. He could really run."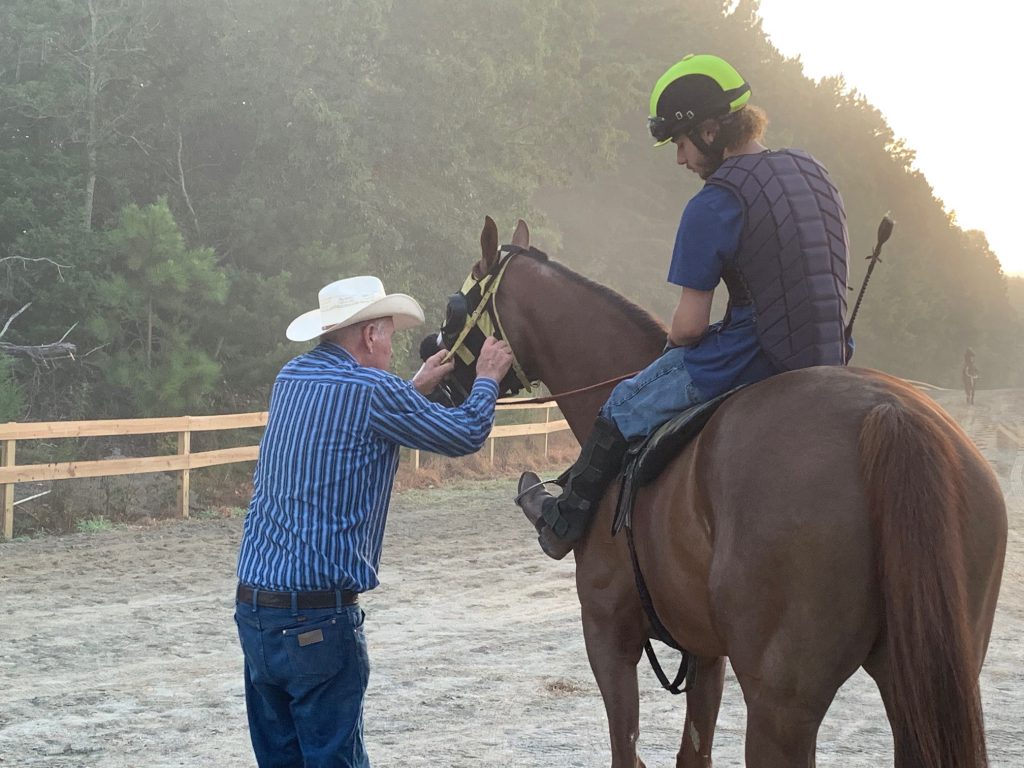 Leaving Roberson's barn after a sale, Long on Value traveled the world, racing successfully in England and Dubai, not to mention different tracks around North America. The trainer has also journeyed far.
"We've traveled the country. Won races at 57 different racetracks," he said. "Bush tracks, quarter horses. A lot of 'gypsying' around. California to New Hampshire, Florida to Winnipeg."
Heading a relatively small operation, Roberson remains very hands-on in the daily activities of his stable.
"If I get reincarnated, I'd like to get reincarnated as a racehorse because they get the best care in the world," observed Roberson. "People love them."
While Roberson still shoes many of his horses, owner Anne Buxton frequently takes shoes off of her horses. Buxton also won a race in Colonial's first era but was then stabled at Bowie. Now with a small string, she showered Kid Creole Saturday morning after he was one of the few to gallop on Colonial's turf course.
"He doesn't have any hard shoes on. Just stays really sound behind that way," explained Buxton. "So I just put shoes on when he runs. After he runs, then I take them right back off. That's how he trains. That's how I train a lot of horses. He been sound behind and won three races, so seems to work pretty well."
Handling horses in the summer heat is nothing new for Buxton, who has spent a sizable portion of her career in Louisiana. The Colonial meet is a bit of homecoming for her; she was raised in Charlottesville and still visits regularly with her grandmother, who lives in Scottsville.
"I'm very excited about this meet. Looking forward to being in the winner's circle, fingers crossed, because it's just so easy," says Buxton, laying down some sarcasm. "There's a thousand ways to lose a race and only one way to win. They've done a good job for as long as it's been since they've run a race meet."
While growing up in Charlottesville, Buxton worked alongside the sons of Braeburn Farm proprietor Felix Nuesch. Patrick Nuesch now operates Braeburn and enters the grand re-opening of Colonial without his father who passed away in 2016 while Colonial was dormant. Seeing horses out of their shoes isn't surprising to Patrick.
"I love to keep the young horses barefoot as Iong as I can," commented Nuesch. "It's more natural."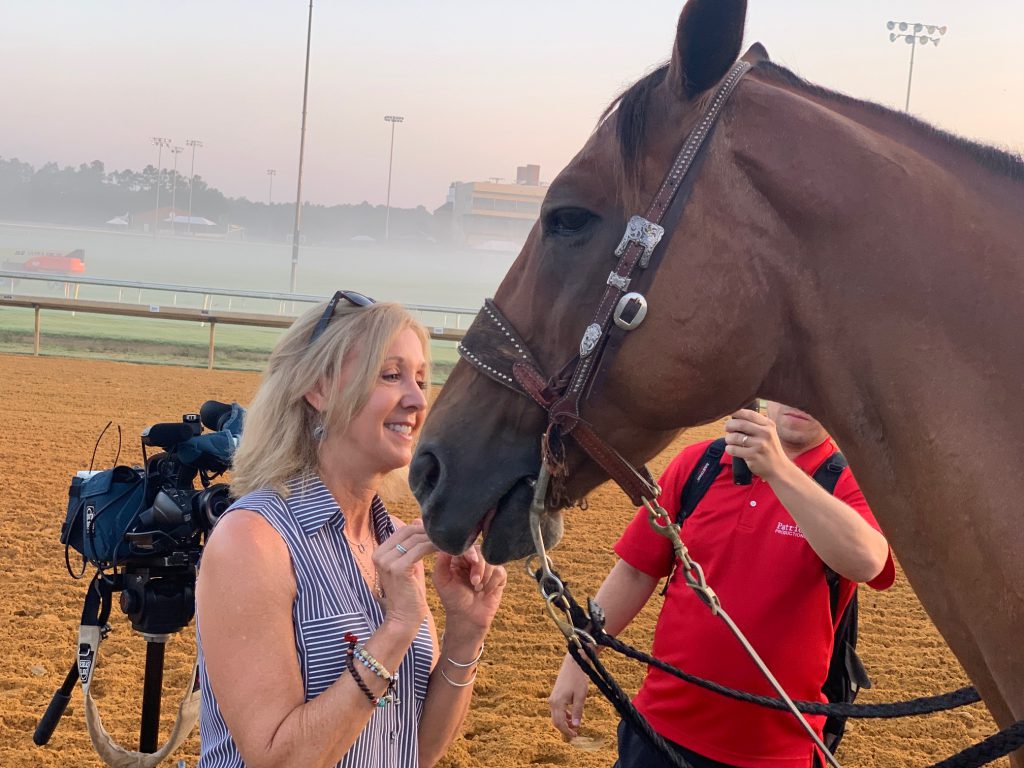 Known for his disciplined and old-school approach to training and developing young horses, Nuesch opened the 2007 meet at Colonial Downs with four consecutive winners, one a 33-1 longshot. He credits a similar incentive program that brought Long On Value to Colonial as a savior of his family's farm.
"It nice to get back racing," observed Nuesch. "The residency program has helped us the most. It kept us profitable the last couple years."
One of Nuesch's rivals during the upcoming meet is also one of his contemporary idols, Richard Boucher, who was bathing Jump Ship next to Buxton Saturday morning after he and his daughter, Mell, were the first to step onto turf in Colonial's new era.
"He's my hero. He's an ironman," praised Nuesch of Boucher's work ethic. "He rides at the Foxfield Races (in Charlottesville) and drives home to Camden, South Carolina, and is up and going again the next day. He's slim, trim and fit."
Boucher frequently transitions between steeplechase racing and the flat course. This week, he will head to Saratoga to ride in a steeplechase stake before quickly returning to Colonial Downs for flat racing on Colonial's opening day. Boucher won the last pari-mutuel race of Colonial's first era in the 2014 Strawberry Hill races. He may have an opportunity to win the first of the new era. He's scheduled to ride Brother Jerry for trainer Belinda Whitson in the first race.
"We missed the place," acknowledged Boucher. "Hopefully, we'll be back next year with more."
Richard and his wife Lilith, who is a trainer, are based in South Carolina. They found success at Colonial Downs with Class Yankee and Class Bopper who won the Zeke Ferguson Stakes over the jumps as well as races on flat.
"As great as it's ever been," commented Boucher about the turf condition. "They've done a great job revamping it but the guys that built it in the first place did the right thing with the base and drainage. The weather on this peninsula is so perfect for that kind of grass (Bermuda). Where we went back around, you couldn't see there wasn't any hoofprint in the grass. They bounce right off that grass."
"We like for him to ride our horses own because he knows them well," added Lilith. "It's fun to see him do it with the kids and do this together as a family.
The last time Colonial Downs held a grand opening, Karen Dennehy Godsey of Eagle Point Farm was 15 years old, about the same age as Boucher's daughter.
"I didn't completely comprehend the significance of the moment," admitted Godsey.
As young as six, she recalls riding a pony at special events for the initiative to pass the first legislation permitting pari-mutuel racing. Her mother Donna Dennehy was running the Ashland farm during Colonial's first era and passed the management torch to Karen shortly after her college graduation. In the time Colonial has been dark, Karen's become a mother herself, and now raising a two-year old.
Saturday morning she worked one of her horses from the gate over the dirt course at Colonial Downs.
"I'm not going to lie. I was a little nervous," admitted Godsey. "But then it's kind of became like riding a bike. I don't exercise ride much anymore. Every now and then I do to help understand what the more difficult ones are doing."
In addition to the ten thoroughbreds Eagle Point has in barn 5 on the backstretch, Godsey plans on bringing in two more and helping out others that were part of the Virginia Certified Residency Program. Only one of Karen's horses isn't Virginia-bred or Virginia certified.
The all-time family favorite horse may be Toccoa, who won seven career races, six of them at Colonial, where she exclusively raced latter in her career.
"She would lay up all winter and just run at Colonial," remembered Godsey. Toccoa made 29 of her 37 career starts in New Kent, and Godsey said the mare loved training and racing – right up until she didn't. Toccoa won the second to last start of her career, in July of her 10-year-old season, and then ran fifth a couple of weeks later.
"One morning she didn't want to go to track which was so completely unlike her," said Godsey. "We retired her that day."
Godsey is one of several trainers taking part in impromptu reunions on the backstretch. One of those resulted in a long-awaited prize for Godsey. She won a race late in Colonial's first era with a jockey represented by agent Frank Douglas. Saturday, six years later, Douglas handed over a box of donuts.
"Luckily they weren't the ones from six years ago," chuckled Godsey. "Though they might be the only donuts I see. It's so comfortable down here, but its drawing a higher quality thoroughbred so it's all very new. It's been five years since I've saddled a horse in my name. I'm knocking the dust off a little bit."
Colonial's opening night card includes two entries each for trainers Ferris Allen and Hamilton Smith who dueled each other regularly for training titles in Colonial's first edition.
"We're stabled next door to each other at Laurel, so in a grumpy way, we're the best of friends," commented Allen. "When he wins, I'm happy for him and mad at myself for letting him beat me."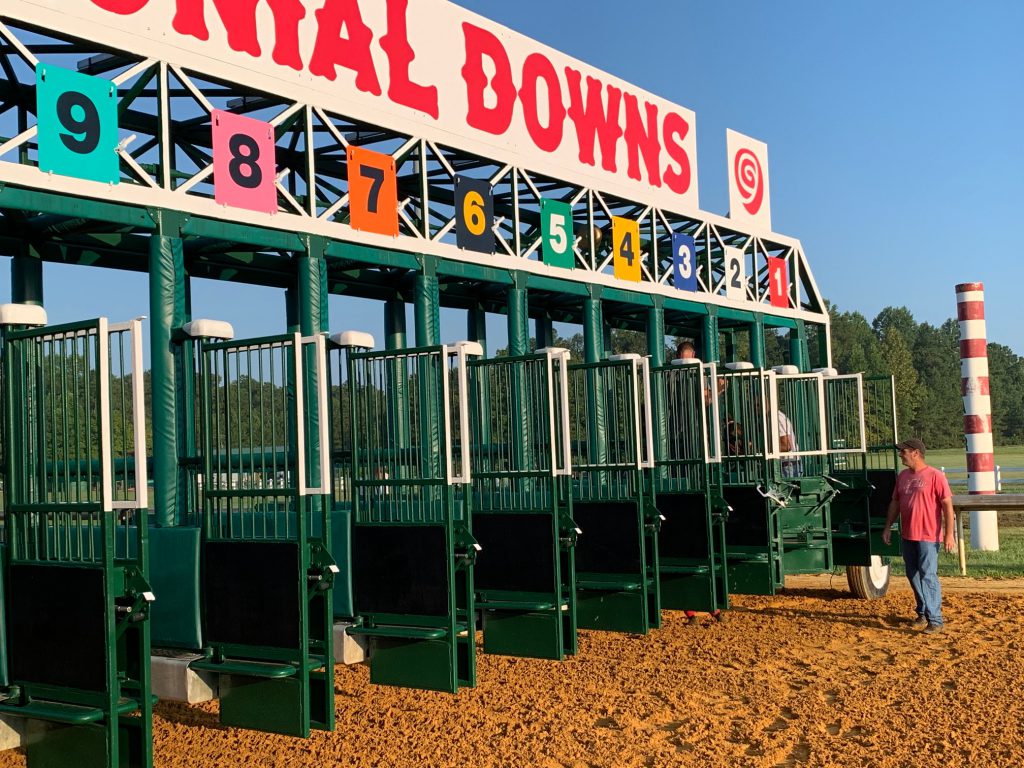 Allen has gathered horses previously trained by luminaries like Hall of Famer D. Wayne Lukas and from as far away as California's Golden Gate Fields and is bringing them to Colonial in anticipation of the 15-day meet.
"That's by design," explained Allen. "We could have run earlier in other venues but wanted to target this meet. I've acquired horses to fit the need of the upcoming meet with the Virginia-bred and -certified program."
The Varina native, who played baseball at William and Mary, is rejuvenating the pool house at his family farm for his accommodations during the racing season, one of many similarities for Allen of Colonial's first era. Allen recalled the "dusty and frantic" scramble to open Colonial the first time around in 1997 and said he sees a few similarities in the upcoming preparations. However, it's one of the differences, that will present a challenge to Allen.
"In refashioning things down there, they've created so much better racing that it's going to be harder for me to win a race," Allen said.
Still, he, like his counterparts, was happy to be back on the track in New Kent.
While the opening of a racetrack is like mobilizing a city, it can still be a small, small, world on the backstretch.
About The Author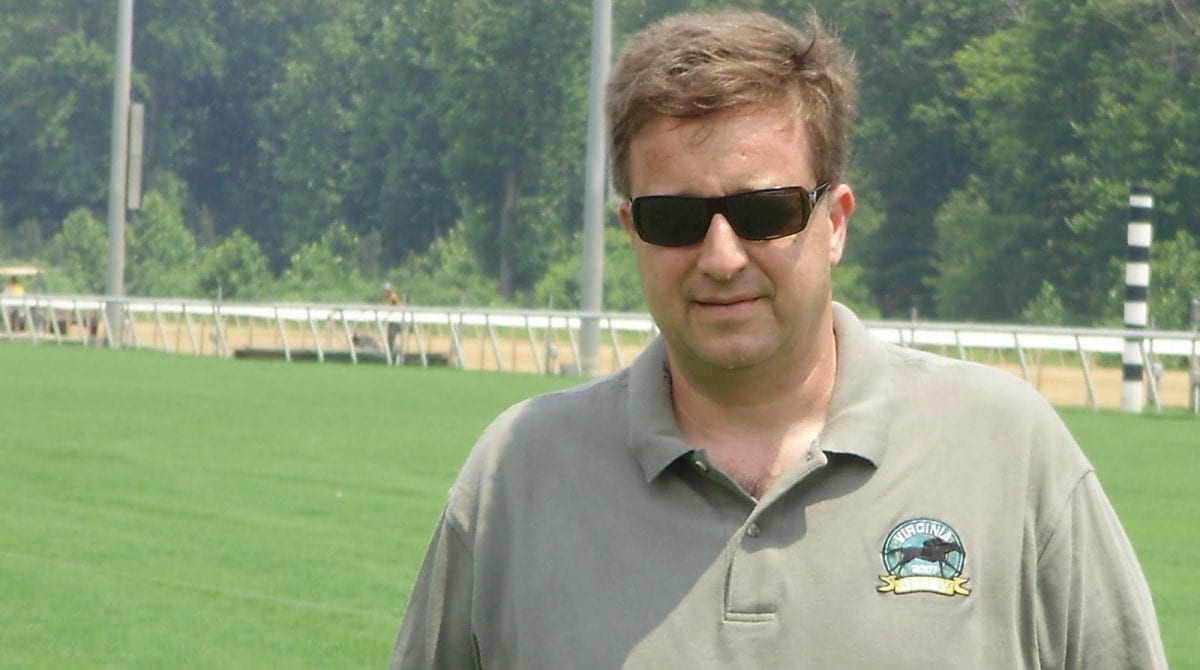 Nick Hahn has been covering Virginia racing since before there was a racetrack. He started the "Off to the Races" radio show and irregularly publishes the Nick's Picks wagering tipsheet.
Copyright The Racing Biz, LLC 2019