Zonda, Tass Show Early Dividends For Schera's Pilot Project
by Chelsea Hackbarth | 09.16.2019 | 1:26pm Previously printed by the Paulick Report.
Matt Schera learned about the Virginia Thoroughbred Association's Virginia-certified program two years ago, and that season he sent his first several yearlings to be started at the Braeburn Training Center located in the foothills of the picturesque Blue Ridge Mountains.
In order to qualify for the Certified program, horses must spend a six-month residency at a Virginia farm or training center prior to Dec. 31st of their 2-year-old year.
Now 3-year-olds trained by James "Chuck" Lawrence, both Zonda and Tass have earned a 25 percent bonus for their wins at tracks in the Mid-Atlantic region.
"The 25 percent win bonus is obviously amazing," Schera said. "Pat Nuesch does a great job starting them, and the training center is really lovely."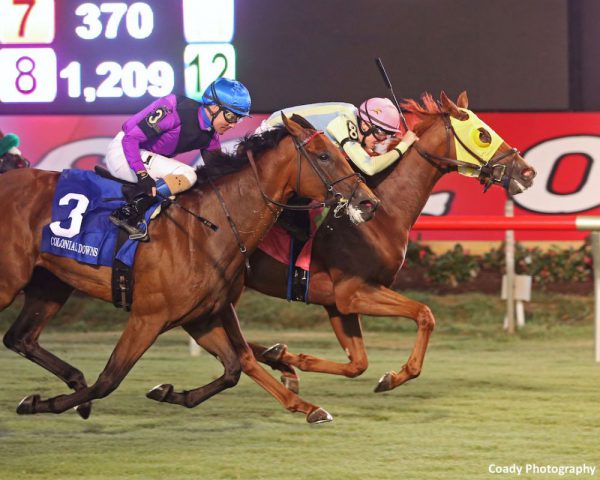 Zonda, a Maryland-bred by Scat Daddy, won her first start by 11 3/4 lengths at Laurel Park. The filly then tried a pair of stakes races at Delaware Park, but Schera said she didn't seem to take to the surface.
Zonda then ran second in a Laurel allowance and won an allowance at Colonial Downs. She finished fourth in Colonial's Virginia Oaks. The filly's earned $85,419 on the track, plus an additional $14,000 for her two wins from the Virginia-certified program.
"I'm just loving the fact that Colonial Downs is back," Schera added. "I hope they can sustain their momentum and keep going next year."
Tass, a Kentucky-bred by Temple City, won at second asking at Delaware Park and was most recently third in a Saratoga starter allowance. She's earned $34,530 on the racetrack, plus an extra $5,000 from the VTA.
Last year, Schera sent another four yearlings to the Braeburn Training Center, and he plans to send at least that many this season as well.
"For me, the weather is decent enough in the winter," said Schera. "It's not Ocala, but it's also not Maryland or Delaware. I think it's definitely worth it in terms of what you can win."
New to the Paulick Report? Click here to sign up for our daily email newsletter to keep up on this and other stories happening in the Thoroughbred industry.
Copyright © 2019 Paulick Report.This entry was posted in Bloodstock and tagged Braeburn Training Center, Horse Racing, james lawrence, matt schera, TASS, Virginia Thoroughbred Association, Virginia-Certified Program, Zonda by Chelsea Hackbarth. Bookmark the permalink.