The following appeared in the Daily Racing Form was written by Marcus Hersh. Chess Chief, bred by Morgan's Ford Farm, was making his 30th career start. With the stakes win, the 5-year-old Into Mischief gelding's bankroll rose to $810,338.
Something – a dazzling spell, a sense of lightness and well-being – must descend upon the 5-year-old horse Chess Chief whenever the horse trailer in which he's riding crosses into Orleans Parrish and makes its way onto the Fair Grounds backstretch. … Continue reading →
Congratulations to six Virginia-bred horses who won pre-holiday races at tracks around the country in mid-December.
Repo Rocks had the biggest win of all — in an $82,000 allowance race at Aqueduct which boosted his career bankroll to $206,071. The 3-year-old Tapiture gelding was best of 11 in a 6 1/2-furlong dirt test. Bred by Mrs. C. Oliver Iselin III and winner of two straight in New York, Repo Rocks is out of the Not For Love mare, Hawaiian Love. From… Continue reading →

Fresh on the heels of a record setting thoroughbred race meet in 2021, racing dates for an expanded Colonial Downs presented by Woodford Reserve summer race season in 2022 were approved today (December 15) at the Virginia Racing Commission meeting which was held at the New Kent track.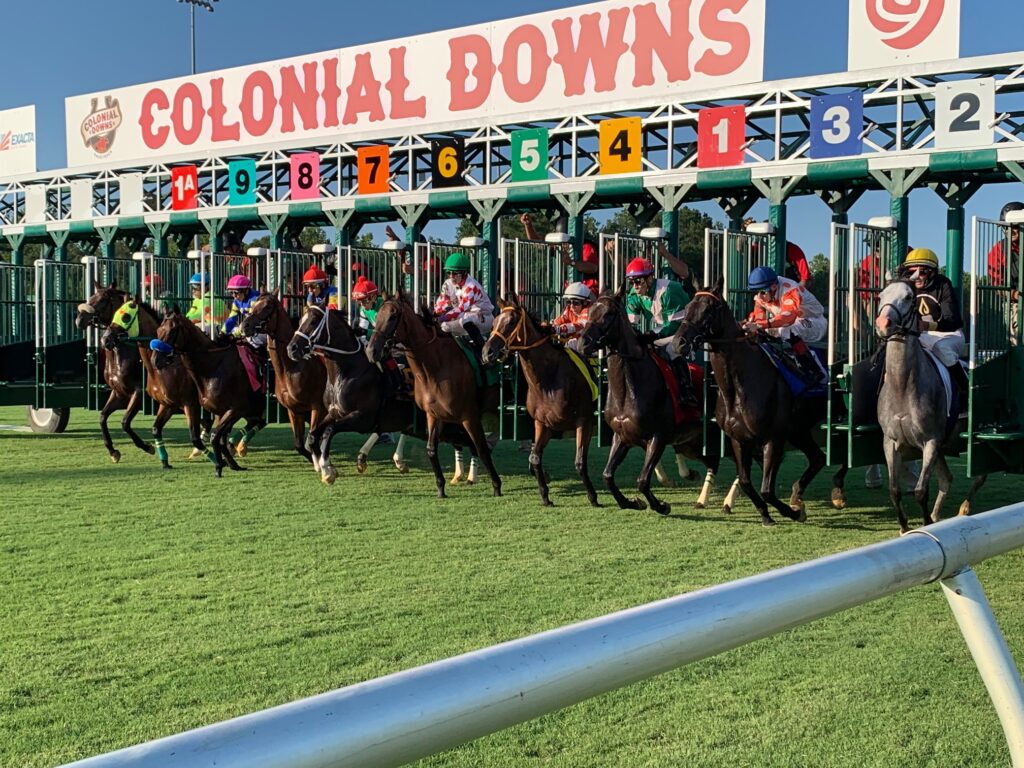 The upcoming 9-week campaign will run from July 11 – September 7, an increase in length by two weeks from this summer's 7-week meet. The number of race days will increase… Continue reading →
The following appeared at www.wdbj7.com
VINTON, Va. (WDBJ) – From jackhammers to jackpots, Rosie's Gaming Emporium in Vinton has more than doubled its games and its space with the completion of a new expansion.
The facility has expanded its entertainment in more ways than one.
"Our customers, simple supply and demand, wanted more gaming space," says Ernie Dellaverson, Regional General Manager for Rosie's Gaming Emporium. "We went from 15,000 square feet, we added an additional 18,000 square feet. 350 additional… Continue reading →
The month of December kicked off in grand fashion for a pair of Virginia-Certified horses that competed in races at Aqueduct.
Lobsta, who spent his six-month Virginia residency at Woodberry Payne's Ingleside Training Center in Orange, prevailed in the $150,000 New York Stallion Stake Series on December 5th after being sent off at odds of 28-1! The 3-year-old Emcee gelding was best of 11 horses in a gate-to-wire performance at seven furlongs. He crossed in 1:24.87, one-half length ahead of… Continue reading →
The following appeared on the Thoroughbred Daily News website. Sam Huff's star horse, Bursting Forth, won the Grade 3 All Along Stakes at Colonial Downs in 1998, one of five stakes she won during her career. Mr. Huff also was founder of the West Virginia Breeders Classic. His Sporting Life Farm was based in Middleburg, Virginia.
Sam Huff, who made his mark in both the NFL and in thoroughbred racing as an owner-breeder and the co-founder of the West Virginia… Continue reading →
The following appeared in the Charlottesville Daily Progress
Richard J.M. Poulson
September 4, 1938 – November 4, 2021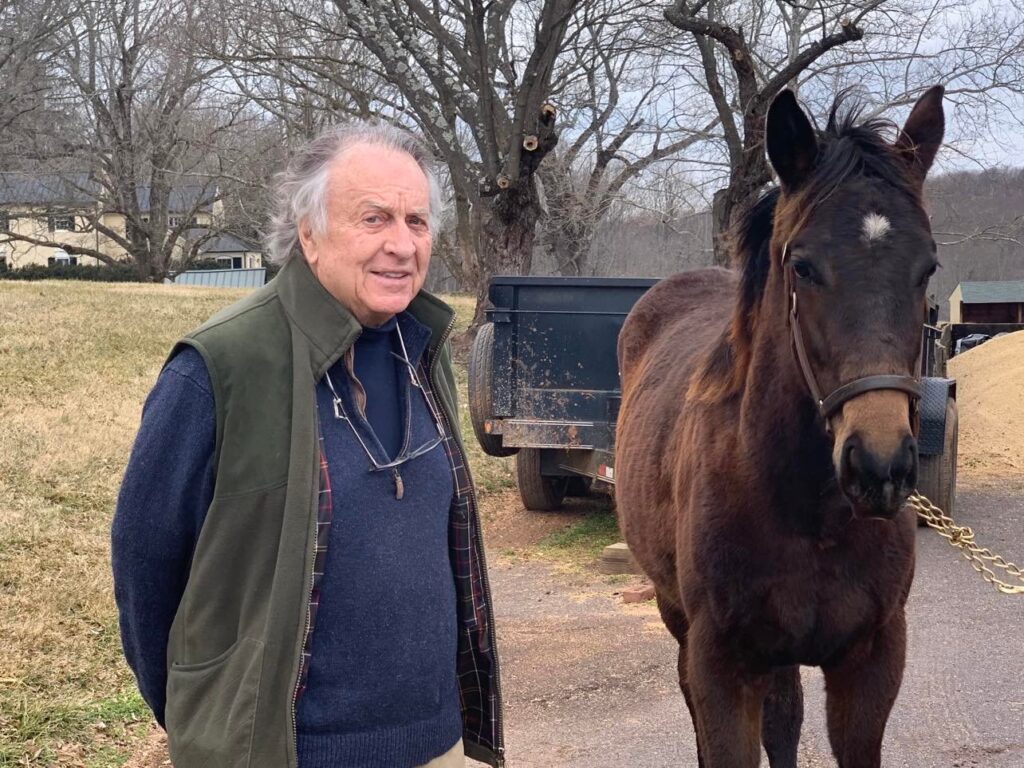 Richard J. M. Poulson of Orange, Va. and Washington, D.C., was a lawyer, sportsman, and civic leader.
Mr. Poulson was a long-time partner in the law firm Hogan & Hartson (now Hogan & Lovell) and led the firm's international expansion in opening its London Office in 1989. Prior to joining Hogan, he was a Vice President in the Investment Department at American… Continue reading →
Sara Elizabeth Collette, age 86, passed peacefully at her home in Casanova, VA on Monday, October 11th, 2021 from complications from Parkinson's. She was born in New Haven, Oswego County, New York on March 1st, 1935, daughter of the late Frederick & Margaret Foster.
The Collettes moved to Casanova in 1977 and purchased a small farm called Pageland so that Sara could have her horses at… Continue reading →
The annual Virginia Thoroughbred Association Yearling Futurity took place September 8th at the Warrenton Horse Show Grounds under clear skies, comfortable temperatures and $35,000 in prize money on the line.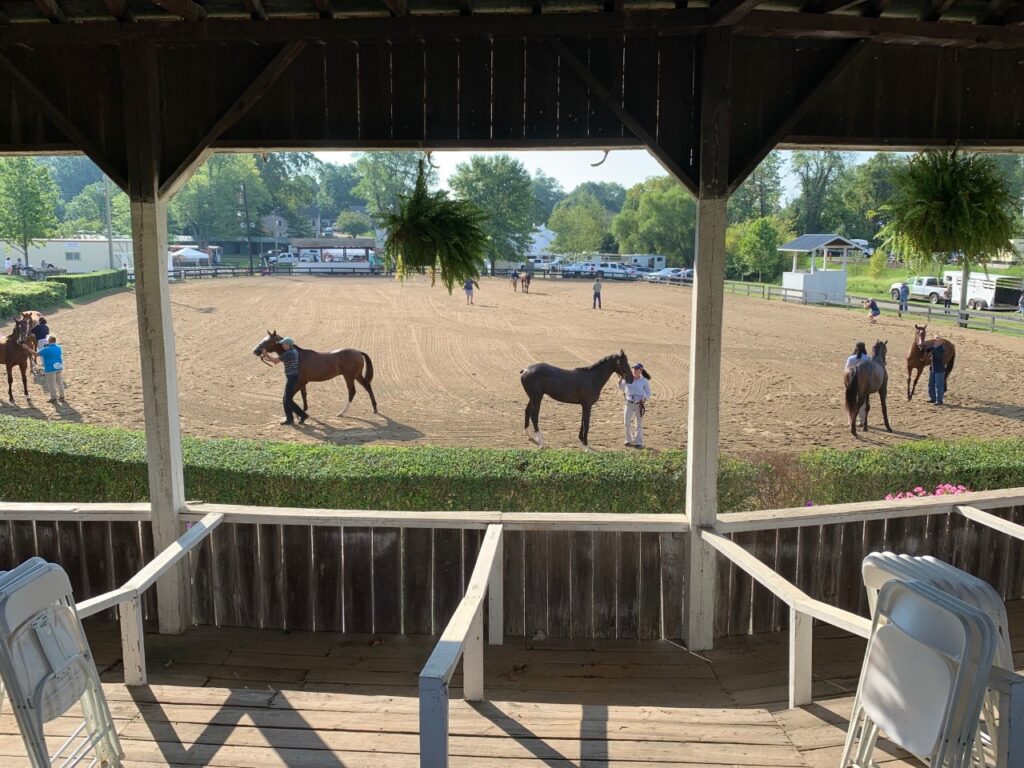 Four divisions were contested — Virginia-bred/sired colts/gelding and fillies, and Virginia-certified colts/geldings and fillies — and the top two finishers from each returned to compete for Grand Champion and Reserve Champion honors.
Congratulations to Djuric Sporthorses LLC, Anna M. Simms DVM and Patrick Nuesch's bay Certified filly by Outwork, who… Continue reading →
The following appeared in The Racing Biz on August 23 and was written by Frank Vespe.
How fast was the dirt track at Colonial Downs Monday afternoon?
The track played host to five dirt races and all five – a first-level allowance and four $100,000 stakes that are part of the MATCH Series – produced track records. One of those track records – Cordmaker's 1:40.45 for 1 1/16 miles – lasted all of about 49 minutes, as two races later,… Continue reading →