Winners of the 2014 Virginia Breeders Awards
ANNOUNCEMENT: DON'T FORGET TO REGISTER YOUR VIRGINIA STALLIONS BY JANUARY 31. YOU CAN FIND INSTRUCTIONS ONLINE HERE. 
Did you know? Although there is no live racing at Colonial Downs this year, the Virginia Breeders Fund continues to operate year-round and pay out for winners anywhere in the US!
The Fund is a financial incentive program to encourage Thoroughbred breeding in Virginia, funded by a 1 percent take-out of all live and simulcast pari-mutuel wagering conducted in the Commonwealth. "Virginia breeders received more money for 2014 wins than any time in the recent past. If the handle stays consistent for 2015, we anticipate breeders will receive bigger payouts in the coming year," says VTA Executive Director, Debbie Easter.
Virginia is the only state in the Mid-Atlantic region that pays breeders awards for wins at every racetrack in the United States, and that will not change going forward. Registered Virginia-bred and Virginia-sired horses are eligible for a 100 percent bonus in all open races held in the Commonwealth of Virginia — and through the work of the Virginia Equine Alliance, we hope to grow these racing opportunities in 2015. In addition, there are five Virginia-bred stakes races with various conditions on the turf, that will run at Laurel Park, with purses of $60,000 each.
Congratulations to the 2014 recipients of Virginia Breeders Fund awards. We anticipate that checks will be mailed by the first part of February. Awards recipients should contact the VTA office to verify that they have a 2014 W-9 on file.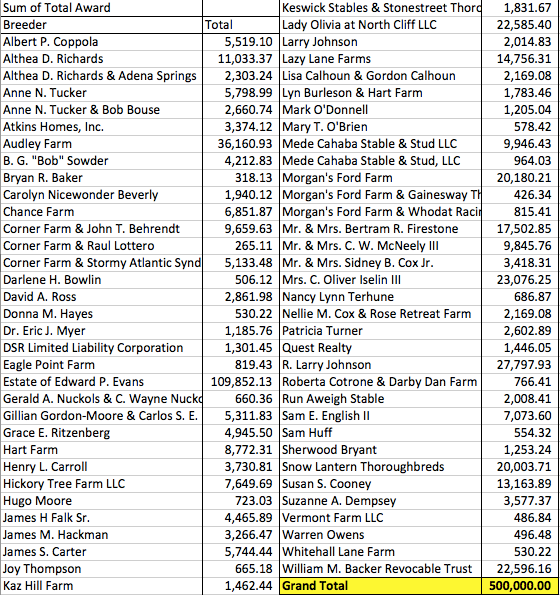 Congratulations also to the recipients of the Virginia Stallion Awards:
Lady Olivia at North Cliff LLC, 9,883.55
Lazy Lane Farms, 9,671.51
Larry Johnson, 3,594.02
Virginia Tech Foundation/Middleburg AREC, 1,850.92
Grand Total: 25,000