VTA Member Keith Waldrop Remembered
Keith Pendleton Waldrop, beloved father and Pop, passed away peacefully at home surrounded by his loving family on July 6, 2017. Born February 1, 1932, he was the son of the late Richard Nelson Waldrop and Carrie Bessie Wickham Waldrop. He was predeceased on April 23, 2017 by the love of his life, Barbara Dee Bowles Waldrop, with whom he shared over 64 extraordinary years. Keith was also predeceased by five older brothers, Richard Glen Waldrop, John Allen Waldrop, Claude Gwaltney Waldrop, Raymond Nelson Waldrop and Herbert Franklin Waldrop.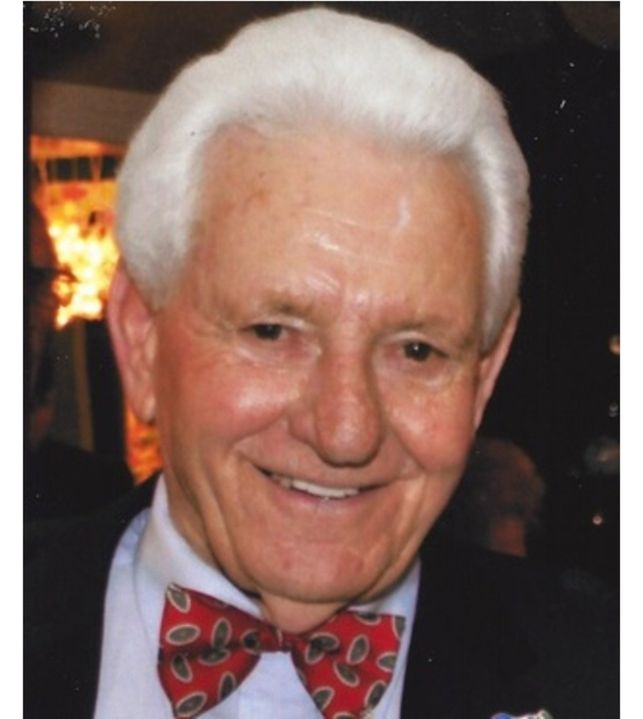 A lifelong resident of Hanover County, Keith was born and raised in Montpelier, Va. on his family's farm that has been in operation since the mid-19th century, when his great-grandfather purchased the property. A farmer by trade and a consummate gentleman at heart, he was Senior Partner of his beloved Kee-Barb farm, where he and Barbara worked side-by-side. He raised wheat, corn, tobacco, hogs, Black Angus cattle, and sheep. Keith built a thriving hay business in the early 1970s that is still in operation today. He thought of his hay customers as family and their warm-hearted relationships have lasted for over five decades. In addition to farming, Keith worked for The Virginia Crop Reporting Agency and for the U.S. Department of Agriculture as state supervisor for the Virginia Statistician Office for 37 years. He was a member of the Board of Directors for the Dark Fired Tobacco Association and a member of the Board of Directors for the Sun-cured Tobacco Marketing Cooperative for 50 years, where he also served as President and Marketing Manager.
Keith was a member of the Virginia Thoroughbred Horse Association, where he enjoyed seeing the horses run. He loved the western Hanover community and was active in many organizations, including: The Hanover Agricultural Stabilization and Conservation (ASCS) Agency- Farm Service Agency, the Montpelier Ruritan Club, where he served as president, the Montpelier Jaycees Club, the Hanover County Farm Bureau, and he served on the Board of Directors for The Montpelier Center for Arts and Education.
Keith and Barbara were a remarkable couple. One was rarely seen without the other and they never knew a stranger. They opened their hearts and home to family and friends for countless celebrations. Their fun-loving nature and warm hospitality endeared them to everyone. Together, they raised their two children and over 25 foster children. Keith loved his family more than words can describe and he instilled in his children and grandchildren a deep sense of faith, a strong work ethic, and a cheerful approach to life. He was our rock; the patriarch of our family, and his spirit will continue to live in each of us. Keith is survived by his daughter, Tricia Miller Melton and her husband, Charles; his son, Wayne Keith Waldrop and his wife, Deanna; and Patricia Graham, whom he thought of as a daughter. Keith is also survived by his precious grandchildren, whom he loved dearly and who loved their Pop in return, Lauren Miller Bischoff and her husband, William, Richard Grayson Waldrop, Ashley Brooke Miller, Claire Waldrop Jackson and her husband, Blake, and Taylor McKenzie Miller. He is also survived by two sisters-in-law, Janie Cross Bowles and Ida Keeton Waldrop. Our family wishes to thank Cindy Adams for her tender care and the vast number of family and friends who brightened his last days with constant visits, food, and prayers. Keith was a faithful member of Hopeful Baptist Church for over 80 years. He sang in the church choir and in the Hopeful Six sextet, which he greatly enjoyed. He also served numerous years as a Deacon, Sunday school superintendent, Sunday school teacher, Trustee, and on various church committees.
A gathering of family and friends will be held from 4 to 8 p.m. on Saturday, July 8, at Bliley's-Central, 3801 Augusta Avenue, Richmond, Va. 23230. Funeral services will be held at Hopeful Baptist Church, 14340 Hopeful Church Road, Montpelier, Va. 23192 on Sunday, July 9, at 2 p.m. Interment in the church cemetery. In lieu of flowers, please consider a donation to Hopeful Baptist Church, 14340 Hopeful Church Road, Montpelier, Va. 23192 or The Montpelier Center for Arts and Education, 17205 Mountain Road, Montpelier, Va. 23192. Please join the family for lunch at Kee-Barb Farm immediately following the funeral service.