Virginia OTBs Gear Up For "March Madness" & The Kentucky Derby
With four Off Track Betting (OTB) Centers up and running in Virginia, things are really heating up as Kentucky Derby Day approaches on Saturday May 5th. The Richmond OTBs will offer Derby wagering for the second straight year while the OTBs in Chesapeake and Henry County (Collinsville) will offer Derby betting for the first time in five years.
A series of key Derby prep races continues every weekend through April 14th. One million dollar stakes races for three year olds still to come include the Louisiana Derby (March 24th), Florida Derby (March 31st), Toyota Blue Grass Stakes (April 7), Santa Anita Derby (April 7) and Arkansas Derby (April 14). Other key ones include the $900,000 Rebel Stakes (March 17), $800,000 Sunland Derby (March 25) and $750,000 Wood Memorial (April 7) among others.
In the meanwhile, we've got events going on at each site horseplayers will want to take advantage of. Beginning March 13th, we'll have weekly "Poker & Ponies " Nights at the Breakers Sports Grill OTB in Richmond's west end every Tuesday. A free Texas Holdem poker tourney will take place from 7-10 PM in the OTB room itself so race fans can enjoy horse races and poker together. Top prize is a $50 betting voucher; second place is a $25 gift certificate to Breakers. Points will be tallied from week to week. Top point getters will be invited to play in tourneys every other month.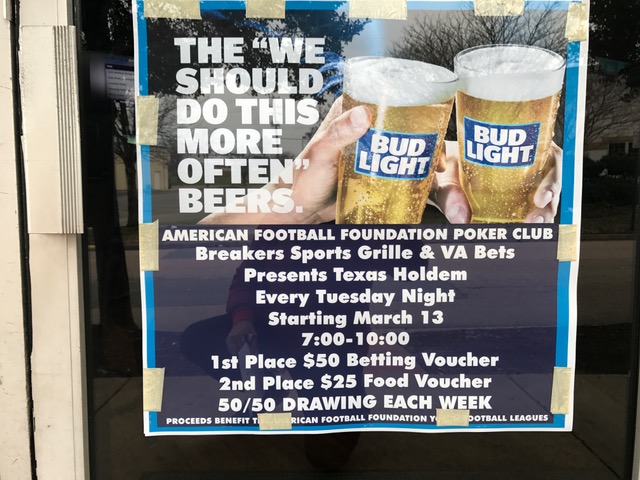 Every Wednesday & Thursday this month at both Richmond OTBs, free simulcast programs to some of the most popular tracks will be given away in a "March Madness" promotion. Horseplayers at Breakers will receive free Gulfstream, Tampa, Rosecroft and Charles Town programs every Wednesday while players at Ponies & Pints will receive free Gulfstream, Fair Grounds, Santa Anita and Dover Downs programs every Thursday. All four Virginia OTBs are in sports bars, so fans can watch college basketball tournament games and horse racing together.
The newest OTB in Collinsville has its Grand Opening celebration this Saturday, March 17th. Yes, it's Saint Patrick's Day, so it will be a double celebration of sorts! The Windmill Off Track Betting Sports Grill will feature hourly prize drawings of $25 betting vouchers and $25 gift certificates, food and beverage specials, free simulcast programs and lots more. The OTB is located inside the Dutch Inn Hotel on Virginia Avenue (Rt. 220) just outside the City of Martinsville.
Free handicapping contests have become a big part of the OTB vibe as well. The next ones are slated for Saturday March 24th at the Breakers OTB and Saturday April 7th at the Buckets Bar & Grill OTB in Chesapeake. $500 in cash prizes are given away to the best handicappers at each. More details are at virginiahorseracing.com and via that same facebook page. Keep an eye out for a new carryover aspect to these contests beginning in April.