The following appeared in Thoroughbred Daily News May 21st.
TIMONIUM, MD – With a blockbuster final session, the Fasig-Tipton Midlantic 2-Year-Olds in Training Sale concluded Tuesday in Timonium with records in nearly every major category. A filly by Into Mischief caused the day's biggest fireworks when selling for $1.8 million to Michael Lund Petersen. The seven-figure price was the most ever paid for a horse in the Midlantic sales ring and bettered the previous mark of $1.5 million set in 2017.
With 326 horses sold, the sale gross was a record $29,374,000, bettering the previous mark of $25,237,000, also set in 2017. The average of $90,104 bettered the 2015 figure of $88,859, while the median of $43,000 trailed only 2015's figure of $45,000.
"I was hoping we would do something big based on what everyone was telling me with what they were bringing and it all came to be," said Fasig-Tipton Midlantic Sales Director Paget Bennett. "We had a lot of new buyers and a lot of new consignors here, so when you get all the new faces, that tells you that people have confidence in this sale."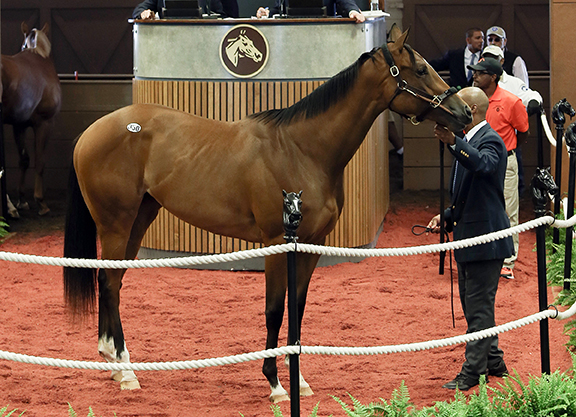 For the fifth straight year, the Midlantic sale produced a seven-figure transaction when Petersen, standing alongside bloodstock agent Donato Lanni, made his record-setting final bid for hip 360, a bay filly from Bobby Dodd's consignment. The previous Midlantic record was set in 2017 when Breeze Easy and John Oxley teamed up to buy a colt by Curlin for $1.5 million.
The record-setting filly topped an impressive sale for Into Mischief, who had nine juveniles sell in Timonium for a total of $4,215,000 and an average of $468,333. The Spendthrift stallion was represented by three of the sale's top eight prices, including a $710,000 colt.
Bennett admitted the record-setting auction exceeded her expectations.
"You hope to always improve over your previous year, but this really exceeded my expectations," she said. "When that horse came in–everybody knew it was a lovely horse–and when it just kept going and going, it was very exciting. It's great for this marketplace that consignors have the confidence to bring that type of horse to Maryland and for everybody to see that you can get the big bucks in Maryland in May."
From a catalogue of 600 head, 425 horses went through the sales ring and 99 failed to find new homes for a buy-back rate of 23.3%. It was 22.6% a year ago, when 333 horses sold for $24,868,500. The 2018 average was $74,680 and the median was $38,000.
"I think it's been strong and with a solid middle market," bloodstock agent Liz Crow said of the action in Timonium. "I think there have been a lot of new names on the results sheet, which is nice to see and this a great place to have a sale. You get all of these trainers who don't go to a lot of the other sales. It's one of the sales where the middle market is actually existent and it's been nice to see."
Consignor Eddie Woods was more pragmatic about the market conditions.
"It's all or nothing," he said. "I think what you are able to peddle here are the horses that just need to be gone and you'll get $35,000, $40,000 or $50,000 for them because there are people here to buy them. There is more racing in this part of the country than there is in any other part of the country period, so hence there is a bigger market for them. But it's still all for the good horse at the end of the day and that's all you can aim to have because, selling horses for $35,000, $40,000 or $50,000, that's great that they are gone, but you don't do any good."
Into Mischief Filly Sets Midlantic Record
A filly by Into Mischief became the most expensive horse to ever sell in the Fasig-Tipton Midlantic sales ring when bringing a final bid of $1.8 million from Michael Lund Petersen. Petersen stood alongside bloodstock agent Donato Lanni, who did his bidding out back of the pavilion, not far from where Larry Best's advisor John Dowd was bidding while on the phone.
For Petersen, a founding shareholder in Pandora Jewelry, the filly's appeal started squarely with her future trainer, Bob Baffert.
"Bob loved her," Petersen said. "I was hoping it wouldn't go that high, but we had Bob on the phone and he still thought it was a good idea. I am solely relying on Bob. If he thinks it's a good purchase and it's my turn, then I am going to buy them. I don't know enough about horses to spend $1.8 million on one. So I need a little bit of advice."
The bay filly (hip 360) was the first to work the furlong in the bullet :10 flat time during last week's under-tack preview. She is out of stakes-placed Peggy Jane (Kafwain) and was consigned by Bobby Dodd. Brad Grady's Grand Oaks purchased the filly for $220,000 at last year's Keeneland September sale.
Petersen purchased another :10 flat worker from Dodd's Midlantic sale consignment last year, going to $925,000 for a colt by Union Rags named Tale of the Union, who turned in a 'TDN Rising Star' debut at Del Mar last August. Also at the 2018 Midlantic sale, Petersen purchased a Mucho Macho Man colt for $625,000. That youngster is multiple graded stakes winner Mucho Gusto, who won Saturday's GIII Laz Barrera S.
"Last year I bought two horses here," Petersen said. "Mucho Gusto has done a lot of running and Tale of the Union is coming back to breeze in a couple of weeks. I guess that's why we are here again."
Asked how it felt to purchase the sale-record horse, Petersen admitted, "I'm still a little excited about spending that much money in five minutes. I don't think about the history, I just thought it would be fun to have the horse. Mr. Baffert is really excited about him, so if he is excited I am excited. But I know there is a long way to go."
Grady and Dodd are no strangers to million-dollar sales and now own the record sales price at two venues. The two teamed up to offer a colt by Tiznow who sold for an OBS record $2.45 million during the 2017 April sale.
"Bobby and I have been so fortunate," Grady said. "We've sold several million-dollar horses over the years."
Grady knew early on the Into Mischief filly was something special.
"Bobby doesn't give the accolade of 'freak' very often," Grady explained. "He's done it a couple times. One of them happened to be the horse we went to the [GI Kentucky] Derby with and who we won the GI Haskell with, Girvin. The second time he breezed this filly, he called me and told me she was a freak. The team at the farm, Grand Oaks, does a great job. I knew if they kept her sound and happy, we would have big payday or have a good racehorse, either or. But it doesn't make economic sense for us to keep horses like that when they are going to bring that much money."
Of the filly's record-setting final price tag, Grady said, "She had plenty of vetting, plenty of people, but also she had the right people. There were multiple people that could give seven figures. You never know with some of these horses how far it will go. We had a good idea that she was going to bring half a million, but it's hard to know where it will go from there. It never crossed my mind that she could bring $1.8 million."
Colonel John Colt to Best
Bloodstock agent John Dowd, bidding on behalf of Larry Best's OXO Equine, was forced to $850,000 to acquire a colt by Colonel John Tuesday in Timonium. Consigned by Randy Miles, the bay (hip 528) is out of Tayrona (A.P. Warrior) and he worked a furlong last week in :10 1/5.
"We thought he was a really good individual who breezed really well," Dowd said. "He checked all the boxes. He was a big strong, two-turn colt who has a natural turn of foot. Obviously, the stallion has left the country, but he himself was a really good horse. He won the GI Santa Anita Derby and the GI Travers S. and he was just a really good athlete."
Colonel John, who won the 2008 Santa Anita Derby and Travers, currently stands in Korea.
The juvenile was bred by Silver Springs Stud and Susan Casner signed the ticket on the colt as a weanling at $10,000 at the 2017 Keeneland November sale. Miles acquired him privately last fall.
"We bought privately in Kentucky in October," Miles said. "We were asked to go out and look at him for a private purchase and we fell in love with him right then. When we got him back to the barn and started breaking him and training him, with his class and athleticism, it all fell into place."
While Miles declined to say what he paid for the yearling, he agreed it was significantly less than Tuesday's final price tag.
"We couldn't wait to get him here," Miles said. "We wanted him here in Maryland to showcase him on the dirt because he just handled the dirt so well. Sometimes it works and sometimes it doesn't. This time it just worked."
Miles continued, "The horse did everything. He breezed that way twice. He did it in his prep breeze, he did it in his timed breeze and he came back to the barn like he never breezed. He did it like it was a walk in the park. I can't wait to watch this horse on the racetrack because his cardio must be out of this world. I really have lofty expectations for this horse. He has a great mind and he has the body and the heart. So I just can't wait to see him."
Bradley Stretches for Into Mischief Colt
Bloodstock agent Pete Bradley, bidding on behalf of owner Bill Lawrence, went to $710,000 to acquire a colt by Into Mischief during Tuesday's second session of the Fasig Midlantic sale. The bay colt (hip 322) shared the quarter-mile bullet time of :21 3/5 at last week's under-tack preview and was consigned by Top Line Sales as agent for Carlo Vaccarezza.
"I liked everything about him," Bradley said. "He had beautiful balance, good stride and good mind. It is so hard to buy a good horse and it's really tough for the rest of them to sell here. There are a lot of good judges here. A good horse comes in and there is plenty of money. Everyone you talk to has said it, you have to stretch. He was an exceptionally nice horse and those are hard to buy."
The colt is out of Nihilist (Latent Heat), a half-sister to stakes winners Green Suede Shoes (Meadow Monster) and Cosmo Girl (City Zip) from the family of Grade I winner Ermine.
Vaccarezza purchased the colt for $265,000 at last year's Fasig-Tipton Saratoga sale. He RNA'd for $575,000 after working a furlong in :10 1/5 at the Fasig-Tipton Gulfstream sale in March.
"He was a big, pretty colt down there, but I didn't have an order for him then," Bradley said when asked if he had seen the juvenile prior to the Gulfstream sale.
Top Line's Torie Gladwell said the colt has only improved since March.
"Ever since the Miami sale, he just got better and better," Gladwell said. "He never had a day off or did anything wrong. He was just a true, solid racehorse. He worked in :10 1/5 at Gulfstream and galloped out well there. He was just a little immature. A lot of people knew we were high on him and I think we were a little too high on him, but here he was just a star. He really showed up."
Of the decision to work the colt a quarter in Timonium, Gladwell said, "He is super fit. We actually breezed him three eighths on the farm a couple weeks ago. He's just gotten fitter and fitter and we knew he would breeze a quarter here really well even though he is a big horse. Our track is small at home, so we knew he would be able to handle the tight turns on this small track here."
Vaccarezza, making his first concerted foray into pinhooking this year, has had several notable successes. During Monday's session of the Midlantic sale, he sold a colt by Street Sense for a session-topping $500,000. That colt had been a $280,000 Keeneland September acquisition.
Another Filly For Speedway
Peter Fluor of Speedway Stable and bloodstock agent Marette Farrell have been focused on buying fillies with an eye towards increasing the operation's fledgling broodmare band this week in Timonium. They added another potential broodmare to the stable Tuesday, going to $570,000 for a filly from the first crop of Palace (City Zip) (hip 384).
"She had a great work. I loved her composure and her class and she has a nice dam," Fluor said. "We were looking for an athlete and she was very impressive to us. Obviously a lot of other people liked her, too. But the important thing is to be the last one [to bid]. Otherwise, we're not talking and Boyd [Browning]'s not happy."
Speedway also purchased a filly by Bernardini during Monday's first session of the Midlantic sale, going to $335,000 for hip 85.
Hip 384 is out of Prenuptial Vow (Broken Vow) and is a half-sister to multiple stakes winner Theperfectvow (Majesticperfection).
The filly, who worked a furlong last week in :10 1/5, has made a habit of being popular in the sales ring. She was purchased by Peter O'Callaghan for $140,000 as a weanling at the 2017 Fasig-Tipton November sale. A pinhooking partnership led by Eddie Woods purchased her for $170,000 at last year's Keeneland September sale.
Asked if he was surprised that a filly from Palace's first crop attracted a $570,000 bid, Woods explained, "For the Palace, yes, but for the horse, no. She was the most expensive Palace yearling from the past year. And she is stunning. Every time you look at her, you think, 'Wow.' She's just one of those. And she was just like that the day I saw her in Peter O'Callaghan's barn at Keeneland. I thought, 'We'll never get this one.' And she's been like that all year."
The filly worked a furlong at the Fasig-Tipton Gulfstream sale in :10 flat, but little else went right for her in South Florida, Woods said.
"We took her to Miami and she had the joint-fastest move of the day, but it was on her wrong lead," Woods said. "And the whole Miami experience wasn't good. She hated the place. She didn't act right, she didn't act like she normally does. She didn't eat. It was just a mess. And at Miami, you can't stutter step, so we just regrouped and came here. And she's done everything perfectly."
More Pharoah for Durant
Josh Stevens, bidding on behalf of owner Tom Durant, purchased a daughter of American Pharoah out of a full-sister to Tapit for $275,000 at last month's OBS April sale. He was so happy with that purchase, the bloodstock agent went to $530,000 for a colt by the Triple Crown winner out of Our Love Tap (Tapit) (hip 350) for the same owner in Timonium Tuesday.
"We had bought an American Pharoah filly for Tom Durant at OBS April who was from the family of Tapit," Stevens said. "This colt, being out of a Tapit mare, made our list and then that pushed us over the edge because we are really happy with that filly."
Both juveniles will be trained by Bret Calhoun, but the colt will be given plenty of time to mature.
"Having an owner like Tom who is willing to turn the horse out and let him grow up a little bit gave us more confidence to go after a horse that we think is going to be better when he gets a little older," Stevens said.
Our Love Tap is a half-sister to Grade I winner Dearest Trickski (Proudest Romeo) and a full to graded-placed Gray Sky.
Hip 350 worked a furlong during last week's under-tack preview in :10 3/5. He was consigned to the Midlantic sale by Paul Sharp and was part of Sharp and Liz Crow's pinhooking venture, which purchased him for $200,000 at last year's Keeneland September sale.
"He is so easy to be around," Crow said. "He is so calm and carries himself with class. Every single thing we've asked him to do, he's done it like it was nothing."
Crow admitted the colt's work was a concern when they sent him through the sales ring Tuesday.
"We were a little disappointed he went in :10 3/5 because we know how talented he is and I know what it takes at these sales to bring a million-plus dollars," she said. "We really thought all year he could be that quality horse. But we are really happy with who got him. I'm happy he is going to a good program and we'll see him down the road."
Malibu Moon Colt a Score for Scanlon
David Scanlon, who admitted he was pleasantly surprised to acquire a colt by Malibu Moon for just $25,000 from the Eaton Sales consignment at last year's Keeneland September sale, was rewarded Tuesday in Timonium when the juvenile (hip 497) brought a final bid of $275,000 from trainer Ian Wilkes, bidding on behalf of Bob Lothenbach.
"It was kind of a heads-up deal," Scanlon said of the September purchase. "My partner, Frankie O'Connor, he works at Eaton. We looked at him and Frankie pointed him our way and said he seemed to be falling through the cracks. $25,000 was probably a little cheaper than we expected. We were prepared to pay $50,000 or more. When we paid $25,000, we thought it was our lucky day."
The colt is out of Steely Magnolia (More Than Ready), a half-sister to GI Breeders' Cup Distaff winner Stopchargingmaria (Tale of the Cat). He worked a furlong in :10 1/5 during last week's under tack preview.
"He has grown and he really filled out," Scanlon said of the colt. "He had a really nice walk as a baby and a really nice hip, but he was just immature looking. So we pointed him to a later sale to give him time to mature. And he was just a runner. He had all the good points. He is a Malibu Moon, but had the best parts of More Than Ready."
Of the result, Scanlon said, "It's typical pinhooking. A couple of them you get beat up on and this one you get rewarded."
Scanlon sent 12 horses through the sales ring in Timonium this week and sold all 12 for a total of $1,424,000 and an average of $118,667.
"It has been really good sale," he said. "The clearance has been great. We've sold every horse. So when you can hit a couple of good home runs and sell every horse, that's a really good horse sale."
L & N Racing Strikes for Tapit Colt
As the Fasig-Tipton Midlantic sale was winding down Tuesday, Lee Levinson's L & N Racing swooped in to purchase a Tapit half-brother to Saturday's GI Preakness S. winner War of Will (War Front) for $260,000 while bidding over the phone.
"He's a Tapit who is a half to War of Will–those are the kind of horses we look for," Levinson's son Michael said. "He obviously didn't have the most impressive work of the day, but we thought he galloped out well."
Lee Levinson added, "He is well bred and we love to buy well-bred horses. The ones who go longer take longer to develop, so we'll give him time."
The bay colt (hip 575), a $130,000 Fasig-Tipton Kentucky October Yearling purchase, is out of Visions of Clarity (Ire) (Sadler's Wells). In addition to War of Will, he is a half-brother to Group 1 winner Pathfork (Distorted Humor) and multiple stakes winner Tacticus (A.P. Indy). He worked a furlong last week in :10 3/5.
Given the colt's stand-out pedigree and War of Will's Preakness win, was the father-son team surprised to acquire the 2-year-old for $260,000?
"To be honest, yes," Michael said. "He vetted well, but he went later in the sale. Maybe people who were on him had already bought what they wanted to buy. We think it's a good buy. I guess we'll find out when he gets to the track."
The youngster will be trained by Steve Asmussen.
The L & N Racing partnership, which also includes Lee Levinson's son Andy and family friend Don Nelson, finished second with Lookin at Lee (Lookin at Lucky) in the 2017 GI Kentucky Derby.