Rebirth Of Virginia's Colonial Downs A 'Feel-Good Story'
The following appeared in The Paulick Report and was written by Natalie Voss.
It's a rarity in horse racing to find a place, be it physical or conceptual, where people can agree. It's also unusual to hear about a track opening in 2019, which has already seen the closure of Portland Meadows and a likely mortal blow to Arlington Park. Colonial Downs, which is preparing to wrap up its first season of Thoroughbred racing since 2013 under new ownership, is an anomaly in more ways than one.
"When I met [the new owners], I was very, very impressed with a very comfortable and positive feeling that this wasn't just all about gaming," said Jill Byrne, who left a job with Breeders' Cup to become vice president of racing operations at Colonial Downs. "I felt they had a genuine interest in community, in horse racing. There is a real, genuine desire to make an impact."
The last races in 2013 were run with the track under the ownership of Jacobs Entertainment, a group which had been hoping to see Virginia's legislature approve historical horse racing during its tenure. When there was no movement on the issue among key politicians in a socially conservative state, the track sought to cut days and run a two-weekend meet. Horsemen balked, and the two sides were at odds for much of the track's last few seasons.
Virginia-bred races were largely shifted to Maryland with a few flat races being held here and there at steeplechase meets throughout Virginia. The state's breeding program dwindled. Then, two important changes happened – the state legislature, to the surprise of everyone involved, approved Historical Horse Racing (HHR), and the Virginia Thoroughbred Association put the finishing touches on its Virginia-Certified residency program. The Virginia-Certified program opens horses to purse bonuses if they spend at least six consecutive months at a Virginia-Certified farm prior to the end of their 2-year-old year, and the easy money quickly had training centers and farms filling up again.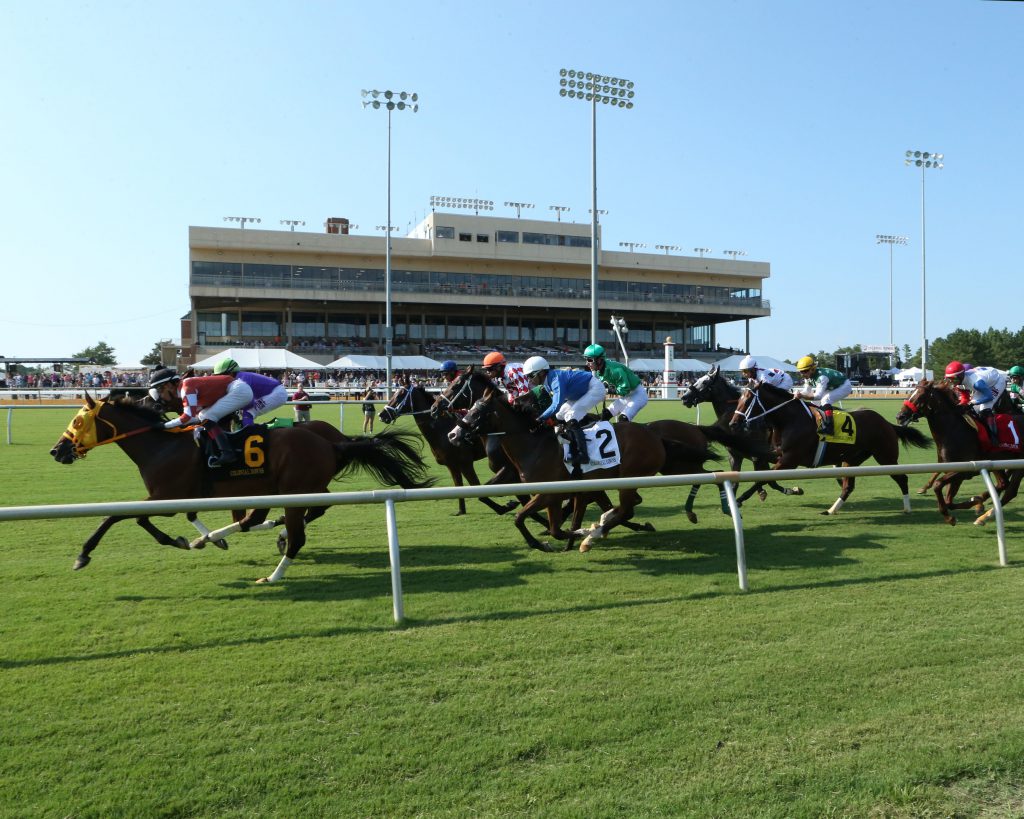 The approval of HHR was a requirement to complete a pending purchase deal from Jacobs Entertainment to Revolutionary Racing, which has since joined with other investors and been renamed the Colonial Downs Group. The $20 million deal saw the track transfer to people with racing and gaming backgrounds – Revolutionary Racing chairman Larry Lucas formerly chaired Youbet.com, and Peninsula Pacific also became involved in track ownership, bringing in former Peninsula Gaming chairman and CEO M. Brent Stevens. John Marshall, executive vice president of operations, comes with management backgrounds from Calder and The Meadows. In turn, the new owners hired Byrne and directed her to hire the best in the business, including Tampa Bay Downs racing secretary Allison De Luca, veteran Colonial track superintendent Ken Brown, and a slew of others from Tampa Bay, including the crew of starters and outriders.
The track recently hosted the Grade 3 Virginia Derby for the first time in six years (though the race had been run in Maryland as the Commonwealth Derby in the interim to keep its grade). The evening was the most important one of the meet for new management. Hospitality seating indoors was sold out weeks in advance, with all the important Virginia/Maryland faces in attendance (and several from Kentucky). General admission reserved seats were filled, and the apron/paddock fence were once again crowded with families and casual race fans patting outrider ponies and calling out to jockeys. Most of the grandstand's first floor is now taken up with HHR machines, which stayed humming throughout the night. From the parking lot to the elevators were track personnel ready to direct racing and gaming patrons alike.
Byrne said the meet has not been completely without hiccups. One night, patrons had to be evacuated from the building after a smoke alarm went off (there was no fire). Elevators will occasionally become finicky. All of it is to be expected from a facility that sat empty for the better part of six years.
The track did host limited Standardbred racing dates while the Thoroughbreds were gone, and Byrne said the track's dirt surface had been reworked to suit harness racing. Besides being packed down, the grading was also nearly opposite of what's required for Thoroughbreds. In the end, the track spent six figures pulling it up and replacing it completely, then brought in surfaces expert Dr. Mick Peterson to review it. Now, the dirt track – which had a weak reputation in the region – is better than ever.
"One morning, a girl was jogging the wrong way and her horse spooked," recalled Byrne. "She fell off. She was fine, the horse was fine. She came back and said, 'That's the softest landing I've ever had.'"
So far, Byrne said she's satisfied with the attendance and wagering numbers. Attendance is averaging 2,000 to 4,000 per night, and wagering has been around $1 million per card, which other track administrators have told her are solid figures for a track of Colonial's stature. Neither is readily compared to 2013 figures, given how much the national landscape has changed with regard to on-track attendance and handle in the past six years.
Frank Petramalo, executive director of the Virginia HBPA, said HHR machines at Colonial and Rosie's Gaming Emporium in Richmond and Vinton are outperforming their original projections. They were predicted to return $175 a day but are instead bringing in $235 per day. Another emporium is due to open in Hampton next month. But there's a catch – based on the way the HHR law was structured, the track and the horsemen won't see HHR boosts until 2020.
The expense of refurbishing the frontside and backstretch facilities, the new track surface, the $500,000 per race card that's offered in purses – it all adds up. Byrne said many people may not realize how much Colonial is spending, operating on faith that this cash and more will come back through HHR machines.
"I think a lot of people think we have the HHR money now," she said. "We don't even get the residuals until April of next year, and don't even get the full effect until 2021."
While Colonial management waits for that HHR cash, it pledged a $500,000 gift to Richmond's Miles Jones Elementary and has distributed $10,000 checks to a handful of other family-focused regional charities. Byrne said giving back to the local community is part of the new owners' corporate philosophy, too.
And what about the horsemen, who were so eager for a longer racing meet catering to local connections? Petramalo said they're willing to play the long game, in part because they're confident Colonial is, too.
"In the old days, we were running for $200,000 a day so it's quite an advance," he said. "Our maiden special weights are $50,000. That's unheard of, for us. We used to run for $26,000 or $28,000.
"[Senior track management are] all experienced, dedicated racetrackers. That was not necessarily the case under the old administration. But more importantly, the company they're part of is dedicated to bringing racing back. They care about racing. The horsemen are delighted."
Petramalo acknowledged the meet is still too short from the horsemen's perspective, but he expects that to change in the coming years as HHR revenue grows.
"Our rule of thumb is they've got to have anywhere from six to eight weeks to make it economically viable to come up here," he said. "You've got to get at least two starts out of a horse and it's tough to do that in five weeks.
"I don't think we'll quite make 30 days next year if we stay at $500,000 and no one wants to go below $500,000."
The culture, so far, seems to involve management making themselves good listeners. Murals painted in staff stairwells implore employees to 'Make someone's day' and 'Do the right thing because it's the right thing to do.' The track got special permission from the Virginia Racing Commission to offer reduced takeouts of 16 percent on win/place/show wagers and 12 percent on the Pick 5. Safety and biosecurity protocols were stepped up, as management was aware of the growing public concerns there. The track is one of the only facilities requiring health paperwork to be dated within 72 hours, rather than the usual 30 days in an effort to catch and isolate horses with fevers before a contagious disease outbreak begins.
Cooperation is also part of the status quo at Colonial.
"We've had great support in meetings with the whole Mid-Atlantic racing group with Monmouth, Delaware, Parx, Maryland, New York," said Byrne. "I think people would be surprised that yes we're all competitors, but at the end everybody wants to work for the same thing, which is to not cannibalize the same horse population."
And next year? Byrne expects the track to make the meet a bit longer – the most it's agreed to is 30 days, after 15 dates this year – and keep purse levels high. The meet could also shift later in the calendar in hopes of catching turf horses traveling from Saratoga to Keeneland or Florida.
"I think it's been a feel-good story," she said. "Even though we're kind of in competition with each other, I think people are happy to see a track that's coming back instead of one that's closing."