More On William Backer's Passion For Thoroughbreds
William M. "Bill" Backer, who after teaching the world that sharing a Coke could bring people together imparted his passion for Thoroughbreds, died Friday, May 13, in Warrenton, Va.
Backer, who was 89, owned Smitten Farm near The Plains, Va., and was a Jockey Club member.
A member of the Advertising Hall of Fame, Backer was best known for creating the "I'd Like to Teach the World to Sing" in 1971 for Coca Cola, which was more recently featured in the final "Mad Men" show. In recent years Backer, who also coined "Miller Time" for Miller Brewing, had been active in land conservation as president of the Piedmont Foundation.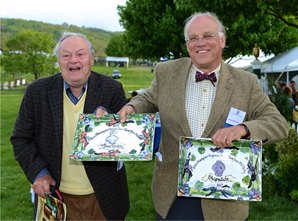 Backer also continued to work for horse racing. He attended the April 28 Congressional Horse Caucus hearing that discussed a path forward for the Thoroughbred Horseracing Integrity Act. A Jockey Club member since October 2004, Backer also served on the Grayson-Jockey Club Research Foundation board of directors and the National Sporting Library board.
Jockey Club president and chief operating officer Jim Gagliano said he was privileged to know Backer.
"Bill was both a pioneer and a giant in the world of advertising and his creative talent was eclipsed only by his personal charm and his humility," Gagliano said. "He was always very supportive of The Jockey Club and his service as a member of the Grayson-Jockey Club Research Foundation board of directors epitomized his longstanding devotion to equine health and welfare.
"He cared deeply about our sport and it was no surprise to see him at the recent Congressional Horse Caucus hearing in Washington D. C. In fact, I told him after it concluded that I knew it was his cell phone that had gone off in the middle of the hearing because it was the jingle from his famous Coke commercial. He just smiled at me, as if to admit he was indeed the guilty party."
Backer also was a long-time member of the Virginia Thoroughbred Association. VTA executive director Debbie Easter said she would talk with Backer at least once a week as he remained active in that organization until his death.
"It's a big loss for Virginia," Easter said. "For a gentleman who could have just sat back and worried about his horses and what he did at his farm, he instead was very interested in helping us make the breeding industry better in Virginia. He was all about what we could do to improve Virginia breeding.
"Obviously he was a very creative man. He was always thinking about how we might be able to do things better for the people who owned Virginia-breds."
Easter said Backer took great pride in the straw and hay he grew at the farm. The hay won top awards at the Virginia State Fair for many years.
"He was incredibly proud of that," Easter said. "And when we talked with lawmakers, he always emphasized tying horses back to agriculture. He wanted the politicians to understand that horse breeding and racing is agriculture and it's tied to many jobs."
One of Backer's most successful horses—from one of his most successful families—was homebred Snit, a Maryland-bred daughter of Fit to Fight who won the 1997 Cotillion Handicap (gr. II) at Philadelphia Park and three other stakes.
Snit would produce Backer homebred Blind Date, who counted the 2009 Virginia Oaks (gr. III) among her six stakes wins. The Maryland-bred daughter of Not For Love also won the 2010 Maryland Million Distaff Handicap. After her Virginia Oaks win, Backer said he knew Blind Date was special from the start.
"She was a great, big foal but she handled herself well," Backer told Blood-Horse. "She was put together right from the beginning balance-wise, and was never clumsy."
Backer also bred the dam of Snit, Kentucky-bred Princess Roberta, by Roberto, who won four stakes in 1982-83. Backer campaigned the dam of Princess Roberta, Queen Ribot by *Sir Ribot, who won the 1977 Fairway Fun Stakes at Latonia.
Backer, who typically had about 20 mares at his Smitten Farm, also won the 2004 Virginia Oaks with homebred Art Fan. Other homebred stakes winners included Applause, and Applause's Quiet American daughter Jazz, Crab Grass, and Midnight Call.
Survived by his wife of 33 years Ann, a memorial service is planned this summer.
(Photo shows Mr. Backer on left with Wayne Chatfield-Taylor; courtesy of HOV Photography)