Mark your 2022 calendars for these great thoroughbred, steeplechase and harness racing events in the Commonwealth.
Action kicks off in late winter/early spring with a series of Point-to-Point steeplechase events followed by a trio of NSA sanctioned jump meets, an expanded 9-week pari-mutuel thoroughbred season at Colonial Downs in New Kent, a 4-day harness race meet during the Shenandoah County Fair, an extended pari-mutuel harness campaign at Shenandoah Downs and a four-pack of NSA sanctioned fall jump meets.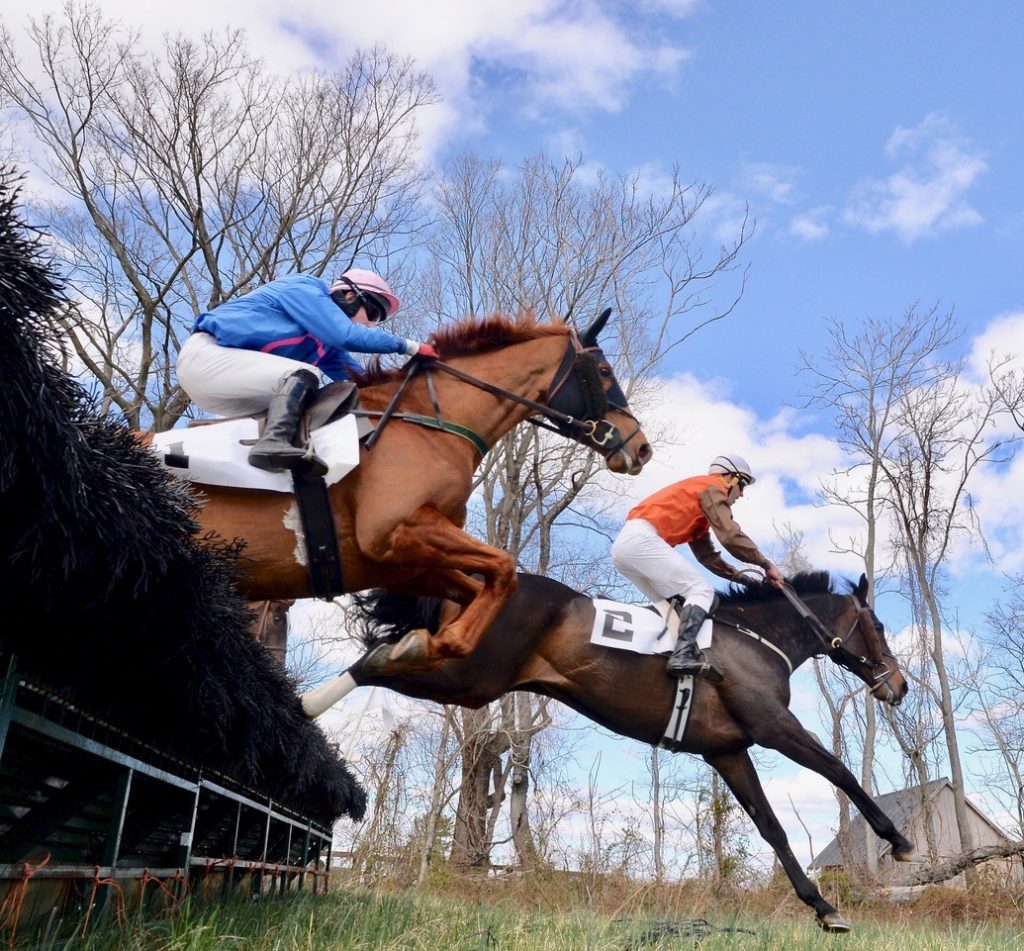 The Point-to-Point (PTP) season kicks off March 5th with the Rappahannock PTP at The Hill in Boston, VA followed by the Warrenton Hunt PTP on March 19 at the Airlee Race Course, the Piedmont Fox Hounds PTP on March 26 at the Salem Course in Upperville, the Orange County PTP on April 3 at the Locust Hill Farm in Middleburg, the Old Dominion Hounds PTP on April 9 at the Ben Venue Farm in Ben Venue, the Blue Ridge PTP on April 17 at the Woodley Farm in Berryville, the Loudoun Hunt PTP on April 24 at Morven Park in Leesburg and the Middleburg Hunt PTP on May 1 at Glenwood Park.
Fans are welcome to enjoy the jump action at all these events and venues. More details on the Point-to-Point races can be found at centralentryoffice.com.
The National Steeplechase Association sanctioned meet schedule includes the Middleburg Spring Races on April 23 at Glenwood Park , the Foxfield Spring Races in Charlottesville on April 30 and the Virginia Gold Cup pari-mutuel slate of action on May 7 at Great Meadow in The Plains. More information on this impressive annual slate is available at nationalsteeplechase.com.
Rolling into summer, Colonial Downs will host an expanded 9-week season of flat racing action every Monday, Tuesday and Wednesday afternoon in New Kent from July 11 – September 7th. Purses are expected to average $600,000 per day over the 27-day campaign. Stakes race dates will be announced soon including the 19th running of the Grade 3 Virginia Derby. Get the latest details at colonialdowns.com.
Harness racing takes place in Woodstock, VA every year in late summer and early fall. The 4-day County Fair meet (non-betting) will be held this year from August 31 – September 3, then an expected 8-week pari-mutuel Shenandoah Downs meet will be held over the same oval beginning September 16 with racing every Friday at 3:30 PM and Saturday at 1 PM. Check for the latest updates at shenandoahdowns.com.
The 2022 calendar wraps up with four fall steeplechase meets — Foxfield, Middleburg, the International Gold Cup and the Montpelier Hunt Races. Dates for those are not confirmed yet.
Details on all the listed above events can be found at virginiahorseracing.com.