Jill Byrne Named Vice-President Of Racing At Colonial Downs
Colonial Downs Group (CDG) welcomes Jill Byrne home as she joins the team that will be returning Thoroughbred racing to the Commonwealth of Virginia through the resurgence of Colonial Downs. The Charlottesville native will be vice president of racing with the Colonial Downs Group.
Ms. Byrne joins Colonial Downs from Breeders' Cup Limited where she served over the past two years as senior director of Industry Relations focusing on the promotion and coordination of the Breeders' Cup Challenge series connecting owners, trainers and horses to the Breeders' Cup World Championships and with industry constituents and fans. She additionally produced the Player's Show, the official Breeders' Cup World Championships simulcast signal along with the Morning Works show. Prior to Breeders' Cup, Ms. Byrne was the director of Broadcast and Programing at Churchill Downs Racetrack for nearly a decade, overseeing broadcast and production of Churchill Downs race product including the Kentucky Oaks & Derby.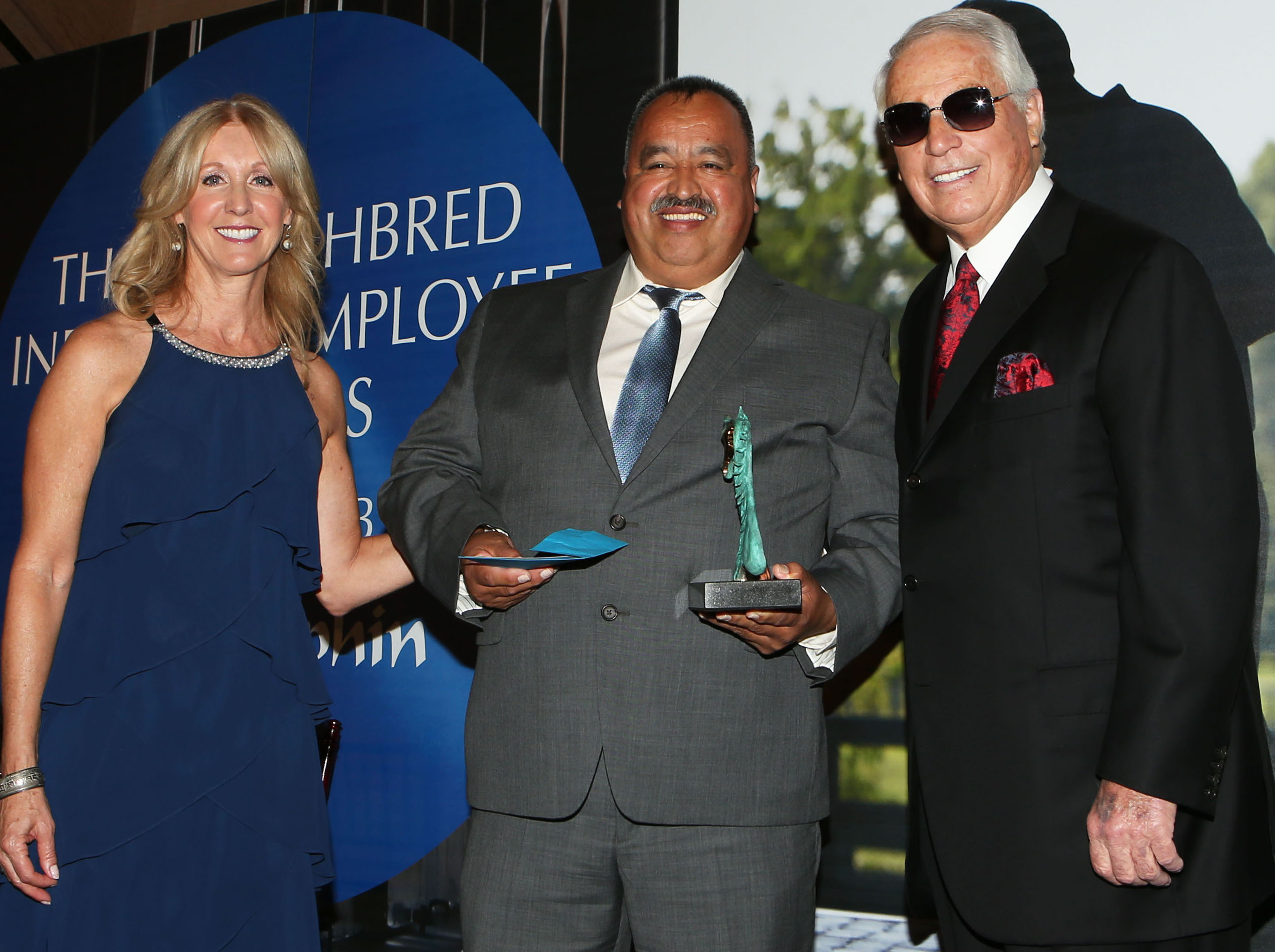 Jill Byrne with Victor Espinoza, farm manager of Brookdale Farm, and trainer D. Wayne Lukas
"Jill is the perfect addition to help our team market racing opportunities to horsemen, demonstrate wagering value to handicappers and establish Colonial Downs elite boutique meet", said John Marshall, senior vice president of Colonial Downs Group. "Jill's innate ability to cultivate interest in horseracing in such a genuine way is unmatched."
Prior to working at Churchill Downs, Ms. Byrne was a host, racing analyst and reporter for TVG. Growing up in a Virginia horse family, she spent countless hours in the stable area galloping and caring for thoroughbreds trained by her father Pete Howe, who conditioned Eclipse Award winners Soothesayer and Proud Delta. These are the beginnings of her passion for horseracing, launching an era working with then husband Patrick Byrne, trainer of 1997 Horse of the Year and Eclipse Award winners Favorite Trick and Countess Diana as well as 1998 Breeders' Cup Classic winner Awesome Again.
"I'm excited for this fantastic opportunity to join the Colonial Downs Group and be a part of the return of horse racing to my home state of Virginia, which has a deep history and strong connection to the horse industry", said Ms. Byrne. "Colonial Downs is a wonderful facility with arguably one of the best turf courses in the country. I look forward to working with all the horsemen and women and industry stakeholders in not only supporting racing in Virginia but the sport in its entirety."
She added, "I'm very appreciative of the valuable relationships and knowledge I've gained by working with everyone at Breeders' Cup and grateful for their shared passion and support of the horse industry."
"Everyone at Breeders' Cup wishes nothing but the best for Jill as she takes on this incredible opportunity", said Dora Delgado, senior vice president, Racing & Nominations for Breeders' Cup Limited. "We were fortunate enough to benefit from her experience, professionalism and passion for the game over the past two years and by gaining Jill's enthusiasm and extensive industry knowledge and relationships, Colonial Downs can only succeed in their quest to bring great racing back to Virginia".
Her responsibilities at Colonial Downs Group will include industry relations, oversight of full card simulcasting across Rosie's network, preparation, production and operation of the live race meet, marketing racing opportunities to horsemen and wagering to fans on-site and on-line.
Colonial Downs continues to build its industry partners and seasonal racing team as the New Kent track approaches opening day on August 8, featuring the Virginia Oaks and Derby August 30 & 31.
New to the Paulick Report? Click here to sign up for our daily email newsletter to keep up on this and other stories happening in the Thoroughbred industry.
Copyright © 2019 Paulick Report.