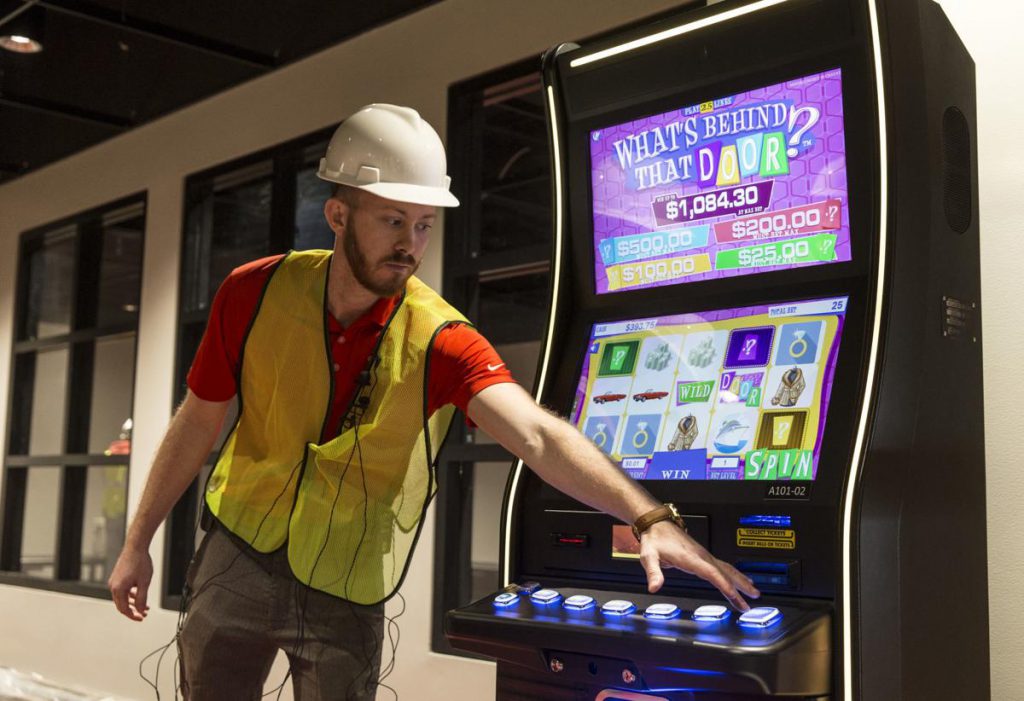 The following appeared on richmond.com March 26th and was written by Graham Moomaw.
NEW KENT — Fur coats, piles of cash, convertibles, yachts and diamond rings spun across the gambling machine's screen. But the horses were optional.
The first shipments of historical horse racing terminals were scheduled to be delivered Monday at Colonial Downs, about a month before the track's new owners hope to open the doors of their revamped, casino-esque facility in New Kent County.
To mark the occasion, Colonial Downs representatives held a demonstration showing how the machines the General Assembly legalized last year will work. The historical horse racing machines — a major step toward casino-style gambling in Virginia — will provide a critical new revenue stream to support the reopening of Colonial Downs and Thoroughbred racing's return to the track.
The plan was pitched as a way to revive horse racing, create hundreds of jobs and generate tax revenue for state and local governments. But the debate in the legislature focused largely on the return of horse racing, without delving deeply into the functionality of the gambling machines or their similarity to traditional slot machines.
According to an economic impact analysis circulated by Colonial Downs, the new iteration is projected to take in $203.7 million in revenue by 2022, with $161.9 million coming from historical horse racing.
The machines look and feel like traditional slot machines. But instead of using random numbers, they're powered by an archive of horse races that have already been run, combining players' money into pools under the same pari-mutuel wagering system used in live horse racing.
Monday's game demo — just off a newly carpeted red floor lined with black bases awaiting the machines' arrival — showed that players can pull up charts showing horse odds and jockey information and use it to carefully predict the horses' finishing positions. Or they can just press a button over and over again and hope to get lucky.
"If you don't understand horse racing or you don't consider yourself a handicapper, just by hitting the spin button you can automatically pick the top three horses … without having to do any work at all," said Aaron Gomes, chief operating officer of the Colonial Downs Group.
Though the new owners kept the Colonial Downs name, the gambling side of the company will be branded Rosie's, both in New Kent and at a handful of off-track facilities opening around the state.
At the New Kent Rosie's, the minimum bet per spin will be 20 cents, company representatives said, but a "high-limit" room will allow up to $15 per spin. Winners' payouts will depend on the size of the pools, they said, and could range from $1,000 to six-figure jackpots.
Nate Mize, director of marketing for the Colonial Downs Group, said the machines will let players bet on three horse races within 20 seconds. The appeal of the machines, he said, is in their speed and efficiency.
The company acknowledged most historical horse racing players would use the automatic bet feature, while more experienced horse racing fans could bet on live races or simulcast races from other tracks.
The machine used for the demo featured a game-show theme called "What's Behind That Door?," one of about 50 game themes Colonial Downs plans to use. Other themes listed on the website of Exacta Systems, the manufacturer providing the machines to Colonial Downs, include fairies, pirates, monkeys, angels, ninjas, turtles, leprechauns and conquistadors. Still, the games are based on past horse races, even if the machine has an entirely different cartoon theme.
There will be 600 machines at the main Colonial Downs facility in New Kent and its associated Rosie's gambling wing; 700 machines at a separate Rosie's facility being built in South Richmond; and hundreds more at Rosie's sites planned in Hampton, Chesapeake and the town of Vinton in Roanoke County. The Rosie's in New Kent is expected to be open from 8 a.m. to 2 a.m. Sunday through Thursday, and 8 a.m. to 4 a.m. on Fridays and Saturdays.
The Colonial Downs track had been shuttered since 2014 after its former owner surrendered its racing license amid a bitter financial dispute. A Chicago-based company bought the track last April, shortly after the Virginia General Assembly voted to allow historical horse racing machines in the state. That bill passed despite opposition from anti-gambling groups that said the facilities could encourage gambling addiction and drain money from working-class people.
The General Assembly's apparent willingness to entertain casino-style gambling caused a rush of interest in the 2019 legislative session as multiple would-be casino operators and sports betting proponents tried to get lawmakers to go even further. Those bills did not pass, but were instead wrapped into a comprehensive gambling study scheduled to be completed this fall.
Live horse racing won't return to Colonial Downs until August. But the gambling machines could be up and running in New Kent by mid- to late April. The Rosie's in South Richmond is expected to open in June.
The company has erected five billboards in Virginia to advertise the new enterprise, including one off Interstate 64 heading west out of Richmond.
Gomes said he would not call the machines slot machines because the behind-the-scenes functionality isn't the same. But to the player, he said, it might seem "no different."
"It's very similar if you don't want to get into the horse racing details," Gomes said.
(804) 649-6839