The series of Virginia-bred races in Maryland that has been so popular the past several years will return again in 2018 and will feature a new format. Previously, the three separate Saturday programs shared a combination of thoroughbred stakes and maiden events. The new version will offer maiden races on Friday and stakes exclusively on Saturday. A total of 18 races will be carded — 13 stakes at $75,000 each and five maiden races at $40,000 each. They will all be contested on turf.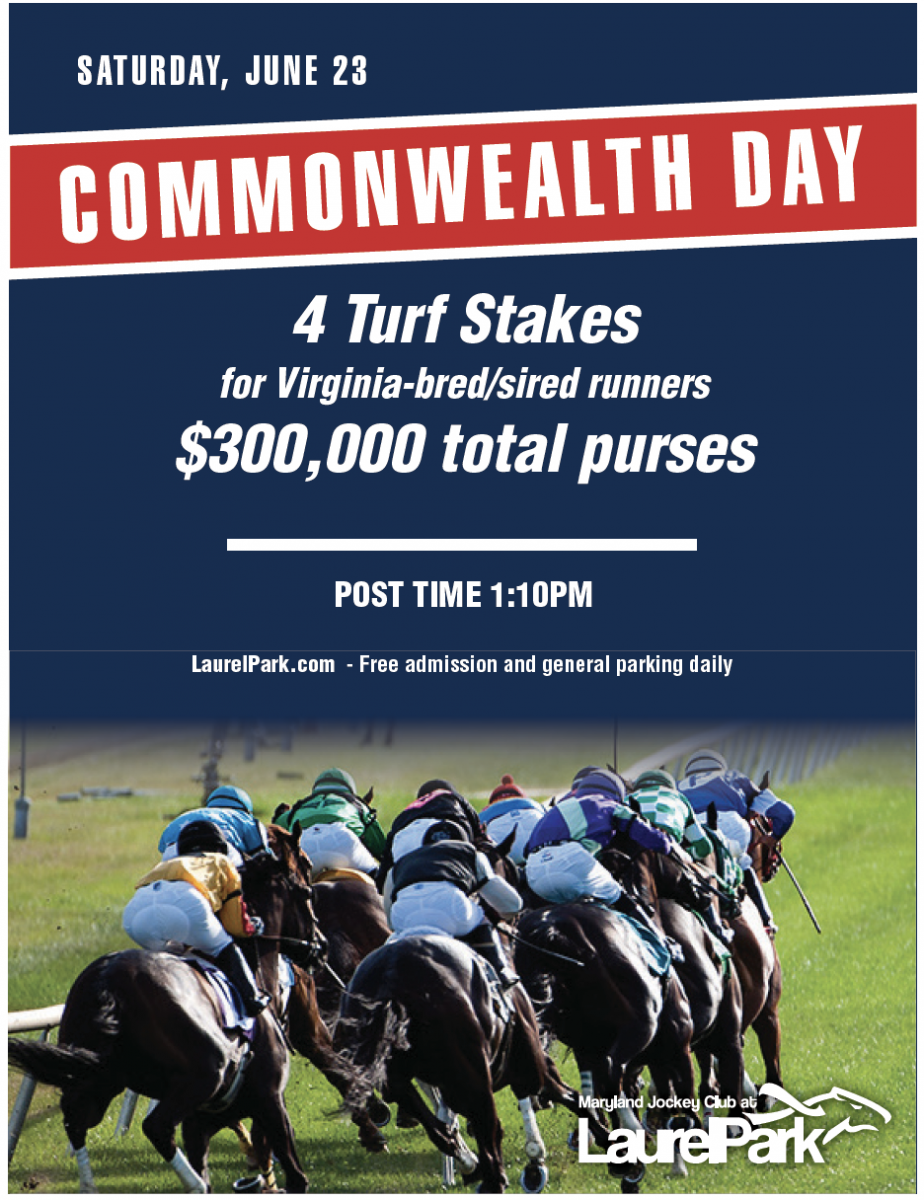 The Saturday stakes event days are June 23rd, August 4th and September 22nd. A four-pack including the Edward Evans, Nellie Mae Cox, White Oak Farm and Tyson Gilpin Stakes kicks off the series, coined "Commonwealth Day". The first pair will be held at the one mile distance; the other pair at 5 1/2 furlongs. The middle leg features the Hansel, William Backer, Meadow Stable and Camptown Stakes. The first two will be at 1 1/16th miles and the last two at 5 1/2 furlongs. The series concludes with five more on September 22nd — the Bert Allen, Brookmeade, Punch Line, Oakley and Jamestown Stakes. The first pair are at the 1 1/8 miles distance and the final trio will go 5 1/2 furlongs.
Two other aspects are new.  A $20,000 Trainers and Owners bonus program will offer awards to the overall top five leading trainers and owners that participate in the series. Points over the 18 scheduled races will be totaled at the end.
Trainers and owners will be awarded five points for a win, four points for second, three points for third, two points for fourth and one for every finisher after fourth place.  $10,000 will be awarded for first place, $4,000 for second, $3,000 for third, $2,000 for fourth and $1,000 for fifth.
Horses that entered the new Virginia certified residency program will be eligible to compete in one of the maiden races and could potentially enter a stakes race as well. A 5 1/2 furlong maiden sprint for two-year-olds is slated for Friday August 3rd and is open to Virginia-bred, sired or certified horses. The Jamestown Stakes, slated for September 22nd, could include certified horses if there are less than six Virginia-bred or Sired entered.