Aging Gracefully: Life In 2021 For The Last Three Known Secretariats
When the calendar turned the page to 2021 on January 1, all Thoroughbreds officially became one year older. That means that Ball Chairman and Border Run are now 33 years old, while Trusted Company is 32. Why is this important, other than the fact that they are all of advanced age, a blessing for any horse? Because they are the last three known living offspring of Secretariat, a precious few still providing a direct link to their illustrious sire.
Ball Chairman is the oldest of the group, born March 18, 1988. Purchased as a young broodmare by owner Charles Fipke, she's also the only one who has spent time overseas – several years at Coolmore Stud in Ireland, visiting elite stallions like Sadler's Wells and Galileo. To the court of Sadler's Wells, she produced seven foals, including G1 winner Perfect Soul and Canadian sire Not Impossible. Five of her last six foals (Sheba Gold, Sadler's Secretary, Secretariat's Soul, Dance Secretary and Urban Ball) are broodmares that have current runners in training.
After Perfect Soul was pensioned from stud duty at Darby Dan Farm, the stallion was sent home to Fipke's Kentucky farm.
For a while mother and son had stalls at opposite ends of one barn, although Ball Chairman was out in her pasture almost 24/7. She was eventually moved to a broodmare barn but still only spends time inside during extreme weather or when she needs any medical or routine attention.
Fortunately, medical needs have been few and far between. Her primary health problems include issues related to retaining uterine fluid and chronic arthritis, especially in her left knee.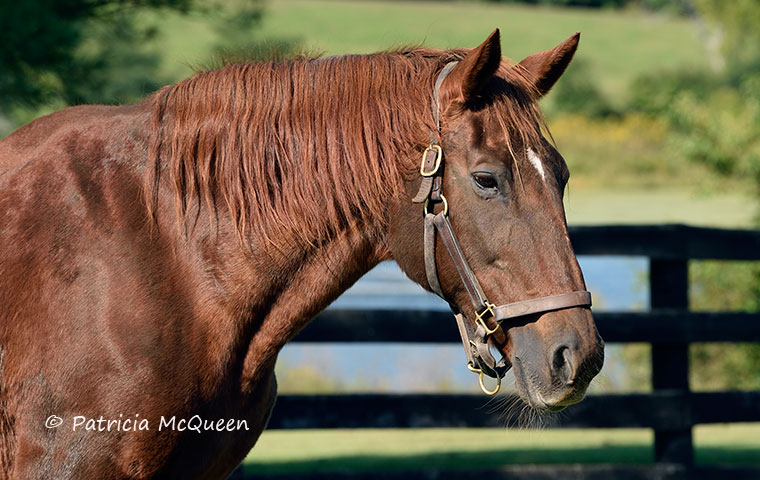 "She's super tough," said farm manager Elke Krohn, heaping praise on a mare who is "really good about letting us know when something is wrong. She's like, 'right here guys, I'm not right, this is not good.'" And so far, thanks to those equine signals for help and fast action by her caretakers, she has quickly recovered from any issues.
Recently she lost her younger best friend when the Wild Again mare Recoleta passed away peacefully.
The two mares shared a breakfast together in their pasture one day, and after a little nap only Ball Chairman got up again. But Secretariat's daughter has found a new pal in 24-year-old Thislillightofmine, a daughter of Kingmambo out of a Sir Ivor mare. That makes her a descendant of Secretariat's half-brother Sir Gaylord, sire of Sir Ivor. And it just so happens that Thislillightofmine's leading earners as a broodmare were all by Perfect Soul.
"They get along really well," Krohn said of the newly-paired mares. At this writing, they were spending their time in an indoor round pen at the back of the big broodmare barn. The weather was changing so much, and a serious cold spell was looming, so it was best to keep them inside.
"She does prefer to be outside, but at least they can roam around and look outside through windows." Krohn laughingly referred to the temporary quarters as their "indoor condo", adding that they would get back to their "outside condo", complete with a run-in shed, as soon as possible.
The latest Borderisms
The only known living son of the Triple Crown winner is royally-bred Border Run, a full brother to both Terlingua and Pancho Villa. There's a strong family resemblance among the three siblings, and owner Curtis Wright is thrilled to have stumbled across Border Run almost a decade ago, when the gelding was listed for sale on a local website.
Born March 23, 1988, just five days after Ball Chairman, Secretariat's son was a stakes-placed winner of $155,238. A longtime racing fan and horseplayer, Wright recognized the gelding immediately from his racing days and wasted no time acquiring him for the small Washington farm that he and his wife Margo call home.
After nearly ten years with Wright, Border Run is still doing well. "Despite his age-appropriate teeth, he still enjoys carrots, cookies and peppermints. He can still manage hay too, which can be a problem as they age."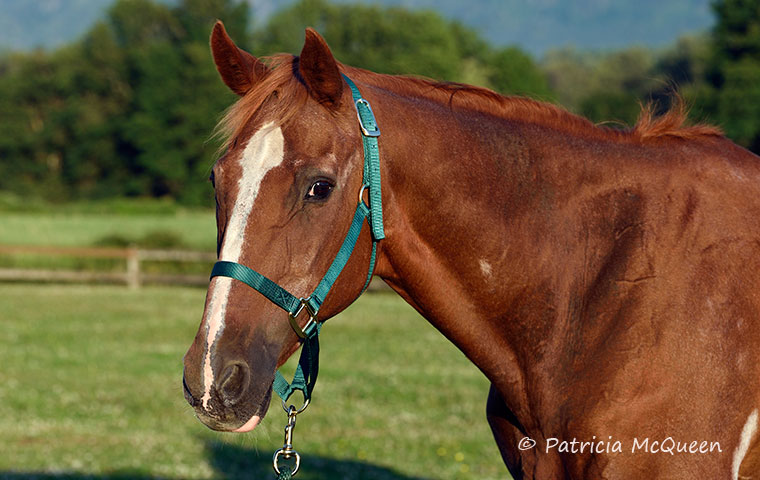 The owner often waxes poetic about the gelding's antics, and relayed three 'Borderisms' based on recent behaviors that define his personality.
Even at his age, Border Run loves to lie down in the pasture for naps, no matter the weather, and will stay motionless on his side with his best friend Anniversary Year (also sleeping) standing over him. Margo can be unnerved at the sight, and recently she got concerned when the nap seemed unusually long. She called for Curtis. "Once I looked out the window," he said, "right on cue Border's head came up and he stood up, no doubt refreshed, with a 'what's all the fuss?' look on his face."
That's just one of the looks in the gelding's repertoire. Another is, "Do you know who my father is?" He flashes that look whenever he is annoyed at something, or during a routine procedure he's not happy with.
For the longest time, the Wrights had the goats Linus and Lucy; beloved Linus passed away last winter. To keep Lucy company, they acquired a new goat, Tara, and two of her baby nephews. Tara can be very noisy – "braying rapid fire sounding like a car alarm", said Wright. "Like the venerable Sailor Man, Popeye, Border takes all he can take until he 'can't takes no more.' So he flashes that look with his ears pinned, and Tara realizes she's gone far enough."
And then there's a quirky drinking preference that just may be the reason for his longevity.
Wright goes to great lengths to make sure the horses have a nice clean water source, a 100-gallon trough "replete with goldfish to purify the water". But Border Run prefers to quench his thirst another way when he can. A low area of the pasture collects rain water at certain times of the year, and it can get up to a foot deep. "So this regally bred individual, the result of years of careful planning, and one who wouldn't walk through an inch of standing water if his life depended on it, likes to drink from the edges of this happenstance pond."
He added that soon there will be ducks swimming and bathing in the water, but that won't change the gelding's behavior. "This lovable equine curmudgeon will grudgingly share what may be the waters of his Fountain of Youth. I think his GPS went sideways and he believes Ponce De Leon came to this corner of the country."
Valentine Company
The youngest of the three known Secretariats, at age 32, Trusted Company is the first of them to celebrate an actual birthday this year, since she was born on February 14, 1989. This year the big chestnut Valentine marks her third birthday in the care of Bev Dee's Bright Futures Farm, who acquired the mare in late 2018 when circumstances changed for her previous owner.
When she first arrived at Bright Futures in early 2019, Trusted Company was such a picky eater that Dee had to offer her food in several different pans like a Smorgasbord. Early on she would eventually eat everything, but then started refusing some of the feed, and didn't like different food mixed together. But then she acquiesced and started eating out of one bowl.
Unfortunately for Dee, that didn't last long! "She's decided she likes variety again, so we're up to three different kinds of feed at each meal. And each meal yields a new 'favorite', so she's always a step ahead of me."
Of course, that's no real problem for Dee, who knows that with senior equines, it's necessary to cater to their every whim to keep them happy and healthy. And by all appearances, Trusted Company is both.
The mare's biggest health issue is arthritis, for which she gets a Legend injection every six weeks. "That has helped her tremendously." She's also receiving PEMF (pulsing electromagnetic field) treatments two or three times a week. Those support the work the Legend does, explained Dee, helping with any inflammation that might be present but not easily seen.
Clearly the treatments have been working, as Secretariat's daughter is feeling good. She "pouts" when she's in the barn, much preferring the great outdoors. "As soon as I open her door to let her outside, she's bursting with enthusiasm," said Dee. "She would probably stay there 24/7 if I'd let her."
Trusted Company's constant companion remains the 28-year-old gelding Catch This T. Like Ball Chairman's new companion Thislillightofmine, he descends from Sir Gaylord.
Although the pandemic kept fan visits to Bright Futures at a minimum last year, Dee did manage to hold the annual open house last September. It was a far cry from the usual large crowd, but Trusted Company made the best of it and the fans were thrilled.
"She was the star," marveled Dee. "She loved the attention (and the cookies) and I think everyone who was here got their photo with her." The mare obliged almost everyone with an ears-up pose, but sometimes she seemed to tire of stardom. "A few times I think she'd had enough attention and just wanted to nap, so she gave us helicopter ears!"
As the weeks go by with ongoing challenges from the pandemic, there's always hope. In our small corner of the world, it's hope that fans will get to see horses again on a regular basis. And for those connected with these three Secretariats, it's hope that they are the gifts that keep on giving.