Amy Moore and the Lifeboats that Led to Forte
With the shuttering of Colonial Downs after the 2013 summer racing season, racing opportunities for Virginia horsemen reverted to their pre-live, out-of-state, racing days with the export of starts across state lines. Meanwhile, through account and off-track wagering, purse money was still being generated, intended for incentives to slow the erosion of Virginia's once massive thoroughbred industry.
So what could be the vehicle to maintain and preserve Virginia's thoroughbred industry?
With the Virginia Certified Residency Program still several years away, Virginia's horsemen and breeders worked out a deal to run Virginia's existing stakes races in Maryland as a lifeboat. The Maryland Jockey Club was more than happy to host the races on their slate.
"Once Colonial closed down, things started coming apart," recalls then-recently hired Virginia Thoroughbred Association Executive Director Debbie Easter. "It was not too long after I had come in. We were just keeping the Virginia stakes going, forming the [Virginia Equine Alliance], and adding pari-mutuel at the Gold Cup races. This was stuff we were doing to hold things together. It was the only way to showcase Virginia horses. They showcased pretty well."
Rose Brier, Two Notch Road, and Exaggerated were among those winning multiple stakes in Virginia races in Maryland between 2014 and 2018.
Another multiple stakes winner was Queen Caroline, the first horse owned by Amy Moore since she was a partial owner of record of a "family" horse as a teenager.
Upon retirement from Covington and Burling, a Washington, DC law firm at which she was a partner, Moore started looking for fillies to race. At the 2014 Keeneland yearling sale, Moore, who makes decisions based on her own personal experience and background rather than via a bloodstock agent, bought a Blame filly, going $20,000 over her $150,000 budget.
"We had a good group of fillies that were coming up at the same time. I remember her just getting better," recalls Easter. "It's amazing that this happened to Amy because it doesn't happen very often, it's really unheard of. She's doing the work herself. She's not like many owners in how much she thought about everything."
Queen Caroline was bred in Virginia at Morgan's Ford Farm in Front Royal, a farm as organic as they come, where Wayne and Susie Chatfield-Taylor eschew herbicides and pesticides. Acting on a recommendation made at that Keeneland sale, Moore hired veterinarian Pug Hart, to evaluate Queen Caroline.
"I came to the Morgan's Ford consignment, and I saw Queen Caroline and gave her an A+ in my rating system. She was the only yearling that I saw that I rated an A+," recalls Moore. "I thought she was a very athletic looking filly, very well-balanced, very light on her feet. It looked like gravity had less of a hold on her than it does on a normal horse. I really liked her."
Going through law school, Moore would occasionally exercise horses for trainers such as Del Carroll and Felix Nuesch. After law school and during an engaging professional career, Moore would have little involvement in thoroughbred racing short of watching races on television. A year after purchasing Queen Caroline, Moore bought Hart's farm in Millwood, VA. Queen Caroline, it turned out, would stable only twelve miles from where she was bred – small world, indeed.
The stakes races in Maryland that served as a lifeboat for Virginia racing, would become the stage to showcase Queen Caroline's racing career. Three of her six career wins in twenty starts came in the Virginia stakes held north of the Potomac. Trained by Michael Matz, she won the Nellie Max Cox at Pimlico in 2016 for her second career win. At Laurel in 2017 she repeated in the Nellie Mae Cox and won the Brookmeade later that summer.
"I didn't know when I bought her how important the Virginia-bred program was and is," explained Moore. "At that time, there was no racing in Virginia. The Virginia program is a terrific program."
While the Virginia stakes were being held in Maryland, the Virginia Equine Alliance established and implemented the Virginia Certified Residency program, timely to the development of Moore's South Gate Farm. The incentive program provides bonuses for horses certified to be stabled in Virginia over a period of six months or more. It helped to anchor Moore's foothold in breeding thoroughbreds.
"I needed an outside source of income, and the Virginia Certified Program brought a lot of weanlings and yearlings to my farm as boarders to be raised and sales prepped and really was a lifeline for farms like mine," Moore explained. "It was a tremendous help to Virginia farms, which is what it was intended to be. It is wildly successful."
One of her former tenants, Simply Super won the Hickory Tree Stakes at Colonial Downs last summer.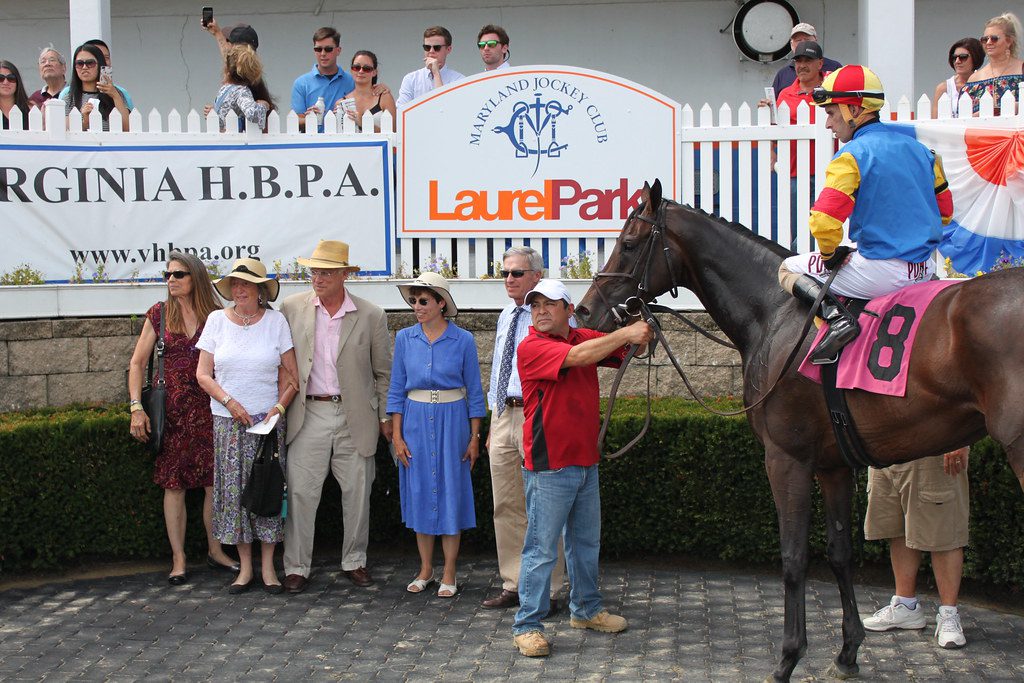 Retiring Queen Caroline from racing, Moore's focus turned to finding the ideal stallion for her first venture into breeding. She identified Violence.
"I'm a commercial breeder so I have to breed what the market wants, and the market wants horses that run two turns on dirt," observes Moore. "Queen Caroline was successful exclusively on turf. She didn't care at all for dirt, so I was walking a tightrope between turf and dirt and looking for a stallion that had credentials in both areas."
Violence, by Medaglia d'Oro, was a Grade 1 winner on synthetic, a Grade 2 winner on dirt, and suffered his only defeat in a four-race career when second to eventual Kentucky Derby winner Orb in the 2013 edition of the Grade 2 Fountain of Youth. According to Moore, Violence was a very good physical match for her mare mare.
Queen Caroline's first born, Forte, was purchased in the Keeneland September Yearling Sale for $110,000 by Repole Stable and St. Elias Stable. Mike Repole is the developer of Vitamin Water, while Vinnie Viola of St. Elias Stable owns the Florida Panthers.
Trained by Todd Pletcher and ridden by Irad Ortiz, Jr., Forte's only loss in seven career starts was in the Sanford Stakes in her second start. He avenged the Saratoga setback by winning the Hopeful over the slop on his way to becoming the two-year-old champion, a status he attained with a win in the Breeders' Cup Juvenile.
Wins in the Fountain of Youth Stakes and Florida Derby solidified Forte's Derby favorite status through the spring. In mid-April, Practical Move won the Santa Anita Derby and Tapit Trice won the Bluegrass, winning battles that may have closed the gap on Forte's favorite status but could not erase it.
Moore's Clarke County farm is only about eight miles away from Audley Farm, where Bodemeister was bred and sent off as the favorite in the 2012 Kentucky Derby.
"Clarke County gets excited about their Derby horses," stated Moore. "Right now, I go into the post office or grocery store or whatever and people are all behind Forte, which is nice."
Located in northwestern Virginia, Clarke County's recent breeding success is a portion of Virginia's thoroughbred racing industry whose economic impact was estimated in 2019 by Chmura Economics and Analytics, while Colonial Downs was closed, to be over $542.1 million and to employ over 5,000 people. Through the preservation of the Virginia stakes program and the Virginia Certified Residency program, the industry's rebound is aptly symbolized with this year's Kentucky Derby favorite.
"What an opportunity for Virginia on Secretariat's 50th anniversary to speak for things to be turned around and coming back," exclaimed Easter about the timeliness of Forte.
Queen Caroline is currently in Kentucky, sixty days in foal to champion Flightline. Moore, whose first thoroughbred purchase was a stakes winner and whose first breeding to that stakes winner is now the Derby favorite, has one more first in front of her. Next Saturday she's headed for Churchill Downs for the first time in her life on the first Saturday in May.
From out of the lifeboat into the ride of a lifetime.