Off to the Races is back.
The weekly radio show, which airs on the ESPN Richmond (VA) family of stations, and is available everywhere via livestreaming, returns for its 21st season, starting February 22. Terrestrial stations include 99.5 FM, 102.7 FM, and 950 AM.
The program will air each Saturday morning from 10:00 a.m. to 11:00 a.m. It will also be archived on theracingbiz.com and espnrichmond.com.
"We are excited to bring Off to the Races back for another great season… Continue reading →
(Doswell, VA) – On March 30, 1970, a legend was born. A fiery red colt named Secretariat took his first breath in a foaling shed at Christopher Chenery's Meadow Stable in Caroline County, Virginia. In 1973, he left the world breathless with his spectacular and incomparable Triple Crown. Those three track records remain unbroken, and his bloodlines still live on in many of today's most successful Thoroughbreds.
On March 28, 2020, Secretariat's birthplace, now known as The Meadow Event Park,… Continue reading →
Red hot 3-year-old filly Finite is part owned by Virginia Thoroughbred Association Executive Director Debbie Easter. Follow her progress here as the Kentucky Oaks nears!
Ron Winchell, Thomas Reiman, William Dickson and Deborah Easter's Finite now owns back-to-back victories on the Fair Grounds trail to the Kentucky Oaks, defeating 2019 champion juvenile filly British Idiom (4-5 favorite) by 4 3/4 lengths in Saturday's Grade 2 Rachel Alexandra Stakes. The 3-year-old Munnings filly (5-2 second choice), ridden by Ricardo Santana, Jr.… Continue reading →
The Virginia Thoroughbred Association's Residency program hit a new gear in 2019 as $1,357,730 in bonus monies were distributed from 338 victories at tracks in the Mid-Atlantic region. 156 different owners, who had a horse spend at least six months at a registered farm in the Commonwealth prior to December 31st of their two-year-old year, shared in the monies.
Top bonus earnings owner… Continue reading →
If you haven't been to the Middleburg Training Center in recent times, you may not recognize it today — in a good way!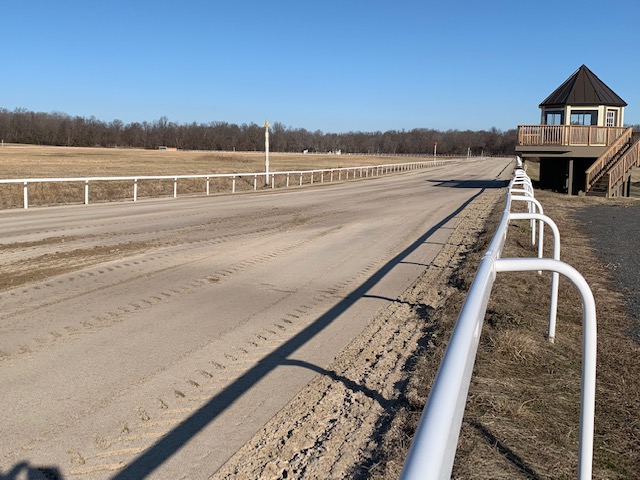 The 149 acre facility in Loudoun County is nearing the finish line of a multi-million dollar upgrade courtesy of owner Chuck Kuhn, a Purcelville, Virginia businessman who purchased the property in 2017. The 7/8ths mile track was fitted with a new Duralock race rail and all barns have received or are receiving a facelift. Chuck's son Steve… Continue reading →
A total of $712,500 in bonus awards were paid out in 2019 to Virginia breeders courtesy of the Virginia Breeders Fund. A total of 45 different breeders shared in the prize pool which came from 165 state-bred winners who amassed purse earnings of $3,298,412.
The Virginia Breeders fund is generated by 1% of every dollar wagered on live racing and via OTBs and ADW in Virginia. Each year the Virginia Racing Commission approves how the money in the fund is… Continue reading →
Colonial Downs Expands Schedule to Run 18 Race Dates in 2020; Tickets Now on Sale for Meet Beginning July 23
General Admission Remains Free
NEW KENT, Va. (February 3, 2020) – Live racing returns to Colonial Downs in New Kent County in July and August with premium tickets going on sale today. General admission and parking are free. The best thoroughbred horses from around the country will run every Thursday, Friday and Saturday from July 23 through August 29. Premium… Continue reading →
As the 2020 calendar rolls into Super Bowl weekend and Derby prep race season, live horse racing events in Virginia may seem like a ways off, but the kickoff event is just weeks away.
Action in the Commonwealth's spring Point-to-Point race season kicks off March 7. For the second straight year, the Virginia Equine Alliance will provide starter reward bonuses to Virginia-owned or Virginia-trained horses that compete in the two month series in order to help encourage participation. The Rappahannock… Continue reading →
The following appeared in The Paulick Report January 28
A new economic study has found that the investment in Virginia by the Colonial Downs Group, consisting of the Colonial Downs Racetrack in New Kent County and Rosie's gaming facilities statewide, will support thousands of new jobs and generate millions in additional tax revenue to the Commonwealth and host localities over the upcoming year. That's in addition to the cumulative $445 million in combined economic activity the locations will produce statewide.… Continue reading →
The following editorial from Virginia Thoroughbred Association Executive Director Debbie Easter appeared in the Richmond Times Dispatch January 24th. Members of various horse organizations in the state may be called upon next week to contact their legislative representatives in an effort to help preserve and grow the native horse racing industry along with other equine and related agribusinesses as new gaming legislation is introduced in the General Assembly. Please visit these websites frequently in the coming days — virginiahorseracing.com, vabred.org,… Continue reading →