Virginia Racing Commission Member on the Derby Trail with Honor Code
Virginian Sarge Reynolds has been involved in racing for 30 years, but after Honor Code's scintillating victory in the Grade II Remsen, the Richmonder may have the chance to take the storied walk to the paddock for the Kentucky Derby. Reynolds is a partner in Woodford Racing, which owns 10 percent of the early-Derby favorite.
Honor Code, who broke his maiden at Saratoga in August before finishing second in the Grade I Champagne in October, put in a game performance to snare the Remsen by a nose on November 30. The ridgling son of A.P. Indy stumbled at the start, but recovered to catch up to the pace in the 1 1/8-mile contest. Honor Code found a hole at the quarter pole and seemed to have the race in the bag until Kiaran McLaughlin's Cairo Prince came ranging up. That foe put his nostril in front briefly, but Honor Code fought back bravely and secured the victory by a nose.
Reynolds barely got to see it. The Virginia Racing Commission member was visiting his daughter in Italy, eating dinner, when the race went off. He requested the wifi passcode from the waiter – who spoke no English – and huddled over the tiny iPhone screen.
"The screen on my phone was so small, and Honor Code only won by a whisker, so I really couldn't tell if he won," Reynolds said. "I didn't know the results for another couple of hours, when we got an email saying Honor Code had won!"
The ownership of Honor Code is made up of a conglomeration of partnerships, primarily Lane's End Racing and Dell Ridge Farm LLC. Reynolds, who went to the University of Virginia with Lane's End principal Bill Farish, has been involved with different partnerships throughout the years with the operation he calls "second-to-none."
"I own a very tiny fraction of Honor Code," Reynolds said. "Bill said, 'Sarge don't tell people how little you own, just tell them you own a piece!'"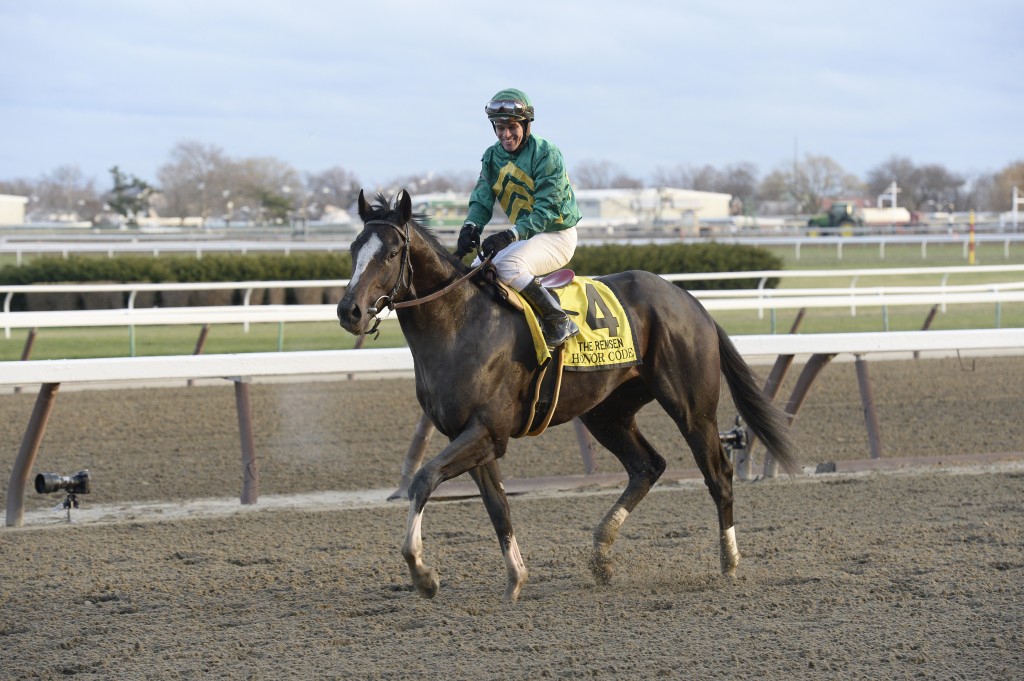 Reynolds counts Honor Code as one of the most exciting horses with which he has ever been involved. Reynolds was briefly involved in a 50-50 partnership with Farish in a horse called Don't Get Mad, who was fourth in the 2005 Kentucky Derby, but the pair had sold him by the time the horse made it to Churchill. In 1997, Reynolds was in a partnership in a horse called Cymbala who won the Grade III Bewitch Stakes at Keeneland.
"That was probably the most exciting day of my life because I was there," Reynolds said. "Bill said, 'Don't get used to this. People spend a lifetime trying to do this and they never win a graded stakes race.' It's hard to do."
But it's hard not to get excited about a horse like Honor Code.
"Honor Code is a special horse," Reynolds said. "I got to see him when I was up in Saratoga for the Jockey Club Round Table, before he had even run his first race. It was an early-morning workout at about six in the morning, and there just was a lot a buzz about him up there. Bernie Hettel was with me and everybody watched the horse work and they said, 'Wow, I really think you've got a special horse there.' Of course they say that about every horse before they run their first race!"
That "first race" was a 4 1/2–length victory, all the more impressive for its style. The chart describes Honor Code's final move as "inhaling" his opposition.
After his second-placed finish in the Champagne, Honor Code bypassed the Breeders' Cup in a conservative move by trainer Shug McGaughey.
"They could have gone for Juvenile of the Year, but Shug is very conservative and what they wanted to do was what's best for the horse," Reynolds said "They felt like shipping the horse all the way out to California for a different horse and a lot of competition in his first two-turn run — we thought that was a lot to ask."
Instead, McGaughey pointed the horse towards the Remsen with a solid Kentucky Derby campaign in mind. So far, everything has gone according to plan.
"Of course we have a long ways to go before then, the horse has to stay healthy and get through his next few races," Reynolds said. "The horse has now shipped in to Florida for the next month or two, and they don't know what the target is but I think they'll send the horse to Gulfstream and point to the Fountain of Youth Stakes. If that turns out well then maybe they'll point towards to the Florida Derby or the Wood."
Honor Code is out of the Storm Cat mare Serena's Cat and is a half-brother to the dual-graded stakes winner Noble Tune.