Jim and Katie Fitzgerald's Mucho Macho Man Filly Earns Grand Champion Honors at VTA Yearling Futurity
A 2016 Mucho Macho Man filly out of Delicate Affair by Langfur was named 2017 Futurity Grand Champion at Wednesday's Virginia Breeders' Fund Yearling Futurity. She was bred by Jim and Katie Fitzgerald and also won the filly division in the competition.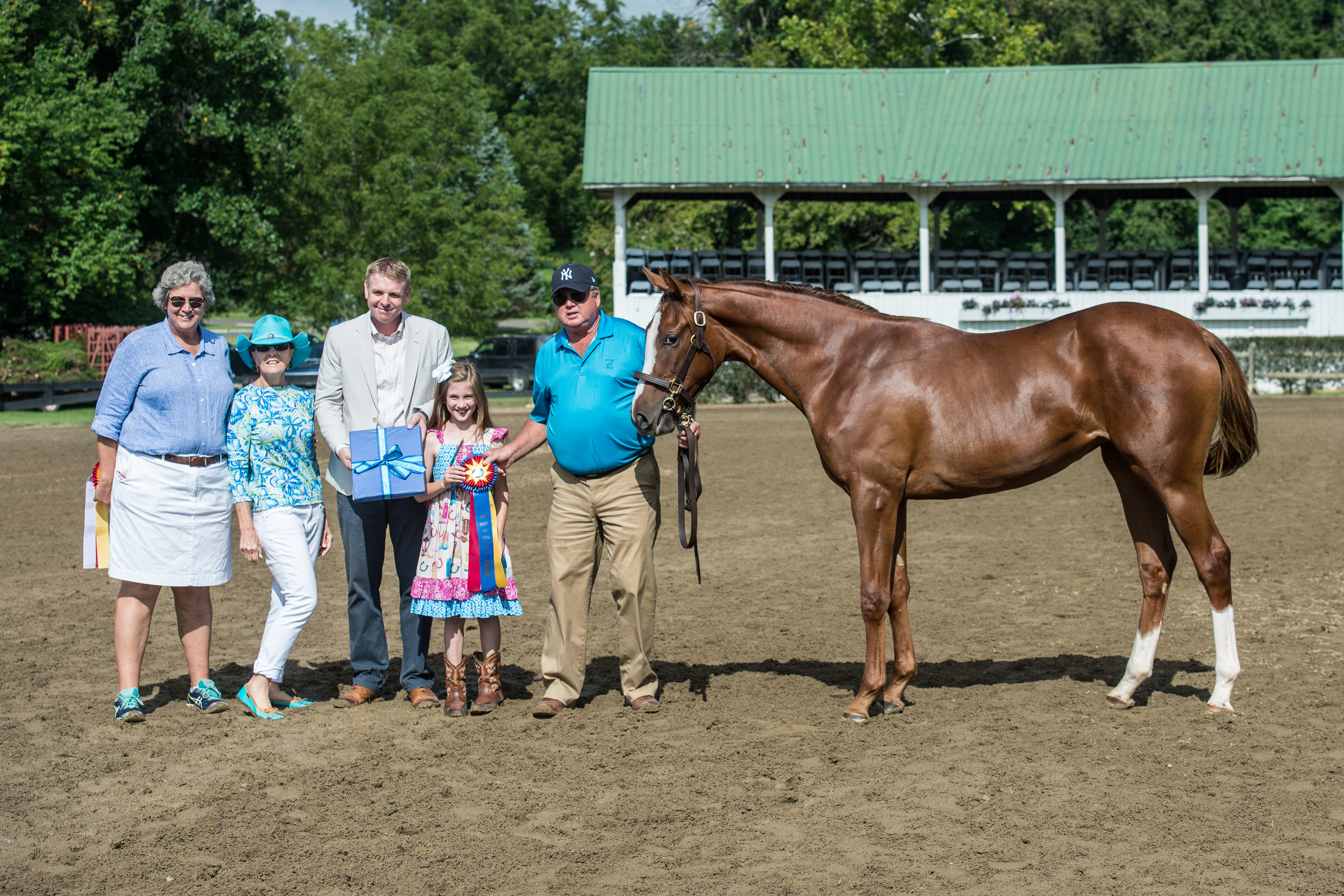 2017 VTA Futurity Grand Champion
2016 filly out of Delicate Affair by Mucho Macho Man – Bred and owned by Jim & Katie Fitzgerald
Pictured from left: VTA Executive Director Debbie Easter; conformation seminar leader, Susie Hart; judge, Phil Schoenthal, Brin Schoenthal and  the filly's handler, Oliver Brown.
The Virginia Breeder's Fund Futurity Reserve Champion was the 2016 colt by Tale of the Cat out of Kiowa by Stephen Got Even. The chestnut, who also won top colt/gelding honors, was bred by the Corner Farm and John Brehrendt.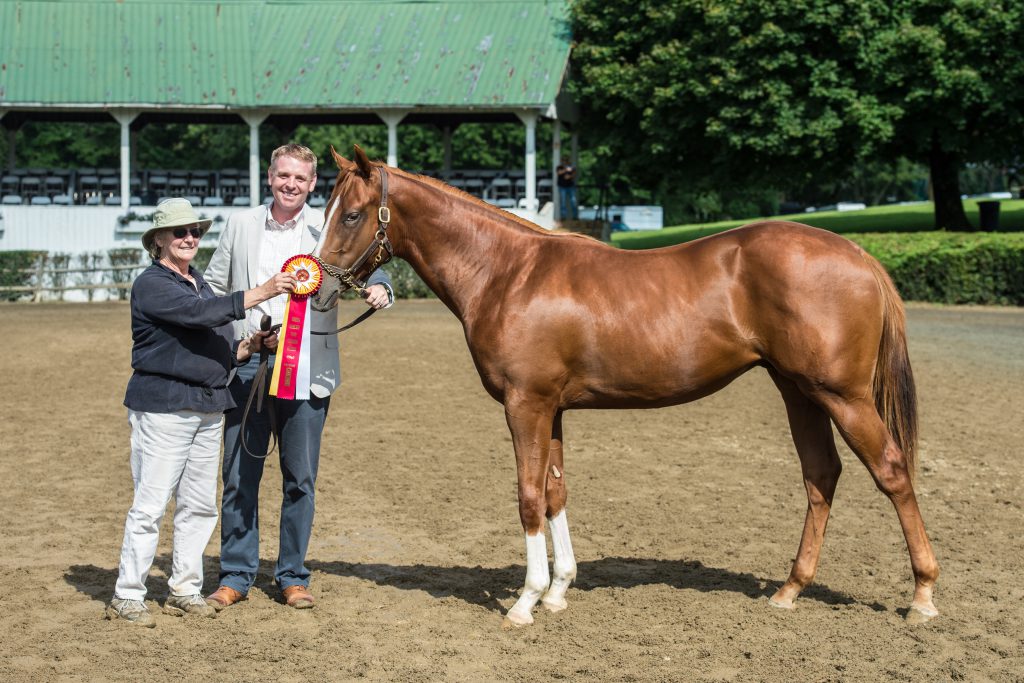 Jill Gordon-Moore and Phil Schoenthal with the Reserve Champion Tale of the Cat colt.
The 16th annual event, which carried $15,000 in prize money and was sponsored by the Breeder's Fund and Virginia Thoroughbred Association, took place August 30th at the Warrenton Horse Show Grounds. Maryland based trainer, Phil Schoenthal, judged a total of 19 Virginia-bred or Virginia-sired yearlings that were all turned out superbly for their individual classes. Susie Hart conducted a live seminar, providing analysis and tips on show presentation and led the popular judging contests, where participants try to pin the class in the same order as the judge.  Donna Dennehy took home the $200 prize for the colt division. Janet deTeran won the judging contest for the filly division.
Second place in the filly category went to Spritsail, who bred by Helen Masek. She is by Heavy Breathing out of Ichiban by Louis Quatorze. An Elusive Quality filly out of Make Waves by Macho Uno took third. She was bred by Morgan's Ford Farm. Next was the 2016 out of Queen's Plaza (Morgan's Ford Farm), Flonnbharr (Susan Cooney), Bit of Brilliance (Marion Soley Theros), the 2016 out of Domenica's Dream (Lady Olivia at North Cliff, LLC) and Stay Out (Quest Realty).
Runner-up in the colt/gelding competition was Goodluckchuck, who was bred by Heidi Overfelt. He is by Big Picture out of Grand Scheme by Boundary. Third place honors went to the 2016 colt by Bandbox out of Dear Rachel by Not For Love. He was bred by John Dale & Maryalice Thomas. Rounding out the category was the 2016 out of Nekia's Promise (Lady Olivia at North Cliff, LLC), Drosselmoon (Quest Realty), Ready to Run (Susan Cooney), Payneful (Quest Realty) and Sandstone Rock Star (Germania Farm).