The following appeared at "theracingbiz.com" December 12 and was written by Nick Hahn.
With the November closing of a multistate sale of assets from Peninsula Pacific Entertainment to Churchill Downs, the upcoming Virginia Racing Commission meeting on December 14 will provide new insight into a new era of racing at Colonial Downs.
One thing will certainly be different. The new track owners will move forward without Jill Byrne, who served as Colonial's Vice-President of Racing Operations from its 2019 reincarnation following a six-year stoppage. Under Byrne's leadership, Colonial attracted a wide array of horses and horsemen, achieved record wagering handle figures, and maintained a strong safety record.
Byrne spent much of her professional career with Churchill Downs, first as an on-air signal host and later directing broadcast operations, helping to modernize the way racing, including the Kentucky Derby, is received.
So it might have seemed a logical fit for her to remain in her Colonial role for the new ownership. In fact, Byrne said she was encouraged to stay on at Colonial and had praise for both Churchill and the situation the company will inherit in Virginia.
"I appreciate the offer from Churchill Downs to stay on at Colonial Downs," Byrne said. "Churchill is like horseracing family to me. I was there a long time and have some incredible friends and colleagues there. I have huge respect for management. They are extremely smart — very sharp at what they do. One thing I've shared with them is that the sky is the limit in Virginia for the horse industry. Churchill Downs has the team and resources to support the continued growth in Virginia and success that I'm proud to be a big part of the last four years."
Colonial, which began racing in 1997, was shuttered following its 2013 meet amid acrimonious disputes between the state's horsemen and then-track owner Jacobs Entertainment. When the state legislature approved "historical horse racing" machines, leading to the sale of Colonial, Byrne was approached by the new owners with "an opportunity just way too exciting and challenging for me to turn down."
That allowed her not only to spearhead the return of racing to Colonial but to do so in her home state. Byrne grew up in Virginia, her father Peter Howe a trainer for Marion duPont Scott, who had horses at Belmont Park and at Montpelier, James Madison's Virginia estate, which she owned.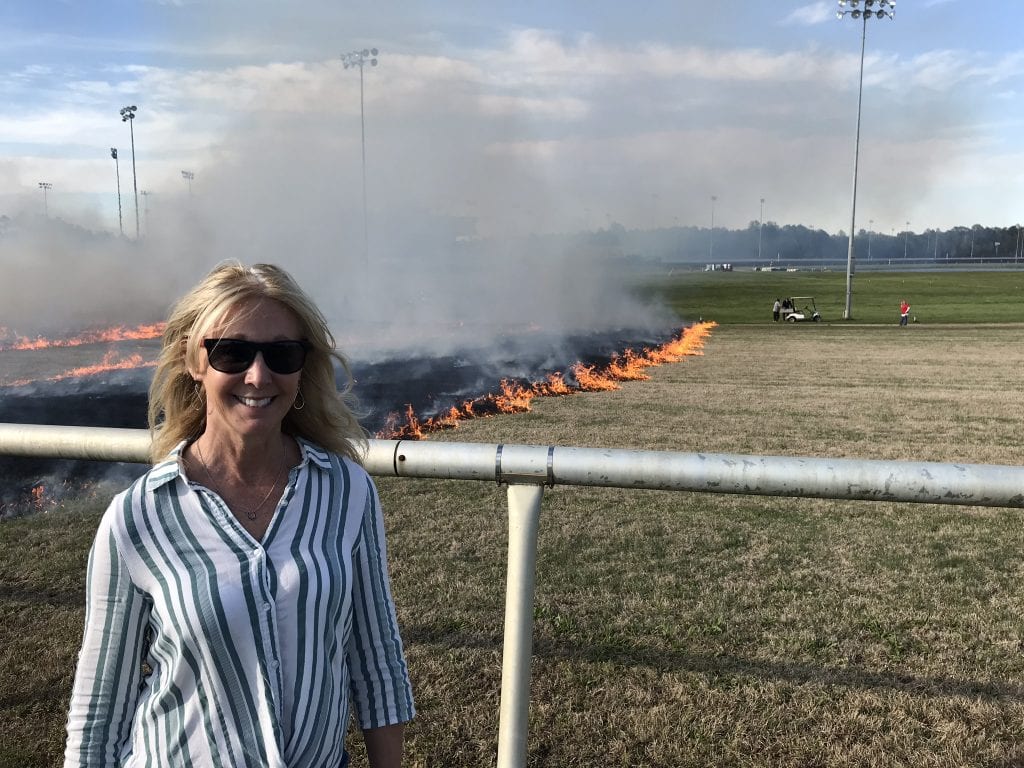 It was perhaps Byrne's work ethic and success with Colonial's quick rise that contributed among other factors in turning down the chance to circle back with Churchill Downs. Byrne, visibly and invisibly, managed Colonial's return in 2019 from a five-week, 15-day meet to a record-breaking 27-day meet conducted over nine weeks in 2022.
The complexities and logistics of a growing seasonal meet in a state that doesn't have year-round racing required demanding "minute-by-minute, boots-on-the-ground, A-to-Z operations," Byrne said.
Average daily handle in 2022 reached nearly $2.9 million, a record for the facility. Each of the final two days of this year's meet saw more than $6 million wagered on Colonial's product – the two best days in the track's history.
"It was four years of what we did to get to this point to make Colonial Downs and Virginia racing so valuable to Churchill Downs," observed Byrne. "It was exhausting and rewarding at the same time when you're the one person responsible for the entire racing part of it — the safety and everything that goes with it. I wouldn't trade the experience for anything."
As rewarding as it was, however, it's important for Byrne not to have her decision confused.
"It's my choice, my decision, my future which is very important to me. It was going to have to be change regardless," explained Byrne. "I've seen what Churchill can do, and I think they are going to be a huge asset."
Byrne was born and raised in Virginia, and most of her family lives nears Charlottesville. She graduated from the University of Virginia before moving to Kentucky. Byrne's father passed away in September. The event may have changed her family dynamic, but don't expect it to put her out to pasture. She's resolved in her commitment towards racing's future.
"I look forward to continue to make a positive impact in the horse racing industry that has literally been my life from the day I was born and that my dad made sure that I took on every challenge and got me where I am today," she said.