January Virginia Racing Commission Meeting Recap – Twin Spires, VEA Plans for Future Live Racing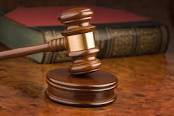 A "give and take" session between a representative from Twin Spires and the Virginia Racing Commission (VRC) took place at Wednesday's (January 6) meeting of the Virginia Racing Commission, which was held in the Patrick Henry Building in downtown Richmond. Controversial topics included a perceived improper hearing notice, the termination date of Twin Spires' most recent license to accept wagers in Virginia, and their status of being non-compliant in regards to monies owed the Virginia Equine Alliance among other groups from 2015 and their decision to continue to accept wagers in Virginia thru late December and into 2016.
 After the Commissioners returned from a closed session with legal counsel, Commissioner Steger suggested  that the VEA and Twinspires try mediation to settle outstanding issues before the next VRC meeting, when the hearing will be rescheduled. That hearing date has not yet been finalized. 
In other meeting developments, VRC elections were held for 2016. D.G. Van Clief, who previously served as Vice-Chairman, was unanimously elected as new Chairman while Carol Dawson was elected to the Vice-Chairman position. Outgoing Chairman Sarge Reynolds, who will remain on the board,  received praise from his peers. Mr. Van Clief thanked him for "guiding the industry through the most contentuous and tumultuous period in Virginia racing history" and that Chairman Reynolds "oversaw it in a constructive and positive manner."
In new business, the Virginia Gold Cup contract with the Virginia HBPA was announced for 2016 and will remain the same as it was for 2015. Details of a new three year contract with XPressBet followed and were explained by HBPA Executive Director Frank Petramalo.
To close out the meeting, representatives from the VEA gave a progress report on short term and long term plans in regards to future live racing initiatives and revenue generation.  Jeb Hannum and Debbie Easter of the VEA, Dr. Scott Woogen of the Virginia Harness Horsemen's Association (VHHA) and Tom Eshelman, GM of the Shenandoah County Fair Association, spoke as part of the presentation.
Mr. Hannum explained that in order to move forward, a permanent home for each breed is being established — the standardbred site is at the Shenandoah County Fairgrounds in Woodstock and the thoroughbred site is at Morven Park in Leesburg. Negotiations are currently under way with both to secure lease agreements, and to determine the cost of renovations and upgrades needed to create safe racing surfaces and first class facilities.
If all challenges get worked out, renovations at Woodstock could be finished in time to conduct an 8 day harness race meet this fall (over 4 weekends in September), and 12 days over 6 weekends in 2017. Renovations at Morven Park will take a year to complete to ensure a safe and less undulating turf course, so no thoroughbred races are planned for 2016 but a meet, potentially up to 14 days, is being proposed for 2017. 
Mr. Eshelman, whose Fair Board is unanimously behind the renovation project at Woodstock, noted that harness racing has taken place as part of the Shenandoah County for 98 years. They are excited about the opportunity to host pari-mutuel harness racing annually and are willing to move their permanent concert stage and tractor pull strip, and tweak other infrastructure aspects to make it a reality. They have met with engineering and contracting firms about widening the half mile oval and banking the turns, and believe once the project is complete that they will have one of the best harness ovals in the Mid-Atlantic region.
Ms. Easter noted that once these live racing venues are established, the VEA will reinvest monies generated from Advance Deposit Wagering (ADW) partners and future Off Track Betting (OTB) Centers right back into the industry to create new live racing opportunities at other venues around the state. She said the VEA's unique racing model will feature a high quality product with the utmost integrity, held in picturesque settings around the Commonwealth that will create new racing and wagering enthusiasts.
To keep Virginia-bred horses in action this year, the VEA will again offer a fall program at Maryland's Laurel Park and will partner with the Virginia Gold Cup to host pari-mutuel flat races in conjunction with the steeplechase races at their annual spring and fall race days. The VEA will also support potential future racing initiatives at the Oak Ridge Estate in Nelson County, though no firm time table is set. Looking to the future, three signature graded stakes races that had been run at Colonial Downs for years will be contested at Laurel again in 2016 to keep their graded status in tact. 
Dr. Woogen, President of the VHHA, finished by saying that for the first time, all Virginia racing entities are working together toward a common goal — from the VEA, to horsemen and breeders of both standardbreds and thoroughbreds, to the Boards of the new potential racing venues — the future of Virginia racing looks very bright.
Vice-Chairman Dawson followed up with a comment after the VEA's presentation. "We only dreamed about this a year ago and here it is — the pieces are all falling into place now and everything is moving forward." VRC Commissioner Dr. Charles Steger added, "I have been riding horses since I was 5 years old so the news we've just heard about the future of Virginia horse racing is very exciting."