Grinding Speed Wins 3rd International Gold Cup Oct. 24 at Great Meadow
Grinding Speed wrote another chapter in his storied career at Great Meadow when he captured his third International Gold Cup victory this past Saturday to complement a pair of spring Gold Cup triumphs.
The 9 year old Grindstone gelding charged to the top spot in the 3 1/2 mile marathon contested over timber fences with only four jumps to go. Personal Brew set the pace early, mid and in the near late going with a front running journey over nine other contenders. After catching a brief breather mid race, Grinding Speed and Dakota Slew came on with a rush with a mile left to pass the fading leader and waged a three horse battle with Straight To It to the wire.
Regular rider Mark Beecher delivered the win again Saturday for trainer Alicia Murphy and owner Michael Wharton. In five starts this year, Grinding Speed has three wins and a runner up finish and a bankroll of $124,550 and with the big 2015, is all but assured of being named NSA Champion Timber Horse.
"He's a versatile horse", said owner Wharton. "You can pretty much put him anywhere in any situation and he'll succeed. He ran on the front end in the slowest Gold Cup last spring and then today, he came from behind in what seemed like a very fast race." Saturday's "Cup" finished in 7:15, a full three seconds faster than the 2014 fall edition. "Mark (Beecher) gave him a breather midway through like he always does," added Wharton, a lawyer whose practice is based in Annapolis, Maryland. "Mark said he knew Grinding Speed had a lot left after that break but was surprised at how much horse he actually had left. It looks like he is definitely a horse for the course."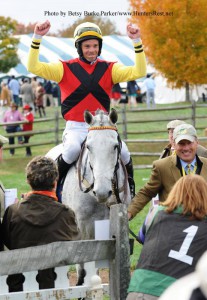 Grinding Speed, a Maryland bred out of Cozelia by Cozzene, earned his 10th life victory and fifth in six Great Meadow starts. Dakota Slew finished second, 1 1/4 lengths behind, and Straight To It was a neck farther back and took third. The place finisher was ridden by Darren Nagle for Richard Valentine and the show jumper had Sean McDermott up top for trainer Jack Fisher.