Colonial Downs' Request for 2016 Race Dates Turned Down at Tuesday's VRC Meeting
The Virginia Racing Commission voted this morning to unanimously turn down Colonial Downs' application request to run thoroughbred races next year at its monthly meeting at the Patrick Henry Building in Richmond.
Representatives from the New Kent track requested approval of a plan to conduct four days of thoroughbred racing next September, two of which would have been "high end" stakes days with purses of $500,000 each, and another two "bread and butter" type days where purses would have been $150,000 per day. The Virginia Derby, Colonial Turf Cup ands Virginia Oaks — all graded stakes — would have been contested as part of the "high end" days thru a contract with the Old Dominion Horsemen's Association, a group created and backed  by Colonial Downs.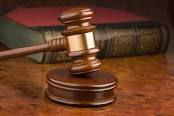 Much feedback, from both commissioners and audience members, followed the presentation. Overriding theme from the public questioned whether Colonial Downs helped sustain and grow the native industry when it surrendered its unlimited license last October. As a result, the track and its Off Track Betting Centers closed.
"Surrendering the license and the way it was done was a terrible blow," said Commissioner Clinton Miller. "It had a ripple effect, from ending the employment of so many capable employees, to not allowing fans to continue to enjoy horse racing in person and via simulcast, to negatively affecting the business of vendors and suppliers who help keep this agribusiness going in the Commonwealth, to the thoroughbred and standardbred horsemen who lost out on opportunities to race. The affect of these had little bearing on his (Mr. Jacobs's) decision," added Mr. Miller. "We are lucky and grateful to have had pari-mutuel legislation pass in Virginia and stakeholders need to work within the current system and compromise. By turning in his license, racing would have shut down completely if not for the efforts of the Virginia Equine Alliance (VEA) and the horsemen of both breeds".
"We are at true crossroads," said D.G. Van Clief Jr., Vice-Chairman of the Commission. "In my three years as a Commissioner, I've never had a more important vote than the one before us today. The industry needs to be unified if it's going to grow and currently, it seems the industry is at war with itself. As much as I'd like to see top horses compete in the Virginia Derby over that first class turf course in New Kent, I can't vote for Colonial Downs in this instance. A vote for Colonial would result in split revenue and split authority," added Van Clief, "And it's the wrong thing to do. If not for the most recent legislation and the efforts of the VEA, there would be no racing. We need to consolidate our activity to grow and move forward."
Before Commissioners went into closed session prior to the vote, comments were heard from several meeting attendees, including thoroughbred trainer Karen Godsey, who questioned whether a single Virginia horseman was even a member of the Old Dominion group. Trainer/breeder Leanne Hester questioned Colonial Downs' intent to actually grow the business in coming years. Racing fan Sheila Hoffman wasn't sure if Colonial Downs had the integrity to move forward. New Kent Supervisor Rodney Hathaway spoke in support of the Colonial Downs plan but just before the closed session began, VEA President Debbie Easter made a passionate speech that focused on the intent of the Racing Act. "We have to grow and sustain the industry, period" said Easter. "Many tracks around the country have alternative forms of gaming available to them, but we're not quite there in Virginia yet. Maybe that will be reality at some point in the future, but right now, we need to focus on what's best for Virginia racing. The VEA was formed because of the action Mr. Jacobs took last October when he turned in his license."
After the unanimous vote denying Colonial's request, VRC Chairman Sarge Reynolds commented. "It's been a long, tough couple years. There were many times I thought we were making progress in discussions and many frustrations as well, but the straw that broke the camel's back in my eye was when Mr. Jacobs turned in the unlimited license last October. It was a complete spectacle. I still hope to see racing back at Colonial again some day, whether it's with a new owner or thru a lease situation because it's truly a great facility."
In other meeting business Tuesday, HBPA Director Frank Petramalo gave an update on the two September race days at Laurel, where three graded stakes (previously held at Colonial) and five Virginia-bred stakes races were held on back-to-back weekends. A total of $1.1 million in purse monies were provided by the HBPA and $2.1 million in handle was generated (combined on & off track). The agreement with Laurel called for the VaHBPA to receive the amount Maryland's horsemen ordinarily would have received from those races, which is estimated to be in the $40,000-$50,000 range.
VEA Executive Director Jeb Hannum provided updates on recent and future activity as well. The 4-day harness meet at Oak Ridge in mid-October attracted 2,229 people who wagered $31,871. A total of 39 races were held and 227 horses participated. He thanked Track Superintendent J.D. Thomas for his around the clock efforts to get the track prepared to race after a week's worth of rain prior to the horses arrival. Oak Ridge owners Rhonda Holland and Heather Goodwin spoke of their first year success with a only a 60 day turnaround time, and looked forward to next year with more prep and promotion time.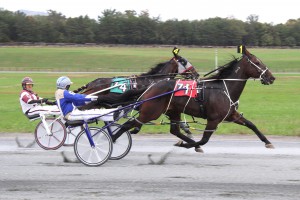 Mr. Hannum also noted the VEA is anxious to move forward in pursuit of satellite wagering facilities and will provide more updates at the next VRC meeting on December 16th. There is also a conference call scheduled for November 30th with the VEA, Twin Spires and VRC Executive Secretary Bernie Hettel, where they hope to settle a dispute between the parties. Twin Spires owes the VEA $360,506.88 from wagering handle generated since July.