Dumfries, VA – January 8, 2021 – At a ceremonial outdoor and socially distanced ribbon cutting, Colonial Downs Group announced today that Rosie's Gaming Emporium is now open in Dumfries, Va. Rosie's, located in the Triangle Shopping Plaza convenient to Interstate 95, features 150 slots-like gaming machines, simulcast horse racing, restaurant and bar.
At the event, Rosie's displayed its commitment to community by donating $76,500 to… Continue reading →
Virginia Stallion Season Auction | February 10, 2021
Save money and buy No Guarantee seasons at the Virginia Stallion Season Auction February 10
th
. Check out our large list of quality seasons at
vabred.org
which is updated daily. Many of our seasons are owned by breeding right holders who are motivated to sell.
Want to secure a Stand and Nurse or No Guarantee season prior to February 10th? Call Debbie Easter at 434-531-2480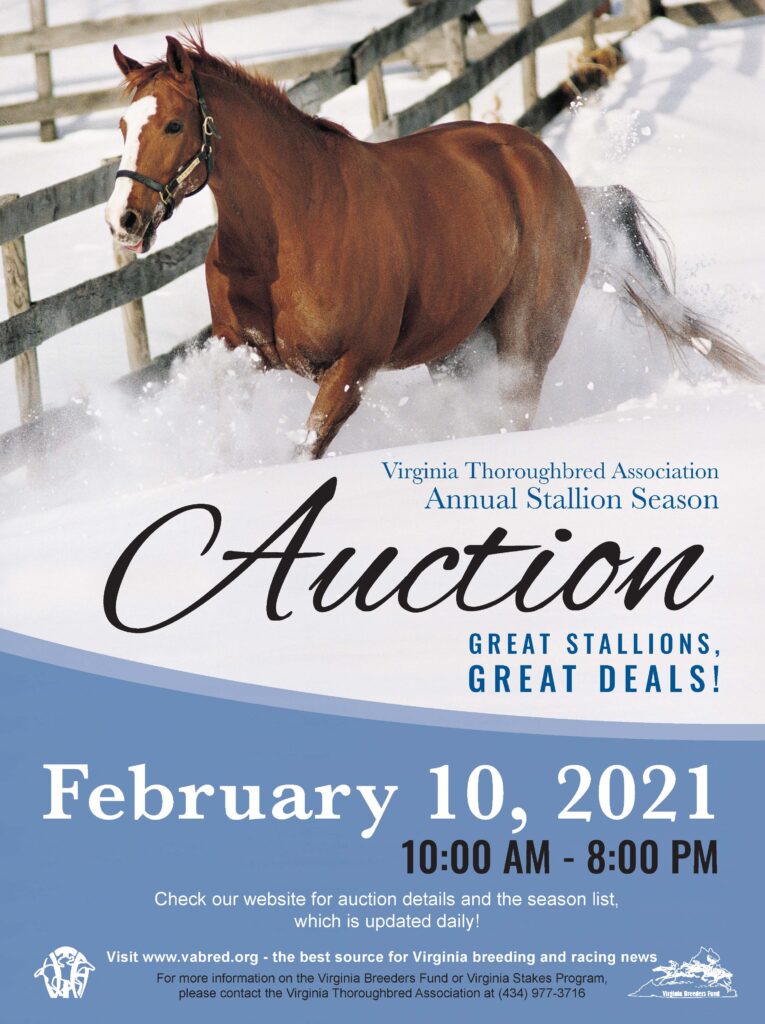 The last few days of 2020 and first few of 2021 saw a total of 17 Virginia-Certified horses reach the winners circle, including four that spent their six-month residency in the Commonwealth at Woodbery Payne's Ingleside Training Center in Montpelier Station — War Tocsin, My My Girl, Left Leaning Lucy and Oh My Papa.
War Tocsin captured a seven-furlong, $40,000 allowance race at Parx December 30 while pushing his career bankroll to $135,043. The 5-year-old Violence gelding, a Kentucky-bred, is… Continue reading →
2021 Rosie's Dumfries
Media Preview: January 5, 2021
Public Opening: January 8, 2021
18069 Triangle Shopping Plaza, Dumfries, Virginia 22026
It may only be January, but we are thinking spring! The Virginia Point-to-Point racing season schedule is available now at centralentryoffice.com as is the list of National Steeplechase Association (NSA) sanctioned meets that will be held in the Commonwealth.
The season kicks off Saturday March 6 with the Rappahannock Hunt and continues with events every weekend through the end of April. Respective Point-to-Point… Continue reading →
Congratulations to Virginia-bred Boldor, who kicked off 2021 with a come from behind win at Delta Downs in the Sam's Town Stakes January 4. The 5-year-old Munnings gelding won for the fourth time and pushed his career bankroll to $245,197. Bred by Carlos Moore and Gillian Gordon-Moore, Boldor won the 2019 Punch Line Stakes at Colonial Downs. The following piece appeared in The Paulick Report.  
Delta Downs hosted the $60,000 Sam's Town Stakes on Monday afternoon and it… Continue reading →