On April 25th, Governor Terry McAuliffe announced additional appointments to his administration, naming the Honorable Clinton Miller of Woodstock to the vacant seat on the Virginia Racing Commission. Miller is a past Chairman of the Racing Commission, has been a commissioner for the state Corporation Commission and is a former member of the House of Delegates.
The Virginia Department of Agriculture and Consumer Services (VDACS) urges all horse owners to check with their veterinarians for West Nile Virus (WNV), Eastern Equine Encephalitis (EEE) and rabies vaccination recommendations for their animals. Virginia only had one confirmed case of WNV and one of EEE in 2013, although the number of horses affected in other states was much higher.
State officials are concerned that horse owners may be lulled into inaction by the lack of disease activity last year… Continue reading →
Flattering Bea, a 4-year-old daughter of Flatter with deep roots in Virginia, won the $200,000 Sugar Maple Stakes at Charles Town on April 19. Bred and owned by Virginian James Arrison, the chestnut filly is also an Eagle Point Farm Graduate. The homebred filly is now a five-time winner after her front-running victory in the 7-furlong stake.
Trainer Doug O'Neill, who conditioned Virginia-bred Derby hopeful Bond Holder, announced on Facebook that the son of Mineshaft has lost his battle with laminitis. Owned by Reddam Racing LLC and bred by Lazy Lane, Bond Holder won last year's Grade 1 FrontRunner Stakes at Santa Anita Park.
The stable announced on March 19 that the colt was being treated for laminitis, and in the Facebook post, O'Neill states that "the severity of the laminitis was ultimately too… Continue reading →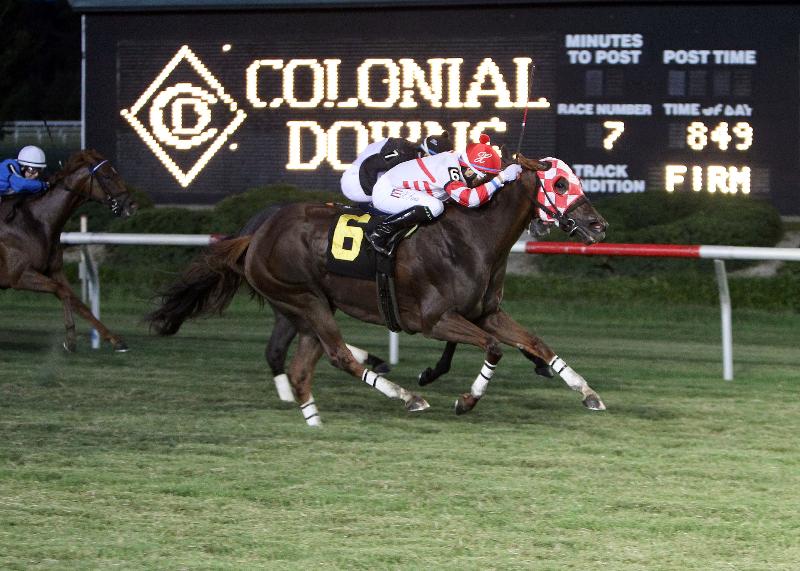 Keep abreast of the developing lines of thought on the Colonial Downs racing dispute: Check out the columns in the Northern Virginia Daily and the Richmond Times Dispatch. You can also read the VTA coverage.
UPDATE: NO NEW CASES OF EQUINE HERPESVIRUS MYELOENCEPHALOPATHY (EHM) IN VIRGINIA
~ State Veterinarian commends farm in Fauquier County for quick action that led to early detection and may have prevented spreading the disease ~
Dr. Richard Wilkes, State Veterinarian with the Virginia Department of Agriculture and Consumer Services (VDACS), says that the VDACS Office of Veterinary Services has completed the initial investigation of the Equine Herpesvirus Myeloencephalopathy (EHM) case recently reported in Northern Virginia. VDACS field veterinarians have reported… Continue reading →
Virginia connections had a good weekend, with the Hare Forest Farm-bred Our Caravan winning the Calder Derby and the Ned Evans-bred Risque Reality winning an allowance at Aqueduct.
Our Caravan, now owned by Anstu Stables and trained by Michael Dilger, made his debut at Gulfstream over the winter, winning first out by 3 lengths before jumping straight into graded company in the Holy Bull. Off the board in that event and the Fountain of Youth, the son of Daaher returned… Continue reading →
Virginia-bred Hear The Word, owned by Middleburg-based syndicate Riverdee Stable, won his hurdle debut in the 2 1/4-mile maiden special weight at the Dogwood Classic on Saturday. The son of Corinthian, who last year won the Virginia Turf Championship, opened up a 22-length lead and held onto it by three-quarters of a length at the wire. Congratulations to all connections and to trainer Todd Wyatt.
You can check out the profile the VTA ran of Hear The Word and Riverdee… Continue reading →
Thoroughbred Racing Economic Indicators
For March and 1st Quarter 2014
March 2014 vs. March 2013
| | | | |
| --- | --- | --- | --- |
| Indicator | March 2014 | March 2013 | % Change |
| Wagering on U.S. Races* | $964,458,778 | $983,348,093 | -1.92% |
| U.S. Purses | $85,462,041 | $85,867,152 | -0.47% |
| U.S. Race Days |                           388 | 387 | 0.26% |
1st Qtr. 2014 vs. 1st… Continue reading →
The NTRA legislative committee continues to do great work for the industry. The VTA whole-heartedly supports their efforts—this is something we can all get behind!
WASHINGTON, D.C. (Thursday, April 3, 2014) – The United States Senate Finance Committee reported today legislation that would extend expired or expiring tax provisions for race horses, including a provision to extend the three-year recovery period.
This provision – originally passed by Congress and enacted into law in…
Continue reading