While the horsemen's contract with Colonial Downs expired on Wednesday night (January 29), both VHBPA Executive Director Frank Petramalo and Virginia Racing Commission Executive Secretary Bernie Hettel remain confident that a deal will be reached that will permit racing at Colonial Downs in 2014.
"The likelihood is very, very high that there will be thoroughbred racing in 2014 at Colonial Downs," Petramalo said on Thursday. "The question is, what's it going to look like? Is it going to be four… Continue reading →
Virginia Horsemen's Benevolent & Protective Association
January 31, 2012
Open letter on the Colonial Downs horsemen's contract dispute
          On January 30, 2014 Colonial Downs, Virginia's only pari-mutuel race track, announced on its website the closing of Colonial's eight off track betting facilities to wagering on thoroughbred races simulcast from across the country. Under the state racing law it had to do so because the track's contract with the Virginia HBPA expired… Continue reading →
The Jockey Club Experimental Free Handicap, published annually since 1935, is a weight-based assessment of the previous year's leading 2-year-olds, with the weights compiled for a hypothetical race at 1 1/16 miles on dirt.
A total of 107 males and 92 fillies were assigned weights. Eligible for weighting were all 2-year-olds of 2012 that finished among the top four in graded or listed stakes races run in the continental United States. Listed stakes in 2013 were those with a value… Continue reading →
Congratulations to everyone who received Breeder and Stallion Awards in 2013! Please ensure that you have a W9 on file with the VTA, as we will not be able to send your check without one.
Stallion Awards: $25,000
RECIPIENT
SUM OF TOTAL AWARD
Donna Hayes
$4,322.26
Larry R. Johnson                               … Continue reading
The VTA and the Fund would like to congratulate the winners of the $5,000 Virginia Breeders Fund Yearling Futurity Bonus for 2013.
Any Virginia-bred or Virginia-sired yearling that shows in the colt or filly yearling futurity class is eligible to compete for a percentage of a $5,000 Bonus. Bonuses are awarded to the top four money-earners at the racetrack at the completion of the horses' 3-year-old year. The $5,000 bonus is divided as following: 60 percent to the leading earner,… Continue reading →
Veteran steeplechase and flat trainer, Thomas H. Voss, died at his home in Monkton, Md. Tuesday, Jan. 21. He was 63.
Voss won five National Steeplechase championships as leading trainer, and campaigned steeplechase champion Slip Away, as well as Grade I Sword Dancer-winner John's Call (who tied John Henry as the oldest Grade I winner at the age of 9).
The VTA offers its sincerest condolences to Mr. Voss' family and friends.
Read the This is Horse Racing story here… Continue reading →

The deadline for nominations to the Fasig-Tipton summer select sales – the July Sale and the Saratoga Sale – are due January 27.
Nominations are free, and will allow Fasig to schedule yearling inspections, which usually occur in Virginia in March.
Fasig-Tipton were generous sponsors of our conformation clinic at this year's Yearling Futurity in August, with native Virginian and Fasig-Tipton Vice President of Recruiting and Selections Bill Graves acting as judge. Mr. Graves also kindly spoke at the VTA… Continue reading →
Due to weather concerns, today's Virginia Racing Commission Commission was postponed after the first appeal hearing. The agenda included discussion of the 2014 race dates at Colonial Downs.
Up to this point, the Virginia Horsemen's Benevolent and Protective Association and Colonial Downs have not been able to reach an agreement on race days for 2014. New Chairman Sarge Reynolds apologized for postponing the rest of the agenda. VHBPA Executive Director Frank Petramalo agreed to extend the contract between the VHBPA… Continue reading →
The contract between the Virginia Horsemen's Benevolent and Protective Association (VHBPA) and Colonial Downs has been extended through Tuesday, January 21, 2014, at the request of incoming Virginia Racing Commission (VRC) chairman, J. Sargeant Reynolds, Jr.
The current contract between Virginia's horsemen and Colonial Downs expired on December 31, 2013, but both parties agreed to extend the contract until January 14 in hopes of reaching an accord on 2014 race days. As of last week, the horsemen and Colonial Downs… Continue reading →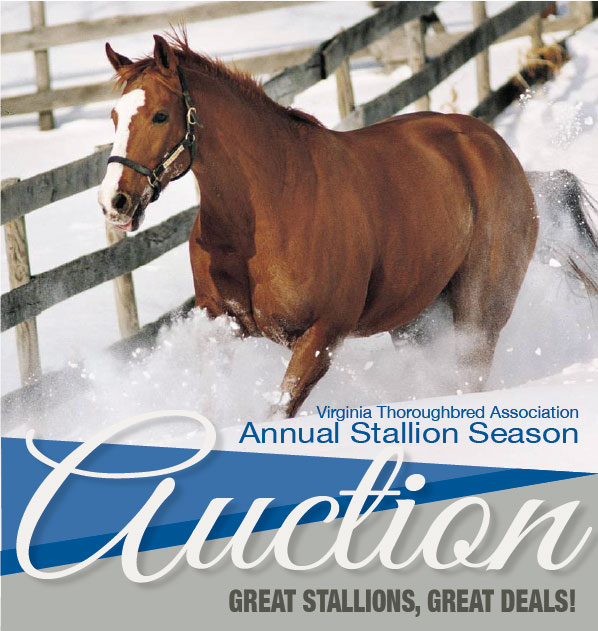 Virginia Thoroughbred Association
2014 Annual Stallion Season Auction
One open bidding day ONLY!
Wednesday, February 12th
Closing bidding will take place on Thursday, February 13.
Only bidders who have placed a stallion bid on 
Wednesday, February 12th may participate in the closing 
bidding on that specific stallion on Thursday, February 13th.
Offering the most extensive list of no-guarantee seasons,
featuring quality stallions to suit every mare and every budget from
states including Kentucky, Florida, Maryland, New York,
Pennsylvania,…
Continue reading